There are many reasons for thin, limp hair. This is a guide about remedies for thin hair.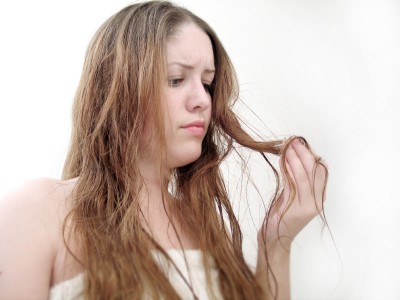 Filter

: All Articles
Sort

: Relevance
My hair is very thin and fine. I am over 60 and past menopause, which I have heard can make your hair this way, although it has always been thin. What can I do to give my hair volume and control? I do not color, perm or blow dry. I use Shimmer Lights shampoo to highlight the silver but other than that my hair air dries with nothing else to damage it. Help!

beachlifer from Lincoln City, OR
October 2, 2011
0

found this helpful
Hi my name is Jannette my hair began to thin out in my teens. I have tried hundreds of hair thickening products including topic hair fibers which were good at first but proved to be costly and no use to hair without good static which is needed to bond to the fibers. I have suffered with thyroid problems and found that medication didn't help with my already thinning hair.
During pregnancy however in third/fourth month my hair would transform to beautiful locks then three/four months after childbirth it would revert to being thin. Puzzling I'm sure... When I was 18 I began to suffer from B12 deficiency. This is a very important vitamin needed for development of red blood cells B12 supports your nervous system, and your whole body function including hair growth; yes, hair growth.
I had been prescribed B12 injections for almost 7 years when a decision was made to reduce and stop them. While taking B12 my hair improved dramatically, but once they stopped my hair not only stopped growing but fell out completely.
It's a long story however I'm back on them and my hair is manageable it's still thin but taking B12 helps. You can get it from Holland and Barret health food store or online at women's health. Also I now lighten my hair which was dark this does create volume which last 3 to 4 weeks after colouring.
I use ASDA tea tree oil shampoo and conditioner followed with sheer blonde boost volume mousse by John Frieda. For me this mousse is a must I then blow dry my hair using my hands, brushes and combs can pull hair away from scalp so I try to comb as little as possible. At best you have got to experiment with your own hair trial and errors will help you to learn your hairs strengths and weaknesses strange though it seems I have also found that my hair is finer in summer months than in winter time.
My problems began when I was 18 I am now 41 and have been taking B12 for over 17 years. My final advice is to seek medical advice to see if you are deficient in any essential vitamins or suffer from conditions such as thyroid disorder which may be effecting health and hair growth. Thanks for reading and God Bless from a friend. xxxx
March 28, 2012
0

found this helpful
I don't know if it will thicken your hair but it definitely helps more hair to grow. It is a supplement/vitamin called Biotin. I had an incident where I lost a patch of hair on the top of my head. When the scares healed it was a bare spot about the size of a peanut butter lid. I have been taking Biotin and now it is about the size of a dime (maybe even smaller).
I know Biotin helps hair to be stronger and it help strengthen finger nails as well. And Biotin isn't expensive.. for that matter it is really cheap from places like Puritan Pride. You will also find it in most multivitamin but the dosage is small.
Read More Answers...
I have fine, very straight hair. I would like to know which root lift products are best for giving it more lift and volume. I do use volume shampoos and they help.
By jch
December 28, 2013
0

found this helpful
Styling gel such as my favorite; Paul Mitchell Tea Tree, applied to roots only will help. Blow dry against the growth. Usually bending over and partially drying your hair, then finish in the style you want.
The main thing is try to keep the styling product off the ends of your hair, as that weighs your hair down and you won't get the lift from the roots that you want.
Also, lift your hair with your fingers and spray the roots only, keeping the spray off the ends of your hair as it will weigh your hair down, and you won't get that lift.
January 21, 2014
0

found this helpful
I have fine/thin hair. I have tried every type of product out there without much success. The best product(s) for me with the fine/thin hair are the Chi Magnified Volume line (purple containers). This includes the finishing spray, shampoo, conditioner, and spray foam. I bought a travel size package with the products from TJ Maxx about 2 months ago for $15. I was and am still happy with the volume I get from using all 4. They run about $16 each for the normal sizes. I buy them online at Folica (they seem to have good sales) or at TJ Maxx if I can find them.
If you try one, I would try the Chi Magnified Spray Foam. I spray a little on my hands and rub through my hair and style with a round brush and blow dryer. It is amazing how my hair holds a style, shiny, and has volume now. The shampoo, conditioner, and finishing spray are fantastic products. You can feel the volume with the shampoo. The conditioner does not weigh down your hair (use only a small amount). The finishing spray keeps a hold and is very light. My hair is very easy to style with the Chi Magnified Volume products - haven't had a bad hair day since I started using them!
Read More Answers...
When one of my daughters was little, she had very wispy, very fine hair. A pharmacist recommended Biotin (back then - more than 20 years ago - they were tiny white pills. Now, they are huge!). I dosed her up and her hair improved. Now, as a 25 year old, she has beautiful long thick healthy hair.
By Leeza
My mom's hair is really starting to fall out from chemotherapy. She doesn't want to get a wig(this climate's very hot and humid and wigs can be uncomfortable). Do those horse shampoos really make hair look thicker? They're kind of expensive and mom doesn't want to try until she knows. Or does anybody know of another solution? Any help would be appreciated.

Joan from Chesapeake, VA
December 3, 2007
0

found this helpful
Tell your mom not to wash her hair every day. Take a spray bottle with water and let it set for a couple of days and use that on her hair and comb thru. I was taking a medicine that made my hair fall out and I do this and my hair grew back in in a year. Shampoo has chemicals in it that cause hair to dry out and can make it brittle. Washing your hair once a week is all the hair needs to be clean. If your mom lets the natural oils build up in the hair this should help stop the stress on the hair folicule. The medicine she is taking causes stress for your hair and then when you wash it with shampoo makes it worse. I wash my hair once a week and use the water in a spray bottle the rest of the weak use a brush that has wide set bristles as not to pull the hair. Also stay away from putting it in pony tail holders and a short cut will take the weight off the hair folicule and it won't be as noticeable the loss of hair. Also take a vitamin pill daily...To replenish minerals lost from being ill. Hope this helps. I will pray for your mother and hope she will get better. God bless.
October 8, 2008
0

found this helpful
The best for losing hair is nioxim shampoo, it'll really work!
Read More Answers...
Being 77 year old, my hair is thinning. I can't afford Joan Rivers Cosmetic Hair Color to fill in the thinning area so I tried using my dry powder eyebrow color on my scalp, just like she does on her TV ad. It did a pretty good job of coverage. My hair is light brown almost dark blond.
By Shirley from Mesa, AZ
My daughter is 8 years old and she has very fine, thin hair. It grows slowly and breaks, it does not grow long. Please give me advice. I sometimes think maybe it might be the shampoo that's too strong for her.
By Milla
November 6, 2013
0

found this helpful
Could be the shampoo...use a very mild children's shampoo. It could also be a lack of fiber in her diet. Hair and nails require fiber to grow strong.
November 6, 2013
0

found this helpful
Your shampoo has very little to do with the growth of your hair. I would look more into her diet. Eating healthy will help her hair. If she is not eating well, it will take approximately 3 months to notice a change after you improve her diet. As far as the length, we all have different growth rates and different lengths to which our hair will grow.
Read More Answers...
What can I use for my hair to make it thicker. I have tried everything I see that's a hair thickening product, but no results. I'm feeling so hopeless when it comes to my hair. Everything I try seems to me that I'm only wasting my money on hopeless capsules and treatments. Please help. My hair is so thin that you can even see my scalp. It's very embarrassing for me to go out when I'm looking like this. It breaks my heart. Please tell me what to mix or anything. Please, I'm very desperate. I have straight hair, but it's too thin.
By Casline from South Africa
March 29, 2012
0

found this helpful
Use shampoo products with panthenol in it. I have very thick hair and made the mistake in buying a shampoo with panthenol in it my hair seem to have trippled, so I KNOW shampoos with panthenol works. It clings to your hair shaft. And as recommended don't wash your hair everyday.
January 1, 2014
0

found this helpful
I have been using this product for a year now and have had wonderful results. I bought it at Fantastic Sams. I have actual pictures of my results if you would like to see them. Use only this, nothing else, and I mean nothing other than this and it will probably work for you too ! http://www.amazon.com/DS-Laboratori ... hampoo/dp/B00BSFDUL2/ref=pd_sbs_bt_5
Read More Answers...
My hair is too thin. How do I thicken it?
By wowhotnews
December 3, 2013
0

found this helpful
I do not believe you can "thicken" hair. You might try different shampoos & conditioners, to see if some of them might give your hair some body. Sometimes powerful medications can affect your hair, making less attractive than it was, or poor nutrition can also affect hair quality.
October 31, 2014
0

found this helpful
Hello, if you want the hair to look thick. I suggest you use the hair extension, this hair extension can't hurt our hair, and it also makes your hair thick.
Read More Answers...
I am wondering if there is anything that I can take or use that will help my hair grow thicker or longer. Ever since my hysterectomy my hair has gotten thinner and has slowed down on its growth some. I would like my hair to be longer and thicker then it is. Thanks for any help that you can give.

Cathy from Grand Rapids, MI
September 16, 2008
0

found this helpful
I would go to health food store and buy kelp. That is a natural source of Iodine. If it is your thyroid, this WILL help. Can't hurt either way.
Second, you may have yeast overgrowth of the scalp. Buy activa yogurt and eat one every morning. This worked for me after 2 weeks! : )
September 14, 2009
0

found this helpful
I've had huge hair loss for year and a half since my hysterectomy. It seems to have slowed now. My brother, Father and two grandfathers were/are bald, so I am assuming its the lack of female hormone; allowing male hormone to dominate, Just curious,to all the other women mentioned, Are the male members of their family bald? Could you let us know please?
Read More Answers...
I think I need a perm as my hair is very thin and fine. However is perming hair bad for falling hair? Will perming hair cause further loss? I need volume at the top to conceal my scalp. Wearing a wig is uncomfortable for hot weather conditions and it looks unreal.
By Tan BH
December 16, 2014
0

found this helpful
How a wig looks will depend on the style. I never spend more than $50.00 on a wig and when I wear them I get lots of compliments from people I know thinking I have been to a beauty shop and had a complete new hair do, including color change, because my hair is dark brown and I have a couple different shades of red wigs and a couple different shades of blonde wigs. I am 74 and have very little grey in my natural color. As to an answer about perms, you will have to talk to a hair stylist that you are familiar with and that you trust.
Does anyone know of something that really works and is really good to plump up thinning hair in women?
By Sharon
May 14, 2008
0

found this helpful
I've recently had great results with Matrix Amplify spray-in volumizer. I haven't tried the shampoo & I don't ever use conditioner, but I just started using the volumizer and love it. It is pricey, though, unfortunately, but a small amount does a lot. Good luck, hope you try it & love it like I do.
August 18, 2009
0

found this helpful
I live in the U.K, would I be able to buy that here? Many thanks.
Read More Answers...
Does the use of horse shampoo such as Equiline cause greying of hair when used on humans? If it does what causes it? Is there a specific way to use horse shampoos for the treatment of thin and falling hair as when I used it it made my hair very hard?
By Z.E from Johannesburg, SA
November 1, 2011
0

found this helpful
Check out the chemicals. I used Orvus for me and my dogs and loved it. Then, seems i read something about carcinogens and had to discontinue. Lots of people use the Mane and tail. They find less harmful chemical than human shampoo. It nourishes hair. Check all chemicals in any product you use.
November 1, 2011
0

found this helpful
Horse shampoo is for horse hair. No shampoo, human or otherwise, is going to cause gray hair or thicken fine or thin hair. The color of hair is genetically determined as is texture and thickness and the only things that will possibly change that is applying hair color or your physical health or medications.
Read More Answers...
I have thin, lifeless, hair with no body. I wear it short. Does anybody have any suggestions to give body to my hair?