Add a special fragrant touch to your crafts by incorporating potpourri and essential oils. This is a guide about crafts using potpourri.
Read and rate the best solutions below by giving them a "thumbs up".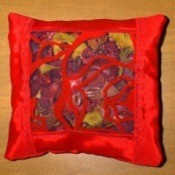 This is a simple sewing project that is great for gifts, and many can be made in under an hour.
Materials
under a yard of non-stretch fabric (main fabric)
small amount of tulle or netting fabric
sewing machine (or needle and thread)
scissors
rotary cutter (optional)
table to work on
potpourri
Directions
Sizes can be what you wish, but here are some to start with:
Cut a 4 inch square of tulle/netting, a 2.5 inch strip from the main fabric, 5.5 inch strip.
Lay the 2.5 inch strip on table in front of you, place tulle on top so that one edge is along an edge of the strip. Sew with 1/4 inch seam, cut and do the same with opposite edge of tulle (and cut).
Now you can iron the seams in, so that they can't be seen through the tulle. I didn't want to drag out the ironing board, so I just stitched it down.
Lay out the 2.5 inch strip again, now placing the long side face down(including main fabric), and sew/cut. Do both sides.
Now you have the top fabric! Now is the time to cut it down or even it out.
The backing will consist of two strips of fabric overlapping: this is so you don't need a zipper, Velcro, etc. To begin making backing: take a 5.5 inch strip and fold right edge in 1/8 inch and fold over that (so raw edge is hidden), sew in place. Again, you could iron this or pin in place. I just find it easier (and faster) to guide it and fold in as I go.
Cut two pieces from sewn strip, that match width of square. Measure easily by laying out strip, place top panel over it and cut a bit larger (leave room for accidents), and cut another.
Lay the top panel (tulle w/border) on table face up. Place one sewn strip face down (fold over should face you) on bottom and the second overlapping(with both sewn edges meeting in the middle). All raw edges should be on outer edges. Pin in place.
Sew on the other side, so you can use the square as a guide.
Cut edges around stitching, close (less bulk).
Flip and Fill! You are done!
I made these as gifts for Valentines Day, and I am still getting compliments. It's a nice way to start the day with rose scented clothes! Enjoy!
By starchild from Lamoille County, VT
Editor's Note: This would also be a good Mother's Day gift.
Give a "thumbs up" to the solution that worked the best! Do you have a better solution? Click here to share it!
I have about 20 bags of potpourri and I was wondering if anyone has any idea what I can do with them for crafting? I plan on using some of them for firestarters (stuffing paper toilet and paper towel rolls with potpourri and pouring wax into it and hardening, then I'll cut them into small discs and use them when I need to make a fire for my fireplace).
I have so much that I don't know what to do with them. Can someone please give me some good ideas about what I can do with them? I'm not really interested in their smell too much so I'm not looking to make wreaths or gifts out of them. I might make a few hobo stoves with them as well, but need other ideas. Please help.
By Loleini
AnswerWas this interesting? Yes No
Ad
---
---
Most Recent Answer
By Sandi/Poor But Proud [446] 09/16/20120 people found this helpful
You would need some wide lace, about 2-3" in diameter. Then some scrap ribbon and a rose or other embellishments.
Simply measure out 6" or so of the lace, fold in half and sew up the sides, and crush the potpourri before you spoon some in. Then, gather the top 1/3 and decorate with your ribbon and such.

This little hanger is great for closets, bathrooms, or cars. It's also easy and cheap to make for gifts or that local bazaar you might want to set up a table at.

N-JOY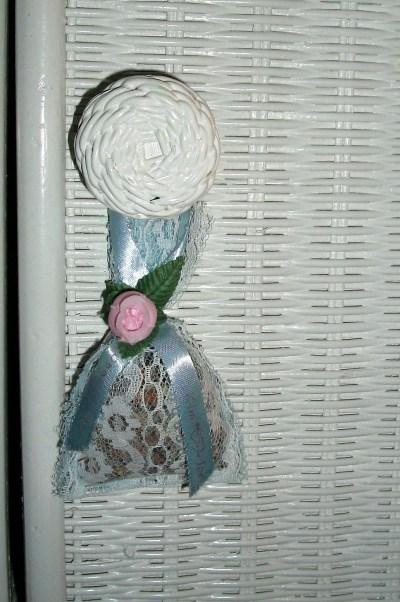 ***
*** With two Dollar Tree doilies, both the same color but one smaller than the other, you can make a nice sachet to hang on the wall!
Approximate Time: 1 Hour
Supplies:
Two Dollar Tree doilies, large and small or your own doilies or ones you find second hand
Potpourri
Scrap Lace
matching color of thread and sewing needle.
Crochet thread of your choice
Hook size "E"
Optional: satin flower
Instructions:
Just like Sandra Lee cooks semi homemade, you can make things with the help of semi commercial made, too.
You can take two Dollar Tree doilies, one larger and one smaller, and sandwich some potpourri for a nice sachet in between.
Crochet an alternate color around the edges with a chain 5 and sl st (slip stitch) in each stitch from the doily's edge.
Make a matching flower for the center. Chain 5, join for a circle. Make 10 single crochets in it, join.
Chain 4, and make 4 DC's in 1st chain from hook. This is petal 1, and you sl st it to the 2nd of the 10 stitches. Repeat that four times, for a five petal flower. Fasten and break off, working in tail.
Put the same color ribbons as the flower and edges in one or two bows, and sew them to the center of the doily.
Either sew or hot glue the flower you just made to the center on top of the ribbons. I put a small satin flower on top of the one I made, but that is optional.
For the sachet, cut a circle about 1/2 inch larger than the center back (smaller) doily. Sew that with the doily color thread about 3/4 of the way around, then fill with potpourri. Don't over stuff it, or your sachet will not hang properly. Finish sealing it.
Place the lace face up on the back of the doily, and stitch it to what ever parts of the doily it sets on.
This will make your smaller doily match the color and pretty much the pattern of the larger one, looking nicer than the lace.
Hang up in a bathroom or kitchen, and enjoy the wonderful scents!!
By Sandi from Yorktown, VA
---
RE: Craft Project: Doily Sachet
Thank you Sandi, great idea, very creative. Think I'll try one, but instead of putting potpourri in it, I'm going to put in a bar of Tone (original) soap. I love that fragrance, and it'll work if I can find the right size doilies. Thank you again. Julia in Boca Raton, FL (03/01/2010)
By PookaRina
RE: Craft Project: Doily Sachet
Great idea! Anything that smells is great. Then you can change it when the scent is gone. You sure we aren't sisters? (03/01/2010)