Foam and Bead Necklaces for Young Children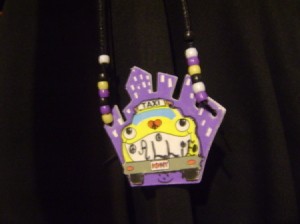 There are lots of foam shapes that you can use. You pick one out and then poke two holes or cut two small holes in each side. Pick a matching yarn, and then beads to go on the yarn, and then you have a cute little necklace.
The schools sometimes use these for ID on a field trip, but I am more comfortable with using shirts for ID on field trips. These are cute and fun though, and you don't have to put tons of beads in the necklace. It would be a cute idea to just give the supplies to you children and let the kids do the craft themselves.
The photo is of the one that the kids did at school a long time ago. It is so cute, I kept it all these years!
By Robyn from Tri-Cities, TN
Feedback
Post Feedback
Add your voice to the conversation.