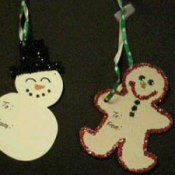 Add a little sparkle to your holidays with gift tags you can make in a jiffy. They can also be used as package tie-ons, or you can get your kids involved, let them make their own, and glue a craft stick to the back of each to make holiday puppets.
Crafting Time:
About 5 (or less) minutes to make one, not including glue drying time.
What You Need:
Construction paper or card stock
Holiday cookie cutters
Pencil
Scissors
Fine tip markers
Craft glue and glitter or glitter glue, in several colors
Paper punch
Yarn or ribbon
Directions:
1. Trace a cookie cutter of choice on paper. Cut out the shape.
2. Decorate the shape with marker if you wish, for example the snowman's face was put on with marker. His hat is black glitter.
3. Add more color and sparkle by drawing on lines of glue and then sprinkling glitter over the glue. Glitter glue may be used in place of glue and glitter. The gingerbread man was decorated entirely with glue and glitter. Allow the glue to dry.
4. Use fine tip marker to write "To" and "From" on the front.
5. Use a paper punch to make a hole in each tag. Thread and knot a piece of ribbon or yarn through each hole.
Note: If you would like to make several for special friends and family, I would suggest tracing all your shapes first, then cutting them all out, and then decorating all of them at the same time. The process will move much more quickly this way. It's kind of like mass production.
By Marie E. Cecchini from West Dundee, IL