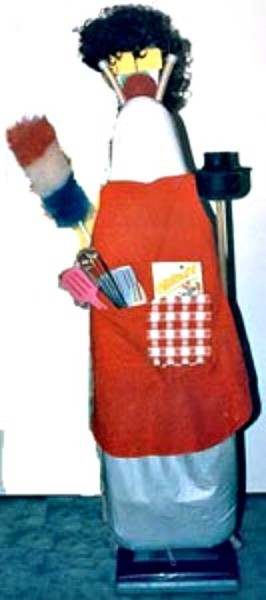 This is adorable! If the bride is a good friend, you will know what household items to use in creating your custom-made Kitchen Maid. And today, some couples have joint wedding showers, so you can also build a Kitchen Mate for the husband-to-be. Here's how:
Instructions:
Begin with an ironing board to be the body of the Maid or Mate.
Tie an apron with pockets around the middle to make a waist. Fill them with smaller kitchen items, utensils or tools.
Attach a plunger on one side of the back of the ironing board as an arm and a toilet bowl brush or feather duster as the other arm.
Add a dustpan at the wide end of the ironing board for feet or set the ironing board on top of a vacuum and bind with several elastic cords under the apron (as we did in the photo).
Secure a string mop as the head of hair to the back of the ironing board with the mop portion flopped over the top narrow end of the ironing board.
Create a face with nylon net scrubbies for the eyes, a small sponge for the nose and a nailbrush for the mouth.
Use your imagination to make this an amusing, but useful, addition to the wedding shower party. Just remember to make the Kitchen Maid or Mate with anything you think the bride or groom will need for their new life together.
By Momof1 from Wilkesboro, NC
By Rachel's Mom
Ad
---
By Darlene (Guest Post) 08/17/2007 Flag
I have never seen that idea before. I like it. Very unique, cute and practical. Thanks for the idea. I'm sure I'll use it for lots of things.
By Lynda (Guest Post) 08/18/2007 Flag
So cute. Clever, as well. By the time I was ready to get married, my mother had totally filled my "hope
chest", with such practical things as this; along with sets of dishes, flatware, and pots 'n pans. This allowed me to add to it along the way, so that when the day arrived, I would have 'completed' my shower gifts with things seldom thought of. You would be the exception in putting together so many needed items the couple might not even know they need until they get into their home? Yet, with so many living together for years ahead, we'd better KNOW our couple fairly well before choosing or making ANY gift, right? God bless you for all the effort it took to do this and with your pure heart! : )
By Tatorbug 5 22 09/15/2007 Flag
I have also seen this done on a vaccum cleaner as well. Very cute!

When my cousin was married they were both in college and still living at home. When they decided to get married, they had nothing to start a home with.

But they also had MANY MANY friends and family and was doing a bridal registry and got so many things at their shower. I wanted to do something different and so I bought two large rectangle baskets (a his and hers) that were lined with cloth. Our dollar store had some nice ones that year for next to nothing. I figured they could use these under their bed to store winter clothes or whatever (you could use a laundry basket as well) and I filled the baskets with all of the things that add up quickly when moving into a new home:

trash bags, toilet paper, bath soap, dish soap, laundry soap, fabric softener, bleach, toilet brush, plunger, tin foil, plastic wrap, SOS pads, sink brushes, sandwich bags, gallon ziplock bags, batteries, scotch tape, envelopes, paper plates and a package of plastic silverware that had the knife, fork and spoon, paper towels, paper napkins, flashlight, shampoo/conditioner, toothpaste, lotion, oven cleaner, bathroom cleaner, windex, air freshener, sponges, and much, much more.

Most of it I got at the dollar store and was able to get a lot of things for next to nothing. I also do a lot of shopping at Sam's Club and get things in bulk, so some things I was able to take from my own pantry or closet.

These were things that could be used right away until they unpacked and were able to shop for what they needed or wanted.

Surprisingly, out of all the beautiful things they got at their shower, this gift got quite the response from the onlookers wanting them to name off what all was in their baskets!