"Where's the Weasel" and Tinker (Ferrets)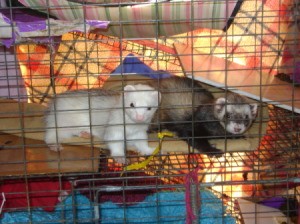 Tinker and Where's the Weasel (WTW) are 1 year and 2 year old ferrets. Weasel was adopted from a pet store. Stinker (or Tinker) is a rescue. Someone else could not meet her needs very well, since ferrets require a lot of care and cleaning!
Ferrets are just like kittens that never grow up. They run through the house tumbling and jumping and hiding various things. We have to keep our shoes up and anything in crinkly plastic, since both of them have their stashes throughout the house. We never leave shoes lying on the floor when they are having their play times.
They are so happy together. We did not think they would get along because of the difference in age, but Where's the Weasel surprised us. They can be seen cuddling in their hammock every day, and are so happy together!
By Robin F.
Feedback
Read feedback for this post below. Click here to post feedback.
By
06/13/2011
Too cute! I got my little 'Panda' about 6mos ago and now I can't imagine life without her! She goes with me to the park on walks (in my arms because she is too petite for any halters) and she runs around our loft area. She gives lots of kisses too. She's quite clever too! A friend of mine years ago had 6 of them and I could never hold any of them because they were biters so I guess I had that stuck in my mind. Then I met Panda and she is just the sweetest thing. Love your white one!
Post Feedback
Add your voice to the conversation.