Tessa was 13 years old and a Yorkie. I got my Tessa when my other Yorkie had a litter 13 years ago. She would like to go for walks and play with her toys.
My Tessa was put down on Friday, December 2nd. She was very sick with cancer. She was a very spoiled girl. Now she is in no more pain, she is in God's hands. I miss her so dearly. We all love my Tessa, Mommie's Little Angel
By Sheila from Wisconsin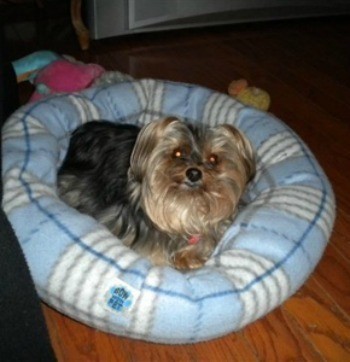 Add your voice! Click below to comment. ThriftyFun is powered by your wisdom!
Tessa In The Snow (Yorkie)
This is my Yorkie, Tessa. She loves the snow here in Wisconsin. WE got 15' Let it snow, let it snow!

Tessa is 10 years old. We got her from a litter of my other Yorkie I had. She loves to play with her ducky squeekie toy. Tessa is a loving, sweet dog, very playful.

By Sheila from Wisconsin

Answers:
Tessa (Yorkie)
She is a SWEETHEART, happy valentines (02/14/2008)

By Betty Ann
Tessa (Yorkie)
What a pretty girl. She looks like she's a lot of fun. (02/14/2008)

By Lorelei
Tessa (Yorkie)
She is darling! Being from the South, tho, I can't believe that she's out in the snow without snow boots. It looks like her feet would freeze! Give her a big kiss from Missy, Goldy, Zorro, Casper and Miss Kitty. Thanks for sharing Tessa with us and God bless you. (02/15/2008)

By tedsmom
Tessa (Yorkie)
Tell Tessa not to go outside too much. Too cold. She is a cutie. (02/15/2008)

By AUNT BETTY
Tessa (Yorkie)
So beautiful! Years ago, I bred yorkies, and my little male's favorite thing to play w/ was raisins! He would toss and 'attack' the same one over and over. Sassy (his wife) would come running when she heard the veggie scraper on carrots; she loved them-but would only eat cleaned, center pieces! (02/21/2008)

By doodles
Tessa is a 9 year old Yorkie. I got Tessa from my other Yorkie's litter.
She likes to play and go for walks keep me company.
Tessa got a new hair cut for Valentine's Day. So smart she is and very loveable.
By Sheila from Wisconsin
Answers:
Tessa (Yorkshire Terrier)
Tessa is a very sweet little girl. Just like her mommy Sheila. (02/19/2007)

By magnolia
Tessa (Yorkshire Terrier)
Tessa is a very sweet, dressed up little girl! Give her a big hug and kiss for me. (02/19/2007)

By tedsmom
Tessa (Yorkshire Terrier)
What a sweet little baby doll. (02/20/2007)

By cupcake04