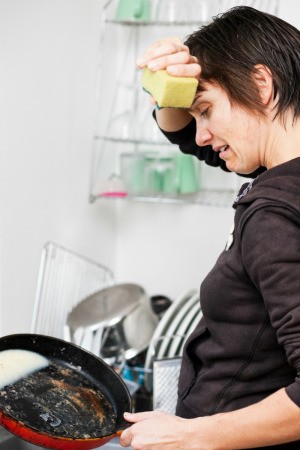 Sticky residue on pots, pans, and baking trays may result from grease buildup. This guide offers suggestions to clean the sticky grease residue from cookware.
Ad
---
Questions
Here are questions related to Removing Sticky Grease Residue from Pans.
I have expensive Calphalon cookware. When using it, I get grease stains on the bottom and sides. I have purchased the Calphalon Dormond cleaner. That does not work. I have tried everything. Please help, I hate cooked on grease.
By Renae from DeBerry, TX
Ad
---
---
Most Recent Answer

By lisa Hegewald [3]01/28/2011
Dawn Power Dissolver. It is a spray. I have seen it at Walmart. We used it to clean broaster baskets at the deli. Amazing stuff.
Please help me remove baked Pam residue from a regular cookie sheet (NOT nonstick).

Thanks,
Susie Whorley from Chapel Hill, NC
Ad
---
---
Most Recent Answer

By Jan 05/06/2015
After trying many ways to remove the spray and grease from my cookie sheet. I poured enough vinegar in the cookie sheet to cover the bottom and placed it in a 250° oven for 25 minutes. I scraped the cookie sheet with a spatula and it just come off the bottom in yellow sheets. With a little elbow grease the corners came clean and it looks new again.
Anyone out there know how to get rid of the sticky film on frying pans after using an oil spray? Thanks. This is after you have already washed the pans.
By Coolmom from Flint, MI
---
Most Recent Answer

By Marilyn11/10/2009
Try some baking soda on a sponge & a little elbow grease. Works for me!
Solutions: Removing Sticky Grease Residue from Pans
Do you have knowledge about this guide topic? Feel free to share a solution!