How do I preserve soy milk without refrigeration?
By Joseph from Ghana, West Africa
Ad
---
By bryguy 2 139 08/10/20100 people found this helpful
You shouldn't. Soybean products are very prone to spoilage. Tofu, for example, goes bad within days, even in the refrigerator. The only way to store soymilk at room temperature is to have it prepared commercially, in a sterile environment. Many companies, for example, sell their soymail in rectangular foil paper containers. These can be stored unrefrigerated for up to a year. You can find many varieties in Asian markets and Chinatowns. The soymilk is ultrapasteurized at high temperatures and then sealed in an extremely sterile environment, something that cannot be achieved at home.

If you have no easy access to packaged soymilk but want it year round, your best bet is to buy dry soy beans which can be stored unrefrigerated. When you want soymilk, simply rehydrate and use an electric soymilk maker to make fresh soymilk.

Alternatively, you can also buy instant soymilk powder, available in many Asian markets. Many are already flavored.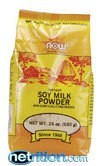 By dexter 5 08/05/20130 people found this helpful
I tried this as a water bath canning method. It does great in the fridge, however does not do so good outside storage - tried one and it failed - it unsealed itself. It turned into this thick jelly-like substance after about a week.
So then not to waste it, I shook it up and it turned back to liquid state and use it for bread and biscuit making. Might be a pressure canning method out there somewhere. Maybe you can check out the ball preserving and canning website for more information.
Archives
Thrifty Fun has been around so long that many of our pages have been reset several times. Archives are older versions of the page and the comments that were provided then.
I am British, but currently studying in Ghana, West Africa. Can anyone help me with the name of any chemical that I can use to help preserve soy milk for more than 120 days without a refrigerator?
Kevin from Ghana
Added after feedback received:
I am working on a project in a village in Ghana of how to store soymilk off the shelf, since most people here do not have a refrigerator.
If I have to pasteurize it at what degree temperature can I be sure it will stay for more than three months off the shelf?
I do not use jars, but bottles similar to that of Pepsi drink.
---
By ThriftyFun
I have just started processing soy milk and by all looks, it's going to be be a nice project. How can I preserve it without using refrigeration to stay for some 30 days?
By Nsubuga C.
---
RE: Storing Soy Milk Without Refrigeration
I don't believe you can except by ultra pasteurization, which is not available to the average person. If you could find canning jars you could can it in a pressure cooker. Protein foods need to be canned under pressure, no exceptions. But canning jars can be dear. You might just make very small amounts and deal with the constant preparation, rather than risk food poisoning in a very warm climate.
I read your second post. You must have proper lids. You cannot can in pop jars; you are risking explosion and serious injury.
My husband was from Kenya. He told me the settlers used to dig a square hole in ground, line with concrete blocks or bricks, covered somehow and dripped water into the hole and it worked as a refrigerator, much as one might make a root cellar. I do not have specifics, but someone who lived in Africa in the 1950s must have a clue how it was done.
Try writing to Scott Pittman of the Permaculture institute in New Mexico and ask if he knows any low tech way to make a fridge, since canning may be more than is practical to tackle, since one has to sterilize the jars, get a pressure canner, and new lids every time you can. You cannot reuse lids. I am giving you the advice of my sis in law, the world's greatest canner.
Where are you in Ghana, city or countryside? A guy at U of Utah I think it was, used a simple cone shaped solar cooker to make ice at night, by facing cone towards starry skies out in countryside; wouldn't work in a city, too much ambient light, even in Africa (cities aren't quite as lit up as in US). I'll bet you could make ice at night out in the dark outside of a city in Africa, I remember you couldn't see a thing. Then people could use ice for simple in ground ice box of some sort. His design is on web for free. (06/16/2010)
By PIKKA
RE: Storing Soy Milk Without Refrigeration
I can buy soy milk in Canada in tetra paks on the store shelves. You only need to refrigerate after opening. They have a shelf life of a year or more. I'm not sure if this is the same as you make. (06/17/2010)
By Pennypacer