Hi, My dog's name is Buster, and he is 14 years old. My cat's name is Sophie and she is 4 years old. My name is Susan and I'm not telling how old I am!
Buster is a Shitzu. I got him from a lady on my Avon route and free, because I loved her dog. He plays with his ball for fun.
I got Sophie from the Humane Society. One week later they put 40 cats to sleep. They were sick and so was she, but I took her to my vet and kept her. She is a Calico and so pretty. Loves to chew on wires though! For fun she likes to pick on Buster!
This picture was taken last summer on our way to Fairbanks, Alaska. They were like having kids with you. They loved riding on my lap. This year they have been to Florida already. They like to travel.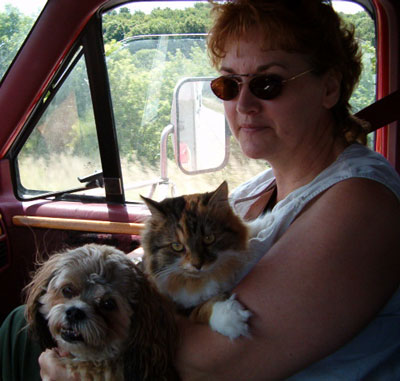 By Susan