Keeping Cats From Scratching Screen Doors
Answers: Keeping Cats From Scratching Screen Doors
Read answers for this question below.
You can install a Screen Door Grill Guard. Google them to see what will fit your situation. I have gotten them in the past at Home Depot and Lowes, usually in the door isle.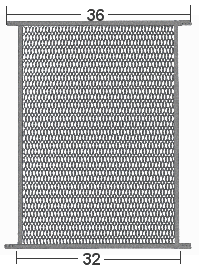 I have always wondered if chicken wire put over the screen would deter screen scratching. The problem is that someone needs to come up with a way to attach the chicken wire to the door to try it
Definitely use water, maybe not a gun but a spray bottle will work just as effectively, and its how your supposed to train your cat to not to stuff, like off the counters and things like that, I'm sure it would work for a screen too.
I had my back porch screen door damaged too but not by a cat. Rather our large German Shepherd dog. I took it to the hardware store, had a new screen put in and then had them put Plexiglas over the new screen. Problem solved. Bonnie
I had the same problem with my own cat.
My solution and it worked great.
A watergun. I won't hurt the cat and getting them wet a couple of times it all it takes.
Good Luck.
MilesKimball.com sells something to put on screen doors to keep them from doing this. Maybe rub something on it to make them not do it?
Answer This Question
Add your voice to the conversation. Click here to answer this question.
Related Guides
Related Posts