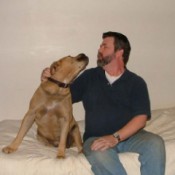 While changing the batteries in my camera I noticed my husband trying to get our Ginger to howl. Ginger howls when she's happy and it seemed like they were having a very private conversation.
They eventually were howling in perfect harmony and I was able to capture the moment. It didn't last long, my husband howled at her for two or three minutes before Ginger couldn't stand it anymore and howled back at him.
We adopted Ginger off of Petfinder several years ago and she will be celebrating her 8th birthday this coming December. She's one of three dogs and she's a Boxer / Border Terrier mix. She is sweet and gentle girl who lets me know exactly what she wants when she wants it.
She's one of those dogs that drools upon the sight of a cookie and will basically eat anything I eat. My husband loves lima beans and for the life of me I can't even swallow one.
One night after supper he saved her some Lima Beans off of his plate and she spit them back out. I guess she takes after me more than I thought.
By CaroleeRose from Madison, AL