I am trying to find instructions for make the "tree" used in a lollipop tree (where you pick a sucker with the colored end and win a prize). It will be used everyday for 2 weeks so it needs to be durable, sturdy and small enough to sit on a table. I was thinking of using hole-board but am not sure it would work.
In checking to buy one, they seem to all be cardboard or styrofoam and I don't think they would hold up for long. If it could be easily taken apart and laid flat for storage until next year, that would be an added bonus. Any suggestions or plans would be greatly appreciated. Thank you.
By Melody from Oak Ridge, TN
Ad
---
By Mary Warren 7 12 11/13/2009 Flag
What's a sure hit for kids and adults alike? Candy, sure. Lollipops, definitely! Lollipop trees are so simple to make and are fabulous for birthday parties, occasional centerpieces or just to set on a living room table for guests. Almost anything cone-shaped will work for the tree; you can buy a cone-shaped styrene shape or turn a plastic cup upside-down. Cone-shaped thread spools also work well. The styrene cones can be painted, or beads and sequin glued all over it - after the sucker holes are in place. The styrene works great because it comes in any size and you can push the lollipops down at various depths to make them longer on the bottom and shorter as you go towards the top.

When working with a plastic cup, turn the cup upside-down and use a nail to poke holes in the cup. Stuff the cup with plastic food wrap to help hold the lollipops. You can heat the end of a long nail to help poke the holes, by holding it by the head with a glove on, then using a lighter or stove eye to heat the end of the nail. After poking the holes for the lollipops, insert them barely in the bottom, then deeper and deeper as you reach the top.

Don't forget to put lots of them on top, or glue on a large bow or ribbon to decorate the top. The cup can be painted before inserting the suckers, or you can glue fabric on it, pictures or other decorations. You can put lights on the tree by purchasing a strand which has a battery pack, taping the pack to the underneath side of the cup, then using the nail to make a small indentation in the rim. Pass the wire under the indentation, and swirl the lights around the tree.

Cover the styrene shape or the plastic cup with garland for a beautiful holiday lollipop tree. Fill the tree with chocolate Santa suckers or suckers in Christmas colors. Glue a large star shape on top and give it as a present. You can enhance the tree by gluing it to a wooden base or glass mirror. To give the sucker tree more pizzazz, tie ribbons around the suckers, then slide scissors quickly across the ribbons to make them spiral. Foil ribbons are very sparkly and give the tree shimmery light.

Wad up pieces of tissue, then spray paint them blue or pink. Glue the wads of tissue all over the cone shape. Paint an "It's A Boy" or "It's A Girl" sign to place on top of the tree for announcing a baby's birth.

If you don't have anything cone-shaped, try taping a paper towel roll or bathroom tissue roll to a square piece of cardboard. Decorate the set-up then fill with plastic cling wrap. Insert the lollipops. You don't have to use suckers. You can put other candies on floral wire and insert them. Try combining lollipops with peppermints, chocolate kisses and other candies for a colorful and totally sugary tree.

Diy crafts: how to make a lollipop tree
This PDF document has instructions to assemble their folding wood tree, available for purchase. Perhaps you can get ideas from this:
http://www.gardeners.com/Lollipop-Tree/36-212,default,pd.html
or
http://demandware.edgesuite.net/aab ... rticles/Gardening/Content/36-212.pdf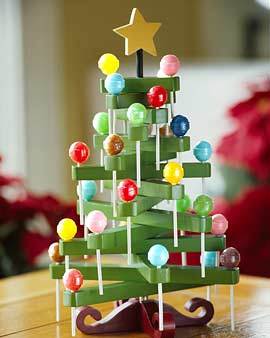 By Melody Bressler-Hay 19 59 01/02/2010 Flag
Thanks for your suggestions.

What I ended up doing was getting an orange traffic cone (donated by the city public works dept.) and using spray paint in a medium/dark green to color the cone portion. The base I painted white. (Be sure to do this in warm weather otherwise the paint takes forever to dry. My was still tacky in places so I "dusted" it with cornstarch. It looked a bit snowy.) I then drilled holes just a little bigger than the lollipop sticks, used an old champagne cork to plug the hole at the top and there it was.

Very stable, held over 100 suckers and worked like a charm.