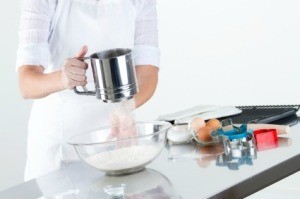 Solutions: Frugal Kitchen Tips and Tricks
Read and rate the best solutions below by giving them a "thumbs up".
I am dependent on a small monthly check for all my outgoings. Recently, I realized that I had absolutely no money left AT ALL and ten days to go before that check arrived. At first I wondered how I would eat. Then I sorted out my cupboards and it was a revelation to me that I actually had plenty of food on hand. I just had to be more creative as to how I used it.
Canned tomatoes have been a great help. Fortunately I had quite a few of those and they have provided pasta sauces, soups, and even a stew (with a small amount of beef I found at the back of the freezer and my last remaining cloves of garlic). Instead of buying bread, I've been using up my stocks of rolled oats and having delicious porridge for breakfast, sprinkled with blackberries I picked last year and froze. Frozen peas have gone into pasta sauces and soup. With my last two eggs, I made a Spanish omelet with onion and potato.
Today for lunch I had red lentils simmered with a stock cube, a bit of the slightly withered leek at the bottom of the fridge, and half a tin of sweetcorn - and it was delicious, with some mint from the garden snipped on top. I've been stewing prunes too from the TWO bags I discovered I had bought at a discount months ago and had forgotten about. When my four year old nephew came round yesterday, we had hot chocolate made with powdered milk - even better than the fresh kind!
I now have three days to go and stores are running low. But I haven't spent one single penny for a week and I've discovered how much wonderful food I've already got and how a little bit of ingenuity is a useful challenge.
By Lucy from Oxford, UK
Do you have a frugal story to share with the ThriftyFun community? Submit your essay here: http://www.thriftyfun.com/post_myfrugallife.ldml
If you are in a hurry and need a funnel just double a sheet of aluminum foil and then roll in a funnel shape. It works for me!
You can also cut off the corner of a envelope and that will also work.
By Dorothy from New Creek, WV
A corner cut from an envelope and pierced at the point makes a good funnel for filling salt and pepper shakers.
By JodiT from Aurora, CO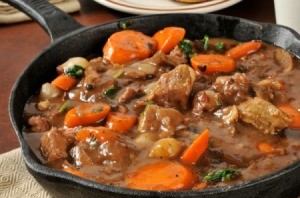 Here are just a few of my suggestions to make ends meet. Some of you might already have these tips in your arsenal. If not, I hope you can use them to make your ends meet.
By Georgetta R. from Waterloo, IA
Do you have a frugal story to share with the ThriftyFun community? Submit your essay here: http://www.thriftyfun.com/post_myfrugallife.ldml
It is easier and more efficient to plan your menus rather than cook whatever comes to mind. When you plan your menu out, it is easier to keep your meals balanced and healthy, and to plan for variety. Here are some tips that may help:
You no doubt know which stores in your area have the best prices on food. Most stores send sale adds out, usually on Wednesdays and Sundays in my area. Sign up to get on the mailing list of the stores you frequent most, or if you can, subscribe to the newspaper or buy a newspaper on the day they send their sale ads out.
Go over the ads thoroughly. First check the foods you plan your meals around, whether meat, poultry, fish or veggies. Making the most economical choices comes first. See what is on sale, and look at seasonal foods too. Then plan for variety and nutrition.
Next, plan for ease of preparation and quick meals, if these are important to you. Other things you can plan for are making meals that provide leftovers for easy, quick meals later in the week. For example, when I make roast chicken, I know I will have leftover meat that can top a pizza, make sandwiches, or go into a casserole.
One idea is to plan your weekend meals, when you have more time to cook, to provide leftovers for 2 or more weekday meals. If you have trouble planning the week out for variety and health, you can plan like this - 2 days of ground beef, 3 of poultry, 1 of fish, 1 of vegetarian, or whatever mix works for you.
You can even take it another step, and plan a complete menu to cover two weeks, a month, etc, then just repeat that menu for however long you like. A repeating month long menu shouldn't become too boring if it has plenty of variety.
Ways to add variety are to choose different meats, a large variety of veggies, to alternate potatoes, bread, rice, grain and pasta for your starch, and to choose recipes from a variety of cuisines. No doubt there are a lot more ways to spice things up (including using a variety of herbs and spices, lol).
When I actually follow the advice I am giving, I do save money, and I actually make better meals. But I think I like most the fact that I don't even have to think about meals once I've planned them out. I put my menu on the fridge and follow it. I get the meat I want out of the freezer the day before, and know exactly what to do to get dinner on the table. So this saves me some time, too. I hope it helps some of you out there too.
By Copasetic 1 from North Royalton, OH
This might seem like a little thing, but I was tired of not being able to get the last of the chocolate syrup out of the squeeze container, frugalista that I am. You know that awful spitting that it does at the end and it splatters all over your clothes and the kitchen walls? Aggravating, right?
Next time you think no more will come out without the awful spitting, unscrew the top and pour some milk in, then put the top back on - tightly. Now shake like crazy (the container that is) and pour into a glass. Fill the rest of the glass with milk and enjoy.
By Gloria from western NY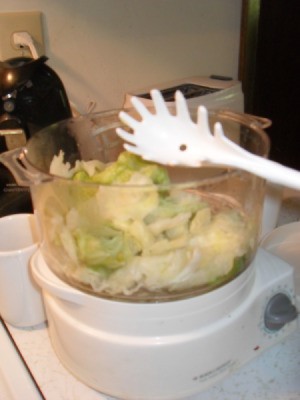 DH and I have become very casual and borderline lazy in our old age, I'm 75 and he is 80. We leave the serving dishes on the counter and fill our plates before taking them to the table to eat. Today, I tried the spaghetti server to take the cabbage from the steamer. It works better than anything else I have tried because of the longer handle.
By Marty from Knoxville, TN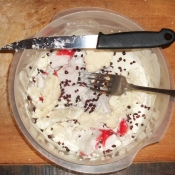 When I make dressing, it's usually in a round bowl like this. Once it's down to just enough for a smaller salad, I don't bother trying to scrape enough out and messy up another bowl.
I simply put the salad in that bowl and mix it up. Today was light day, so I just had Surimi (imitation crab), cauliflower, and the little dots are dehyrdrated cranberries. As Rachel would say, "Yummo!"
You could do the same with Hummus, too.
By Sandi A. from Salem, OR
These might be well known to some of us "sage" cooks, but here's hoping they help those new to the wonderful world of cooking!
Tip #1: I buy eggs by the 60 packs. Sometimes, as the end of the month, I have a few left. I take those out of my container, and hit them with a felt tip marker. Then, put them back in the container and I know they need to be used first. I used to put them in a seperate bowl, but now I can save the room.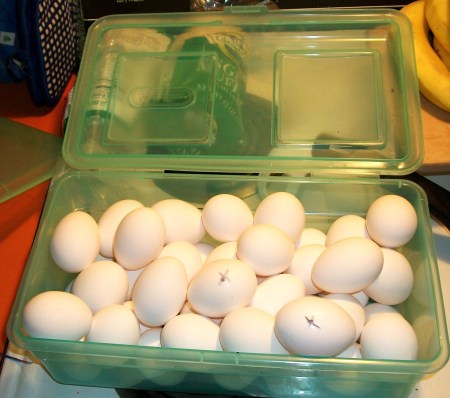 Tip #2: When I chop off the ends of celery, I freeze them. They stay good for about 3 months. I then pop them in a soup or stew stock, just to flavor the liquid. It's especially nice if I don't have celery that week. Once the end is used up, I just spoon it out and toss it away.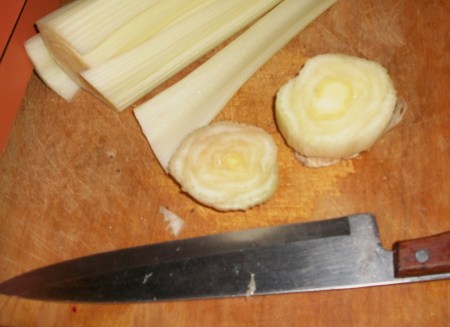 Tip #3: I have almost no counter space in my kitchen. Recently, I got the idea that I would put things in a drawer that I seldom use, you know the stuff. Then, set a cutting board on it. It's easy to remove, clean, and get things out of the drawer, but there when you need the extra space. I use it just for breads, fruits and veggies, so it doesn't run "afoul" (he he).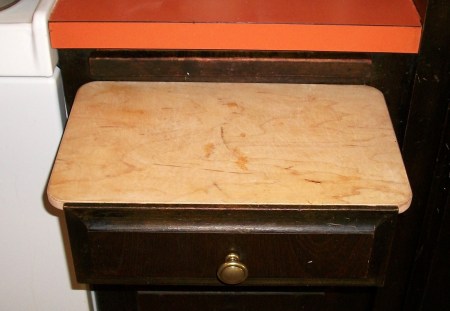 By Sandi from Salem, OR
If you're in a bind, you can make a quick, disposable colander by punching holes in an aluminum pie plate and bending it a bit to the shape you need. This is especially useful for picnics and camping.

By April
Need a funnel in a pinch? Cut off the bottom of a 2 liter or 1/2 liter bottle. This works great, and only costs 10 cents (which is the deposit price in Michigan). You can make it as tall or short as you want.
By melmarr from Michigan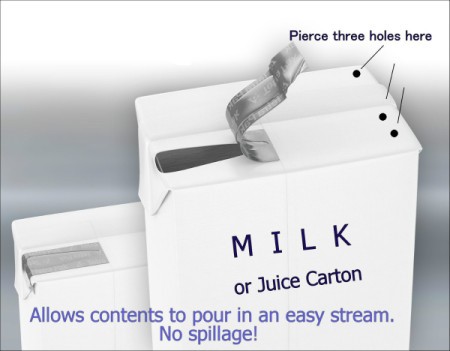 My elderly friend gave me this tip today and I am sharing with you all today.
I made the picture to illustrate.
He pierces 3 small holes at the other end of the carton, away from the opening. He says that this will stop that awful splutter of liquid from going everywhere when you open these types of cartons (usually containing milk or fruit juices). It helps the stream of liquid pour smoothly.
I think this is a great idea as, before now,that spillage ALWAYS happened to me and wastes what I have paid for.
Source: My friend, William.
By Monique [97]
I had a pasta sauce jar that wouldn't open, no matter what I did). Out of desperation, I tapped it lightly with a rubber mallet. It worked!

I've seen many TV cooking shows in which a sharp long sturdy knife is partly sliced into an acorn or other hard shelled squash, and then a rubber mallet is used to tap on the knife until the hard squash is cut all the way through. So I bought one for $5.00. We like acorn squash sliced thin and BBQ'ed on the grill, but I can't make it unless DH is home to cut the squash. Usually, I poke a few holes in it and microwave it until it can be cut with a knife. By then, it's too soft for the grill if I haven't caught it in time and stopped the microwave. Haven't tried this particular model of mallet on an squash yet, but it's a dandy jar opener. Just be sure not to hit the lid on the glass jar too hard.

By Holly from Richardson, TX
1. When using the vacuum sealer to keep meat fresh that I buy on sale, I often find that I need to stack things in the bag like hamburgers. Instead of using wax paper, I use the leftover small parts of vacuum sealer bag to separate the layers of meat. These small parts of the bag are too small to use for its own bag, so using them is better than throwing them away.

2. If you can't get away from prewashing dishes like me, there's no need to set your dishwasher on a full cleaning cycle. By using the short wash, half as much soap, and air drying the dishes, I save lots of money.

By Deanna from Cedar Park, TX
Give a "thumbs up" to the solution that worked the best! Do you have a better solution? Click here to share it!