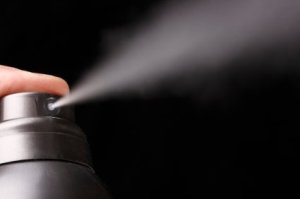 Hair spray is sticky and sometimes difficult to remove. That is why it's best to avoid getting it on your furniture. This is a guide about removing hair spray from furniture.
Ad
---
Questions
Here are questions related to Removing Hair Spray from Furniture.
I have sofa chair with hairspray on a big area of where your head lays. Somebody has tried to removed it, but it turned white like and kind of soaked in hard. Any suggestions of what I can used to get it off.
By Morgan W.
Ad
---
---
Most Recent Answer

By Judy Evans L.12/07/2011
Sponge with rubbing alcohol.
I have a hairspray stain on my leather couch right where my head lays. How can I remove it?
By Shirley B
I have hairspray build up on a nice wood sofa table. It has been there quite awhile and just today I figured out it had to be hairspray as that is the area I go to get my husband to spray my hair.
By Doris
Solutions: Removing Hair Spray from Furniture
Do you have knowledge about this guide topic? Feel free to share a solution!
Archives
Thrifty Fun has been around so long that many of our pages have been reset several times. Archives are older versions of the page and the feedback that was provided then.
I am having trouble with getting hair spray off my daughter's dresser. I don't have a clue to what to clean it with. It's on the mirror as well. Hope some of you good readers can help me clean up the build up.
Thanks for your help.
Teresa from VA
---
RE: Removing Hair Spray From Furniture
Without knowing what the dresser is made of I'd recommend plain hot water and a washcloth. As for the mirror, you can use rubbing alcohol, ammonia, whatever. If that fails, you can always use a razor to scrape it. (12/29/2004)
RE: Removing Hair Spray From Furniture
Use alcohol in a spray bottle to get hair spray off any surfaces that can be wet. (12/30/2004)
By Shirley B.
RE: Removing Hair Spray From Furniture
I used to be a hair dresser a long time ago, and I learned to get rid of build up hair spray in hair to use baking soda. So maybe it will work on the dresser. Make a thin paste of baking soda and warm water, cover the area and let it sit a minute. Then wipe it away you may have to do this a few times depending on how bad the build up is, and after you remove the hair spray use a good furniture polish to bring back the shine. Baking soda will take out all of the hair spray in the hair so you could try this. Good luck. (12/31/2004)
RE: Removing Hair Spray From Furniture
I also had this problem with the doorknobs and the floor in my bathroom, where I spray my hair. I can't remember if I used rubbing alcohol or the foam bathroom cleaner in a can. I think either one of those, will work. It's worth a try. (12/31/2004)
By FrugalFriend
RE: Removing Hair Spray From Furniture
I tried baking soda. It worked somewhat, but was extremely labor intensive. I had a can of Pledge furniture polish to use after I removed the hair spray. By accident I sprayed Pledge on an area where there was hair spray and noticed that it removed most of the hair spray. Throw out the baking soda solution. I then used Pledge on the rest of the job and it worked like a charm and didn't have to worry about furniture finish.
Here's how I did it. I got an old toothbrush sprayed Pledge on about a 2x2 area let it soak into the hair spray about 30 sec. then used toothbrush to loosen the hair spray wiped off with a paper towel and completed the job is no time at all. It actually worked like magic. Hope this helps you out.
The dresser was cherry wood and the hair spray had been caked on for years. (10/31/2007)
By Al
I recently got quite a bit of hair spray and a tiny bit of nail polish on my brown, leather sofa and my lamp, which is metal (don't know what kind, it's the base of the lamp) with a dull-brass shade. Help. I'm afraid to try to clean either one, for fear of removing the brown dye on the sofa and damaging the finish on my lamp. Ideas, please? Thanks so much for your help.
By AnnahFM from Toronto, Ontario, Canada
---
RE: Removing Hair Spray from Furniture
My DD used a lot of hair spray, and the mirror in the bathroom had a film on it when she moved out. I used shampoo and it came right off. Don't know if it would work for your furniture, but it might. (06/26/2009)
By PrairieLady
Anyone know of a way to get hairspray off of wood dressers?
By cash51 from Cleveland, OH
---
RE: Removing Hair Spray from Furniture
Rubbing alcohol applied with cotton swab, and rubbed dry with towel? (10/09/2009)
By PIKKA
How do you remove hairspray residue from an oak stand?
By Merry from Gray, ME
---
RE: Removing Hair Spray from Furniture
Have you tried Murphy's Oil Soap for wood? A lemon oil should do the trick also I would think. Simple Green is an oil based product so it wouldn't hurt the oak, use regular furniture polish after cleaning with Simple Green if you try it. Good luck. (12/05/2009)
By latrtatr