Does anyone know if you can use Advantage For Dogs on cats? On the back it is the same ingredients, so if one used a smaller amount of the Dog Advantage on a cat would it be ok?

Mary from Florida
By mary kim
Ad
---
Recent Answers
Here are the recent answer to this question.

By Lisa Elaine G.02/05/2014
I just bought the over 55lb dod advantage 2 under recommendation from a vet. I split one between my puppy and my border collie and another between my 13 cats. The 4 dose box ($54.99) will do all 15 critters twice.

By blue_bruise09/27/2013
This website has all the info you need, including which products to use or not, and dosages for splitting up the dog formula for cats. http://www.lisaviolet.com/cathouse/advantage.html

By sberri09/25/2013
Advantage is fine just use the correct amount! And of course the packet for large dogs have more in it because of their size! That's why we are buying the dog one for the same price & getting several doses out of them for cats! For those of us whom try to rescue these loving & innocent animals, even though we can't really afford too! This is because stupid people do not spay or neuter their pets & let them run free!

I only work part time & don't make big $ but have somehow with my roommate's help trapped three strays living on our street, got them fixed, got their shots & chipped! But not before one brought us 5 kittens! The kittens were not well but now they are healthy & loving! The two boys are now fixed and have their shots too!

We have released two of the strays that did not take to being inside, but the one female is very loving & will adapt to a loving home when we find one for her! Sorry to rant but this was for the person who said if ya can't afford a pet & all their needs you shouldn't have one! I rather eat sandwiches all the time rather than steak, if it means I can make a difference for these beautiful creatures!

By wreaves409/21/2013
People are confused about Advantage. You use AdvantageII, not Advantix or other dog products. I dont know what the "other ingredients" are in dog Advantage II, but if they are the same as the cat formulation it should work on a cat. It worked on my cat. I used .8 ml, same as .8 cc.

By Tobi31707/03/2012
I have used Dog Advantage on my cats for years. It's the same ingredients just the dosage is different. My vet suggested that I use this method (I have 6 cats) it is more cost effective. To the person who feeds garlic to their dog...look it up, that is TOXIC.

By Mike01/05/2011
I just got back form my vet with my cat. She is a 10.11 pound Main Coon and she said Advantage can be used on both but the dosage is very important. She gave me a plastic syringe and told me to only use 0.8 (ml?) from it and no more. She also said Frontline is different for dogs and cats so do not use the dog formula on cats.
Advantage - Yes
Frontline - No


By Lilac [18]07/11/2010
I would not do it. It is made for cats and dogs for a reason. There are some places it pays to be thrifty but where health is concerned why take chances. My personal opinion is this; If a person can't afford to feed and take care of pets properly then they should not have them.

By Photocrazy06/29/2010
I know these are old posts but others as I did may see this post.
You can use canine Advantage on cats, my vet gave me some of it.
You can't use ADVANTIX for dogs, which is by the same company, but has added ingredients which are toxic to cats.
The ingredients for Advantage are exactly the same, just that dogs are usually larger than cats so there is more in a tube. You have to measure it out for cats:

.4 ml for cats 9 lbs and under and .8 ml for cats over 9 lbs.

Just make sure it is Advantage, not others.

By Janna (Guest Post)05/24/2008
Advantage is the same ingredients for cats and dogs: Imidacloprid. As long as you administer the right dosage, there should be no reason canine Advantage should harm your felines.

However, you should never, ever, ever apply canine Advantix, Frontline or Revolution on your feline as they have separate canine-only chemicals in them.

By LuvMyGingerKids [45]02/22/2008
NO! Advantage for canines is toxic to cats. If you have cats in the home with your dogs, and the dogs are the only ones using Advantage, the canine advantage toxic to the cats. And NEVER use Canine Advantage on cats!

If you are a canine-free home, use Feline Advantage for your cats. If you have dogs, use Frontline Plus on your dogs and use Advantage for cats on your cats.

By ANDREA STRICKLAND [3]02/19/2008
I DON'T USE ANY OF THOSE PRODUCTS AS A FLEA AND TICK PREVENTATIVE....WAY TOO COSTLY FOR ME...FOR YEARS I HAVE USED ...EXCEL 8 IN 1 BREWERS YEAST TABS WITH OMEGA 3 FATTY ACIDS AND GARLIC...I GET THEM THRU THE MAIL FROM "CHERRYBROOK"..THEY HAVE AN ONLINE SITE... THESE TABS ARE ALSO SOLD IN WALMART, BUT IN DOSES FOR SMALL TO MEDIUM DOGS....I GET THE MEGA SIZE TABS FOR MY TWO BIG DOGS AS THE DOSE IS ALOT SMALLER THAT WAY...BECAUSE THE TABLETS ARE MUCH BIGGER...USING THIS PRODUCT MY DOGS HAVE NEVER HAD FLEAS, THEIR COATS ARE SOOOOO SHINY AND THERE'S ALOT LESS SHEDDING!!!...I SWEAR BY THIS STUFF....LOL AND THE PRICE IS JUST RIGHT!! NO VET NEEDED EITHER...THE PICTURE IS OF MY PUG, "TAZOR", HELPING ME IN THE GARDEN LAST SUMMER....LOL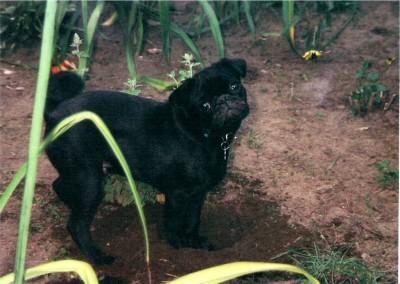 By Diana Albers [7]02/16/2008
I use the large Revolution for dogs and separate it for my cats under the VETS orders. Please be careful not to use too much!

By Gina Johnston [12]02/15/2008
Please be careful with these potent but supposedly safe medications. For a natural alternative, try diatomaceous earth powder. It's cheap, safe and works great, both externally and internally--and there's no poisons in it!

By Debbie (Guest Post)02/15/2008
I do. I get the largest dog Advantage (not Advantix!) and use .4 for 5 lbs. and under, .8 for over 5 lb. cats. I'm a foster/rescue person and that is what we all use.

By Susan Sanders-Kinzel [9]02/15/2008
I do this all the time. My vet gave me a syringe marked with the amount for my cats. I buy the largest dog kind and give the recommended dosage to my dog and cats. I believe for my cats it is .8 ml, I just use the marked vials he gave me. I've been doing this for a few years and with 4 cats it has saved me lots of money. I can't speak for other flea medications and I know that Advantix is bad for cats but with Advantage it works very well.


By Amanda (Guest Post)02/14/2008
I wouldn't, There's more in those for dogs than cats. Thats what a vet told me.
Answer This Question
Add your voice to the conversation. Click here to answer this question.