I am looking for a crochet pattern for baby cowboy booties. I have contacted Annie's Attic and they no longer carry it. I have a new grandson and I would love to make these for him. All help is greatly appreciated.
By Mary from Oakdale, NY
Ad
---
Recent Answers
Here are the recent answer to this question.

By Jennifer02/04/2010
I found them at a store online and they are already made!! for a good price too.
http://www.taylorsbaby.com/category_225/Baby-Booties-and-Slippers.htm

By Sandi/Poor But Proud [422]02/01/2010
http://www.google.com/search?hl=en& ... =crocheted+cowboy+&aqi=g-sx3g-s1
I googled crocheted cowboy booties pattern. Sometimes, going there first saves a lot of time. Share them when you are done?

By Diane Sturgess [2]02/01/2010
http://web.archive.org/web/20071127004818/
http://hometown.aol.com/fourleafcl1064/page69.html

By Susanne [2]02/01/2010
http://misskitty1965.wordpress.com/2007/08/08/cowboy-booties/
Click on "baby booties" under the picture

By carol blevins01/31/2010
cowboy bootie part 2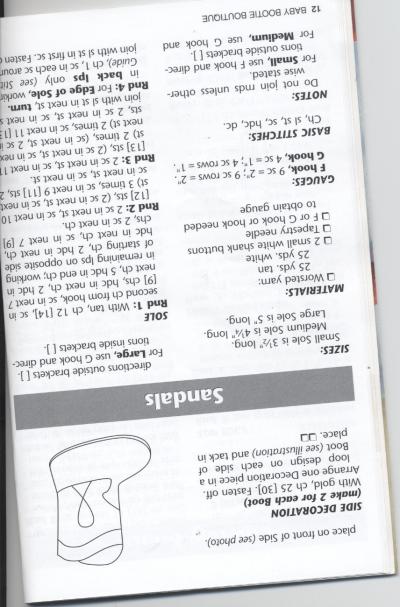 By carol blevins01/31/2010
I have a pattern for the cowboy booties,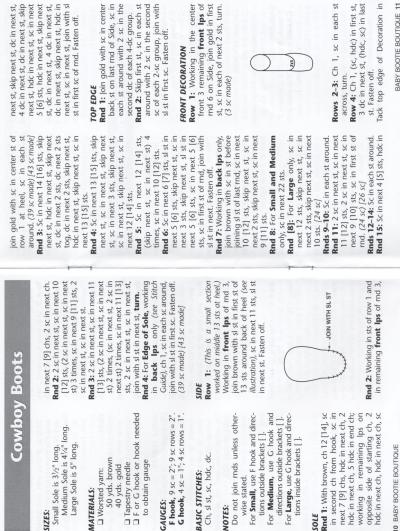 Archives
Thrifty Fun has been around so long that many of our pages have been reset several times. Archives are older versions of the page and the feedback that was provided then.
A few years ago, I knew a lady in Dallas who crocheted baby cowboy boots for charity. I begged her for the pattern, but she wouldn't part with it. Does anyone have this pattern? I would be overjoyed to find it as our family has a new baby coming in April. Thanks for your help.
glomax56
---
RE: Crocheted Baby Cowboy Booties
maggiescrochet.com
(for sale) (01/26/2005)
By Nikki
RE: Crocheted Baby Cowboy Booties
mainstreetmallonline.com
Hope this helps. I have found them cheapest, already made, on taylorsbaby.com Cute. (09/29/2008)
By SSH
RE: Crocheted Baby Cowboy Booties
Go to
anniesattic.com
. The booties are in a patten book along with 9 other precious bootie patterns. The cost is $5.95. I downloaded the entire book (28 pages) so I wouldn't have to pay postage. (01/16/2009)
By Lyn F.
RE: Crocheted Baby Cowboy Booties
I found one on YouTube! Go here http://www.youtube.com/watch?v=FhzEaTIqrBA and hopefully the videos will be clear enough to understand. I haven't tried it yet. There are at least 7 videos that go with this pattern so you'll have to look for the others. I hope this helps everyone out. (12/05/2009)
By Goldibug
Answer This Question
Add your voice to the conversation. Click here to answer this question.