I have a ceramic flat top stove. It is burnt on top. I have cleaned and used stove top cleaner and oven cleaner; it made it worse. What do I do?
By Tausha from Crawfordsville, IN
Ad
---
By bryguy 2 143 09/24/2010 Flag
If it's discoloration where the ceramic has physically changed colors, there may not be much you can do. The oven cleaner may have chemically caused permanent discoloration. However, if it's merely burnt on stains, you can try the below cleaners.

According to this site, you should not use anything with bleach, ammonia or caustic ingredients (i.e. oven cleaners). They can cause discoloration.

http://lancaster.unl.edu/home/articles/2001/cooksurface.shtml

Have you tried cleaners like Cerama Bryte? Amazon users love it.

http://www.amazon.com/gp/search/ref ... eaner&ie=UTF8&qid=1285350910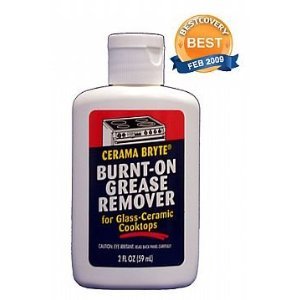 By xintexas 28 395 09/25/2010 Flag
If it is just burnt on a Mr Clean eraser works really well. You would have to use some elbow grease and clean it several times. The eraser has always gotten burnt food off my flat top stove when other things haven't worked.
Archives
Thrifty Fun has been around so long that many of our pages have been reset several times. Archives are older versions of the page and the comments that were provided then.
How can I clean the top of my ceramic stove, I have a burnt on stain?

Dawn from Herminie, PA
Answers:
RE: Burnt Stain on a Ceramic Stove
I asked almost the same question. Check out my replies.
http://www.thriftyfun.com/tf98590865.tip.html (10/10/2006)

By
I have a flat top stove that has burnt on 'stuff'. I've tried just about everything on the market, to no avail. Does anyone know of something that will get the black burnt on mess off my stove?

Renee from Middleburg, FL
Feedback:
RE: Burnt Stain on a Ceramic Stove
My expert (my husband the appliance tech) suggests using Weiman (brand name) glass stovetop cleaner. This is the only thing you should be using on the ceramic cooktop. It has a very mild abrasive in it, but is made for glass cooktops. You can get it fairly cheap at Walmart. (03/13/2008)

By DEBRADJ.
RE: Burnt Stain on a Ceramic Stove
Try the Magic Eraser they work wonders and won't scratch. (03/13/2008)

By just curious
RE: Burnt Stain on a Ceramic Stove
Baking soda works great for this. Dampen the stove top, sprinkle on the soda and rub. Works better than any commercial cleaner that I've tried and it's cheap and eco-friendly.
(03/14/2008)

By Jean from MS
RE: Burnt Stain on a Ceramic Stove
Have you tried using a razor blade to scrape it off? My stove came with a razor blade holder. Seems like it would damage the stovetop, but it doesn't. (03/17/2008)

By Linda in AL
RE: Burnt Stain on a Ceramic Stove
Oven cleaner won't hurt it, get yourself a single sided razor holder and use that to scrape. It won't scratch the glass, at least it hasn't on the last 3 that we've had. (03/17/2008)

By Ted
RE: Burnt Stain on a Ceramic Stove
Get yourself a small box of laundry detergent called Surf.
Make a thin paste of it with HOT water and put onto the stains/crud. Heat that with a blow dryer and scrape gently with a plastic pot scraper or scrub with a plastic mesh scrubber.
Surf works because of the enzymes in it. The hot water and extra heat activate the enzymes and you can much easier scrape or scrub it off. (03/18/2008)

By Shosha