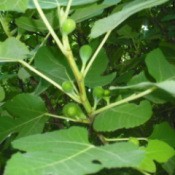 Here in Louisiana the figs are setting, and are the most beautiful green. This variety is the Brown Turkey Fig. When the figs ripen in about a month, they will be the most gorgeous brown color with hints of pink and purple. Can't wait to eat them straight from the tree!
By Marilyn S. from Colfax, LA
Feedback
Feedback about this article is posted here. Want to contribute? Click above to post feedback.

By rbrady06/21/2011
My tree is loaded also here in Central Texas but with the drought, I have been watering them so the figs don't drop.
Post Feedback
Add your voice to the conversation. Click here to post feedback.