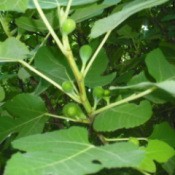 Here in Louisiana the figs are setting, and are the most beautiful green. This variety is the Brown Turkey Fig. When the figs ripen in about a month, they will be the most gorgeous brown color with hints of pink and purple. Can't wait to eat them straight from the tree!
By Marilyn S. from Colfax, LA
Ad
---
By Robin Brady [4] 06/21/20110 people found this helpful
My tree is loaded also here in Central Texas but with the drought, I have been watering them so the figs don't drop.