Muffin Tin Tacos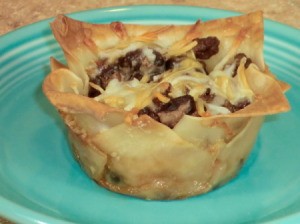 These taco cupcakes are easy to make and so delicious! They are a great option to pack for lunch and can be frozen and heated up individually.
Ingredients:
24 wonton wrappers (in the produce section)
1 1/2 tsp. chili oil (in Asian food section)
1/2 lb. lean ground beef
1 Tbsp. taco seasoning
3/4 cup canned black beans, drained and rinsed
1/3 of a block Mexican Velveeta
1 cup salsa
1 cup Mexican cheese, shredded
sour cream and/or guacamole, optional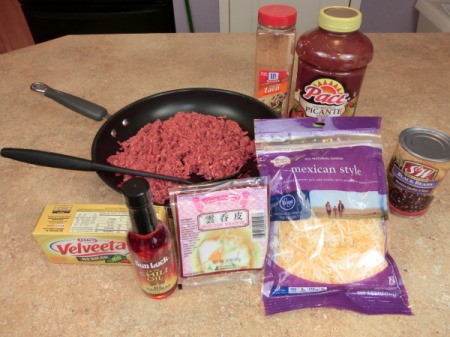 Directions:
Pre-heat the oven to 375 degrees F.
Spray muffin tin cups with cooking spray. Set aside.
Heat chili oil in a large skillet over medium-high heat, add ground beef and taco seasoning. Brown beef, then add black beans and continue cooking until heated through, stirring occasionally.
Put a wonton wrapper into the bottom of each of the muffin tin cups.
Cut Velveeta into 24 equal sized cubes. Place a cube of Velveeta onto each wonton wrapper. Then spoon 1 Tbsp. of the meat and bean mixture into each cup. (Note: On my initial try, I melted the Velveeta before adding it, however it re-solidified so quickly that I chose to not include that in these instructions.)
Spoon 1/2 Tbsp. of salsa into each cup. Sprinkle about half the shredded Mexican cheese evenly over the top of each cup.
Press another wonton wrapper on top and repeat the layers of Velveeta, meat mixture, salsa and cheese.
Bake for 18-20 minutes, or until golden brown. Let stand for 5 minutes before removing from muffin tin.
Serve with sour cream or guacamole.
By Laurel from Port Orchard, WA
Feedback
Read feedback for this post below. Click here to post feedback.

By
05/16/2012
Laurel, these sound so yummo! I don't care for the flavor of black beans so think I'll substitute with garbanzo beans or maybe even cannellini. These would be good using ground pork or chicken too!

And thank you for all of the photos for instruction! Wish I had better kitchen lighting and uncrowded counter space or even a dining table to be able to do that :-(

By
05/10/2012
You could try something like Doritos. I am not sure who much they would set like a muffin. One cool thing about these is once done, they really kept their shape and could have easily been frozen.

By
05/10/2012
These sound great. Could you substitute Doritoes of taco chips for the wonton wrappers?
Post Feedback
Add your voice to the conversation.
Related Guides
Related Posts