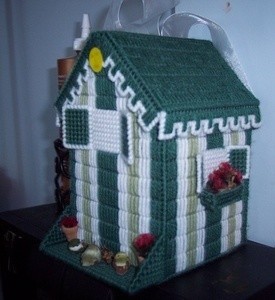 It is a bird house for the small tissue box made in plastic canvas. I made the patten from doing the large birdhouse. It makes a nice gift to make.

By Mary from Cornwall, Ontario
Ad
---
Feedback Forum
Feedback about this article is posted here. Want to contribute? Click above to post feedback.

By SueS [1]06/24/2012
This is so cute. I would love the pattern if you would send it to me. My mom would love it.

Sue
jssparks AT ptd.net

By Janeyliz03/29/2011
Would I be able to get the pattern for this please?

By sharon09/30/2010
I love your birdhouse. Can I please have a copy? Thank you.
grannylo4

By Rosy07/12/2010
I would like to have the pattern, so my Girls in the Girl Scout can make one.

By Eric [1]03/07/2009
Email address is bearnfawn2005 AT yahoo.com Please send pattern. Thanks

By Eric [1]03/07/2009
Hello,
My wife saw this bird house and thought that i would like it. Can I get the pattern and stuff to make it? Thanks,

By Nath02/18/2009
Hi! could you send me this pattern? I'd really love to have it for my wedding. thank you! My e-mail address is nath_r_27 at hotmail dot com

By Stephanie (Guest Post)01/16/2009
It is so adorable, can I have a copy of the pattern?

By Patricia (Guest Post)01/15/2009
I love your birdhouse! Would you be willing to share the pattern? littlebit1051 AT hotmail DOT com (remove spaces). Thank you, in Tennessee.

By Holly [349]01/14/2009
Beautiful stitching!! It came out so nicely!!
Isn't PC addictive?

By Stacey Silva [51]01/13/2009
So cute, I'd love to have a pattern so I can make one!
Post Feedback
Add your voice to the conversation. Click here to share feedback.