I am looking for an Easter craft for girl scouts to do for nursing home residents. Any help would be appreciated.
-Penny
Ad
---
This answer has been rated the best for this question.
By gem 154 262 05/01/2012 Flag
Wish I had seen this sooner. I am an Activities Director and for Easter I made all of them these darling bunny cups from styrofoam cups. They were easy to make and were just so cute. I will leave a pic so maybe next yr you'll have a good gift for them. I also made home made eggs to go in them and wrapped them so they'd stay fresh.

Be sure not to put in plastic grass. Mine was paper. They tend to eat everything.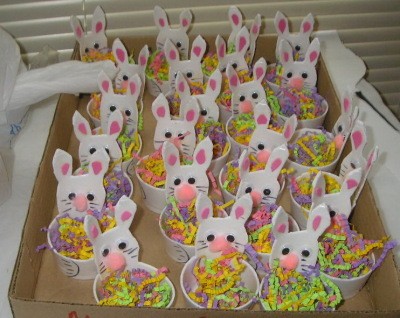 By Pat Shook (Guest Post) 03/07/2005 Flag
It depends on the age and abilities of your girls...a rally simple one is to take a paper plate,and a piece of construction paper...cut two "ears" out of the construction apper...glue the ears to the plate...the back side of the plate...and use a pink pom pom for the nose..draw on the eyes.
For older girls go to craft store and buy small flower pots....have the girls paint them or cut flowers out of magagnines to glue on the pots and add some grass and a few jelly beans...If you want to get really fancy you could tie a ribbon around the rim of the flower pot hope this helps Pat
By Pather (Girl Guide Leader) (Guest Post) 03/20/2005 Flag
Hi, hope you are getting some good ideas. One activity I did with my patrol was for them to trace and cut their hands out (which will be the wings). (Some of the older people wanted to do it, so the girls traced around their hand.) Then you draw an egg shape on another piece of paper (which will be the body). then you make beek and two legs. attach the hands onto eiter side of the egg. Attach the legs and beek then draw eyes. And you will have a chicken. If you would like a photo, just email me (sentarlablair@hotmail.com) and I will send you a picture. It was a very easy and fun activity for both the older people and my patrol of 7 year olds.
Happy Easter
Panther
By dawn (Guest Post) 03/12/2006 Flag
One that i plan on doing with my daughters first grade class is a Easy basket, you will need styrofoam cups, poke a pipe cleaner into the sides for the handle, add grass (im going to use the different color grass) and add candy inside the cup> You can also use stickers to decorate the basket.
By Amber (Guest Post) 02/12/2008 Flag
My Venture Crew went to the local nursing home last year when I really felt a tug on my heart to hold an Easter service in addition to our usual Christmas service there. Our first year we got the pastel colored Construction paper (cutting it into an egg shape pattern we found online) and used the foam stickers and regular stickers in addition to crayons, markers, and glitter glue pens and gave each person their own Egg to decorate. The majority of the patients loved it. I think it went well. I actually found this page searching for an idea for this year. I don't know when you posted this but if it is recent and you get any good ideas please let me know. Thanks.

- Amber
flutarist AT yahoo.com
By (Guest Post) 03/12/2008 Flag
I am the activities director at a memorial home and last year a group of cub scouts made our residents sun catcher crosses. Just use clear contact paper and colorful tissue. Cut the crosses out of white paper and stick to the contact paper and then fill in the space with the tissue paper. Our residents loved them.
As mentioned in the best answer, some people will eat the grass, plastic or paper. I had used large flaked coconut. Food coloring may be used to tint it green.