Buddy came to us as a stray. The vet said he had a crushed larynx, probably from a collar or choke chain. She said to use a harness instead. Since he is a runaway dog, that's what we do.
Most dogs and cats like back rubs/massages. I look for used baby receiving blankets at yard sales and flea markets. I wash them well and warm them in the dryer on chilly days (Terry towels just takes 20-30 seconds in the microwave also). Then I wrap up Buddy and massage his spine with a circular motion. He loves it. My mom had just finished giving my cat, ZsaZsa a back rub. She got so tickled. Mom passed away in 1999, but I still have fond memories through pictures such as this one. Here are a couple of Buddy being SPOILED after what we think was a hard life before coming to us.
By Great Granny Vi from Moorpark, CA
Editor's Note: Here is a previous post about Buddy
Add your voice! Click below to comment. ThriftyFun is powered by your wisdom!
Buddy is slowing down these days. Walks are shorter. Naps are longer. He has several favorite sleeping quarters. His real bed is by my computer chair and on the closet floor behind my long dresses. Then in the living room, his other REAL bed is the one he is sleeping on in this picture.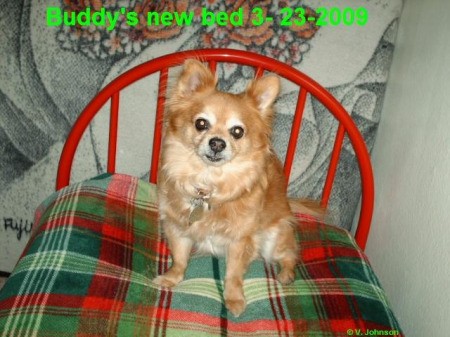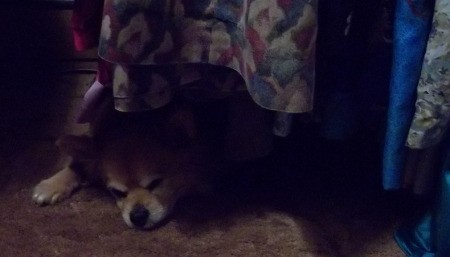 He takes turns using our two comfortable living room chairs, plus his bed in the garage where his daddy's computer chair is. His "going to bed at night bed" is in the bedroom closet on a triple folded down quilt. Just so you don't think he is just an inside dog, the other picture is of him napping on the patio glider. A tad spoiled?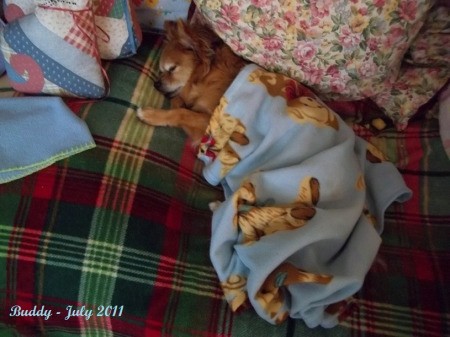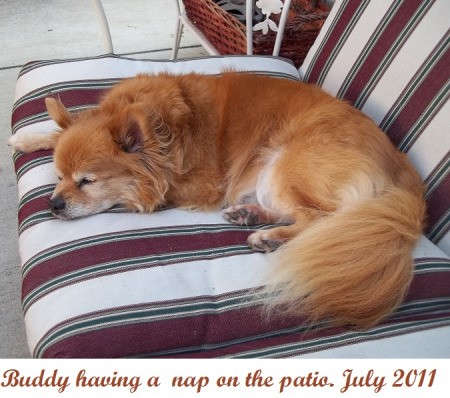 By Great Granny Vi from Moorpark, CA
July 29, 2011
0

found this helpful
What a beautiful darling you have. Buddy is indeed a precious little baby! I love how he gets all comfortable in the wonderful bed he has. He looks like a sweet little fox! Thanks for sharing him. We have a little Applehead Chihuaha that is two years old that has only one eye. He does not even seem to notice it. The vet says this happens a great deal with little dogs, and he does surgeries about twice a week for this very thing. Andy is a chihuahua and I am going to see if I can find a picture of him for you. He lives in his Momma's room, and gets treats all the time and likes to sleep on the couch in there, under a pillow he makes a cave out of. He is afraid of flies.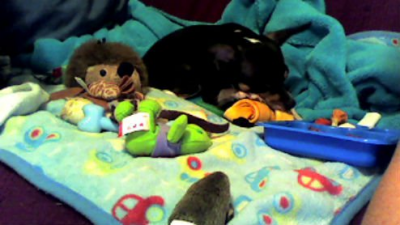 July 29, 2011
0

found this helpful
I am in love with Buddy. :-)
August 1, 2011
0

found this helpful
Spoiled? ... You bet; just as he should be!
August 1, 2011
0

found this helpful
What a beautiful little pet. Our fur-babies take up a big spot in our hearts, don't they? I love hearing about everyone's pets.
Thank you for sharing your Buddy.
ww
August 1, 2011
0

found this helpful