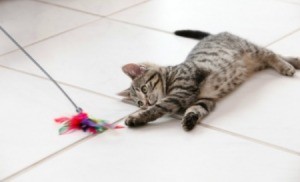 Removing urine stains and odors from flooring can be a challenge. This guide is about removing urine stains and smell from a tile floor.
Solutions
Share a solution for this guide today!
Questions
Here are questions related to Removing Urine Stains and Smell From a Tile Floor.
How can I remove urine stains from a tile floor?
By Doreen from A. from Santa Ana, CA
---
Most Recent Answer

By IQD202/08/2012
Denture Tablet with hot water, let it sit for a while or overnight. Then wipe clean.
How do I get the smell of animal urine off tile flooring?
By Kayr
---
Most Recent Answer

By metroplex06/07/2010
I don't know about cat urine, but someone on this site recommended Suave Juicy Green Apple shampoo to get human urine smells off and out of ceramic tile around a commode.

I don't have ceramic tile, but bought it anyway in case we get them someday.

I don't know where you live but here are the details for Suave:

www.suave.com
1-800-782-8301
distributed by Unilever
Chicago, Illinois 60601, USA

Lots of luck!
I would like to know how to remove pet urine stains and smells on tile floors without taking up the old floors and having them redone.
By Lanissa from Gulfport, MS
---
Most Recent Answer

By jean leiner02/07/2012
Try soaking a rag in white vinegar, and putting it on the stains to soak for several hours or overnight, rewetting the rag if needed. Then wipe clean. This has worked for me. Apparently acetic acid is stronger than uric acid. Kaboom bathroom cleaner( the one that turns from blue to white when the surface is clean) also seems to work well on cereamic tile around the toilet.