Beaded Magic Wand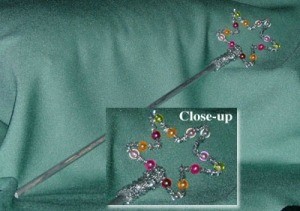 Supplies:
15 inch long, 3/8 inch diameter wooden dowel
silver paint
2-3 silver tinsel stems
1 package of beads
glue gun
Directions:
Paint dowel silver. Allow to dry thoroughly.
Glue 1 silver tinsel stem 2 inches from the top.
Wrap the silver tinsel stem the rest of the way to the top.
Place 2-3 beads on the silver tinsel stem.
Shape the tinsel stem into a star with 1 1/2 inches per side, arranging the beads in a pleasing pattern. Leave 1 inch for finishing.
Wrap the remaining 1 inch on the dowel and glue the end to secure.
Voila! A Magic Wand to charm the heart of any princess.
Also see the Beaded Terrific Tiara.
Feedback
Read feedback for this post below. Click here to post feedback.

By
09/01/2005
Cute , and fun looking. I am going to make one
for me. I just got some glass beads and was looking to make something pretty. I will put this
on the shelf or on the wall.
Thank you for the idea.
Post Feedback
Add your voice to the conversation.
Related Guides
Related Posts