Buddy (Dog)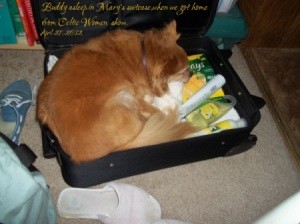 Buddy is about 11. DD had bought tickets and we had gone to see "The Celtic Women". When we got back home we found Buddy was fast asleep in my friend's suitcase. She was visiting from San Jose, California. Buddy had climbed in and just made himself a new bed. Good thing she likes dogs. LOL
By Great Granny Vi from Moorpark, CA
Feedback
Read feedback for this post below. Click here to post feedback.

By
05/13/2012
I love watching my animals take naps! They are so adorable. Few of mine could fit in a suitcase, but I love to see little animals make their own beds!

So sweet! :)

By
05/13/2012
Adorable! Besides the suitcase already being a really comfy bed choice it seems Buddy also thought, "What a bonus! The Always pads container is a perfect soft pillow!" - LOL ;-)

By
05/04/2012
What a sweet picture! Buddy has just made all your clothes nice and warm!
Suitcases make excellent beds!
Post Feedback
Add your voice to the conversation.