Pumpkin Carving Collection
Each year my husband adds a couple of carvings to his collection. We light the pumpkins each evening during the month of October. I really wish all of you could bring your children and grandchildren by to see them.
Michaels and many other stores sell carvable pumpkins. Get one for each of your children or grandchildren. Let them carve them, have them sign and date the bottom. In a few years, you will have a fantastic collection of carvable pumpkins showing their skills. What a fantastic memory for the family! Enjoy!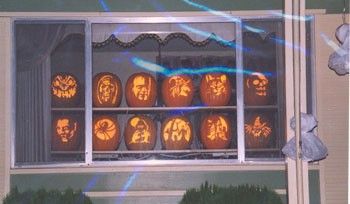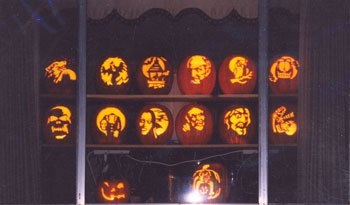 Happy Halloween!
Tedebear
Feedback
Read feedback for this post below. Click here to post feedback.

By
10/01/2008
Is there any way to copy some of the patterns and upload them here? Possible we can email someone and get copies of scanned patterns?

That would sure save a lot of money for me

Here is some for everyone

Thanks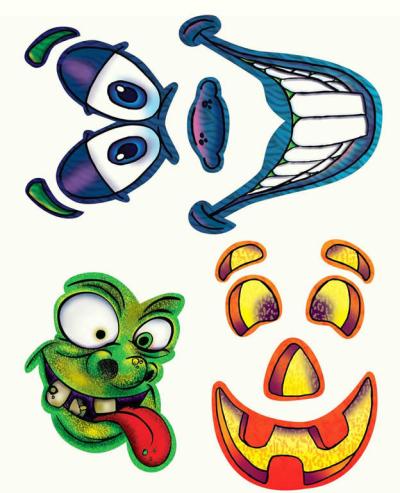 By Jennifer (Guest Post)
09/09/2008
These are a great idea. I have a couple that I put on my front step. My problem is how do you light them? The first couple of night I go outside and turn on those battery type lights in each one. I end up changing the batteries every other day! But then I forget to either turn them off before bed or forget to turn them on all together. Can you put a string of xmas lights in them?

By
10/26/2006
Hi Tedebear!!! These are so incredible!!! I showed your photo to my son who is the master pumpkin carver in our family....lol He thought they're great, too!!! He asked how you light them up.....and I have no clue. How do you light these beautiful carved pumpkins?

By
10/25/2006
What a fabulous idea and keepsake! I consider myself a pretty crafty person and I never thought to do this! I think I just found a new Halloween tradition!

Thank you for sharing this will all of us!

By tedebear (Guest Post)
10/21/2005
Hi May-fairy(16), Yes, my husband uses the carvable pumpkins from Michael's craft store. Yes, we always use the coupon to purchase them! The first years, we used real ones and stayed up late the last couple of nights before Halloween.

By
10/20/2005
Does you husband use foam craft pumkins or real ones. If he uses real ones how do you get them to keep for so many years.

By
10/19/2005
Fabulous!!! It brought back that spooky, excited feeling I always got as a kid. I loved it when we would be tirck or treating and walk up on someone's porch and they had lit pumpkins either in the window or on the porch.

By
10/19/2005
I must say..your husband is very talented , he should carve wood for halloween I bet he will succeed..
Post Feedback
Add your voice to the conversation.