Chocolate Almond Bark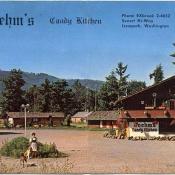 When I was a little girl in the 1960's, my parents would treat my brother and I once a month with a special trip to the original Boehm's Candy Kitchen that was at the base of Snoqualmie pass near Seattle. The buildings were (and still are) fashioned after a Swiss Chalet and the original owner, Julius Boehm, was always the one to assist us. Boehm's candy is some of the finest in the world; I can attest to that.

His father had been a candy maker, and when Mr. Boehm came to the United States from Austria to escape the Nazi's he brought that knowledge with him. There were dozens of types of candies to choose from in his store, but my eyes were always drawn to his chocolate almond bark! I know that my recipe will never, ever compare to his wonderfully perfected chocolates, but making it brings back wonderful memories of his smile and his care when he handed it to me.

Boehm's was so popular that they even had their own postcards. I've included a picture of one that was taken around the time we used to visit there :-)
Ingredients:
8 oz. quality dark chocolate
1/3 cup whole shelled almonds
Directions:
Heat a double boiler and place wax paper on a baking sheet or simply on the counter top.
Break chocolate into pieces, place into the double boiler and melt, while slowly stirring, until chocolate is smooth.
Working quickly, remove from heat, stir in almonds until combined, pour out onto wax paper, smooth out with a spatula, and allow to cool.
Once the chocolate has cooled break apart with a knife or fork and store in an air tight container in a cool dry place.
By Deeli from Richland, WA
Feedback
Read feedback for this post below. Click here to post feedback.

By
12/15/2011
Deeli, I have heard that a little chocolate each day is good for you so I looked up the benefits of chocolate and this is what I found.

Chocolate is made from plants, which means it contains many of the health benefits of dark vegetables. These benefits are from flavonoids, which act as antioxidants. Antioxidants protect the body from aging caused by free radicals which can cause damage that leads to heart disease. Dark chocolate contains a large number of antioxidants (nearly 8 times the number found in strawberries). Flavonoids also help relax blood pressure through the production of nitric oxide, and balance certain hormones in the body.

Wow, I'm going to start eating more chocolate. I love it.

By
12/13/2011
Deeli - I'm sure that even if you had his exact recipe, it probably still would not taste the same as it did when you were little & had the wonderful experience you described, which surely had to have added to the flavor of the candy itself! My daughter & I were just this minute talking about how my chocolate chip cookies just don't taste like the one's my mom used to make, even though I use her recipe -sigh! Thanks for sharing your story with the recipe!
Post Feedback
Add your voice to the conversation.