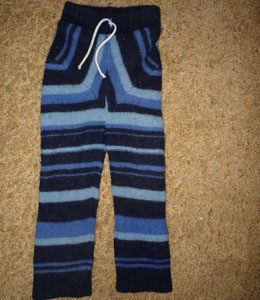 Turn your old wool sweater into a pair of pants for your baby! Wash the sweater with hot water and dry with high heat to shrink it. Cut off the sleeves, and sew them together to make a pair of "legs". Finish the waist with a draw-string (an old shoe-string works great) or elastic. You can even use the collar or bottom of the sweater to make it look more professional around the waist. And, wool makes a great diaper cover, too!
By Jackie from Burlington, KY
By Jackie
Ad
---
By PENNY K 15 562 03/31/20090 people found this helpful
Isn't that a great idea?
By christine 1 10 04/04/20090 people found this helpful
Please be careful when using drawstings in childrens clothing. They can get caught in things.
By jmhenkel 04/05/20090 people found this helpful
What a great way to recycle on old sweater. Thanks for sharing
By Denise 04/09/20090 people found this helpful
How in the world did you think of this!? I think you have been blessed with that special type of intellegence involving spacial relations! NO kidding! I could not even imagine this - thank you for sharing!