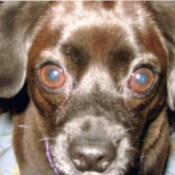 Lil Fella is a 7 year old Japanese Chin/Chihuahua. I got Fella 7 years ago when the lady I worked with brought in a box of her adorable puppies that her own dog had just had. We had a Great Dane/Black Lab at home at the time. I was a bit concerned about Lil Fella being harmed because of the size difference, but our black lab could not have been more gentle and kind to him.
I call Fella my little helper, which actually makes any task twice as long. He loves to take things and run with them through the house. If I am on the floor working on something, he usually quickly grabs an item and runs through the house with it.
At Christmas time, I finally had to block him out of my wrapping area because it was taking me twice as long to wrap. He would usually walk or lay on the wrapping paper or run off with the Scotch tape or tags. This is definitely his favorite game. He also loves to run and is extremely quick.
I am prejudiced, but he is absolutely adorable. He is comical and can pluck your heart strings. He usually puts a smile on anyone's face and loves to travel. He is my happy thought.
By Beth H.