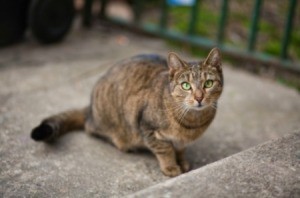 It is annoying and frustrating, not to mention smelly, when cats in the neighborhood spray the outside of your home. This is a guide about discouraging cats from spraying the outside of a house.
Ad
---
Questions
Here are questions related to Discouraging Cats from Spraying the Outside of a House.
There are cats spraying on my outside porch. Cats are coming around the house all the time. (I do not own any cats). What can I do?
By Icu3 from Columbus
AnswerWas this interesting? Yes No
Ad
---
---
Most Recent Answer
By Danielle.Morgan 1 05/09/20110 people found this helpful
I'm having this exact issue. I have 4 male tomcats vying for my 1 year old cats affection. My problem is a bit different beings that I have a cat and she is about to get spayed in a few days so that's why I have the males in my back yard, fighting, and spraying like crazy. Needless to say my house downright stinks. After lots of research I have found some pretty good ways to clean up the stench and to prevent it.

White Vinegar is that one solid ingredient that most grandmothers use and it does the trick. Take 1 part Vinegar and 2 parts WARM water in a spray bottle and go around spraying the infected areas while scrubbing away the sprayed areas.

Another spray you can make is 15 ounces Hydrogen Peroxide, 2 Tbl Spoons of Baking Soda, 2 squirts of dish soap. Very important to use a disposable plastic container and spoon to mix solution. Scrub and rinse with WARM water.

Bio-Zet is a laundry detergent that is used in Australia apparently. I've never heard of it till now, but have heard great reviews about it's ability to remove cat urine or spray from fabrics, clothing, and upholstery. I will be buying this and using it for the rugs outside my house.

Do not use products containing ammonium, this will entice the cats to spray even more! As if we want that, right?

Prevention for inside the house: This also applies to people who have indoor cats in their home

First of all: Cleanliness, cleanliness, and more cleanliness. Cats are very clean animals and need their litter boxes, etc. to be nice and clean.

Having several litter boxes throughout the house in the affected areas may help with spraying. Putting lemon, orange peel, lavender, and I believe it is Eucalyptus scents where the cats have been spraying will help to detour the little tigers. Also putting food, sand paper, or plastic bags in affected areas may help too. If you have cats outside your house trying to get at your cat inside the house such as is my situation, block the view of the outside world. So your cat doesn't feel threatened and feels the need to spray as well adding to the disgusting smell.

Prevention for outside:
Lemon, lavender, orange peel, and eucalyptus scents once again. The cayenne pepper and water as someone stated earlier will definitely do the trick, but use caution as someone stated can cause blindness in cats.. I would say the cayenne pepper and water would be good just to spray on the walls of the house and not the ground (could help to avoid the kitties stepping in the stuff too and causing blindness).. Since when a cat sprays they spray vertical up onto walls, furniture, etc. I would avoid using the powder version of the cayenne pepper to help avoid kitty blindness.

The biggest prevention of all is get your females and males spayed and neutered. This helps eliminate spraying, the excess population of stray kitties, and health problems associated with the reproductive organs. Do not use the excuse that you do not have the funds to spay or neuter your pet. There are plenty of programs where there is zero to little cost to have this surgery done and if you can't afford the proper health care of your pet.. You should maybe altogether rethink the decision about getting a pet.

If none of the tactics work above, take your pet to their local vet. There may be an underlining issue that is causing the your cat to spray.

Best of luck from one cat spray sufferer to another!
---
I have 4 stray cats that hang out on my back porch. I have a male neutered cat inside. Apparently, one of the strays is also a male (unneutered) and he has been spraying my house--gross! I have a 2 year old and I don't want him to go out and play when this cat sprays. Does anyone have any suggestions on how to get this stray cat to stop spraying or to get him to leave? Help please! melissa in wv
AnswerWas this interesting? Yes No
Ad
---
---
Most Recent Answer
By nina (Guest Post) 07/30/20080 people found this helpful
I've also heard citronella oil works (outside!), but avoid using it on cement or similar surfaces as it will stain.
---
Several or one very busy local cat keeps spraying my front door and my hall stinks. I have read the other posts on here about getting rid of the smell and deterrents, but I have 2 cats. I don't know who is spraying, but I need a solution which will deter the other cats, but won't upset my cats and prevent them from using their cat flap.
I have tried the Felaway spray and have the plug in near my front door, but its not working. Does anybody have any ideas? I now have a micro chip cat flap as I caught a neighbour's cat in my hallway spraying. Both of my cats have been spayed and I don't think its them. Also can anybody tell me if the peroxide solution takes the colour out of carpets? Thanks.
By Claire
AnswerWas this interesting? Yes No
---
Most Recent Answer
By aledamark 04/28/20130 people found this helpful
I wish that I could come up with an easy fix for you but unfortunately I've found this kind of situation doesn't have any quick fix. The best advise I could give you is the advise I followed. Instead of wasting tons of money on clean up just to have them repeat it over and over I think you should invest in a live trap. You can pick them up under $30.00 and they can come in handy over and over. After selecting the right trap you should contact the local animal control and request assistance with the costs of spaying ferals. You might even be able to borrow or rent a trap from them but I suggest that instead of waiting on them to just spend the $30.00 so you'll always have 1 on hand since ferals and strays show up all the time. After finding a group that'll help cover the costs of spaying then just bring your cats in for the night and set the trap with some tuna or cat food. I'd also suggest that you figure out where you are going to store your catch in between the trapping and spaying since you'll need to store the cats safely after they've been trapped. Before trapping you might want to check out sites online that'll help you through the trappings and everything that you'll need to know about safely trapping, spaying and releasing. As soon as they are trapped you'll want to get them to the vets and have them spayed as soon as possible. Depending on how many ferals and strays you have this might have to be a project that takes a few weeks but it'll be worth it once they've all been spayed. After trapping them and having them spayed they will usually calm down with the spraying, fighting and breeding and that's when you'll actually have a fighting chance with clean up since cleaning up while you have ferals just waiting in the shadows to remark their territory will just cost lots of time and money with little results. There are also a lot of ideas that you can find on line to help keep them away but I think that the best results will always be from trapping, neuturing and releasing since the Tomcats will always find away through any defenses you put up because they only care about finding the ladies and spraying is how they do that.
---
I am still having a problem with a cat spraying even though she has been spayed. Can cats still spray on leaves and grass after they are spayed? I live in a basement apartment and there is a terrorist cat who comes to attack my windows and terrorize my cats. When I go outside to try to get rid of her, I smell the cat odor. I know she is fixed as I know her owners. How do I get the cat to stop coming around or attacking my windows, tearing off my screens, scaring my cats, and leaving her smell?
By Shawna
AnswerWas this interesting? Yes No
---
Most Recent Answer
By Millicent O. [1] 05/21/20130 people found this helpful
Yes female cats do spray, I have over 20 cats and they have been spayed, and trust me they do spray. LOL
---
How do I discourage male cats from spraying my home and my shrubs?
By Irene
AnswerWas this interesting? Yes No
---
Most Recent Answer
By Squire 09/10/20150 people found this helpful
Cats hate citrus so i keep reading so i blended lemons skin and all in a nutri bullet added about 4 litres of warm water to the juice in a bucket and poured it over the plants the cats were spraying, have not had a problem since if you want to use a spray bottle just put juice in muslim or chux to strain out fine particles mix with warm water.
My friend next door has cats and one of them sprays on my lounge room window, as soon as I open it to let some fresh air in. I am getting very annoyed with this cat.
By Heather from Murray Bridge
Solutions: Discouraging Cats from Spraying the Outside of a House
Do you have knowledge about this guide topic? Feel free to share a solution!