Several or one very busy local cat keeps spraying my front door and my hall stinks. I have read the other posts on here about getting rid of the smell and deterrents, but I have 2 cats. I don't know who is spraying, but I need a solution which will deter the other cats, but won't upset my cats and prevent them from using their cat flap.
I have tried the Felaway spray and have the plug in near my front door, but its not working. Does anybody have any ideas? I now have a micro chip cat flap as I caught a neighbour's cat in my hallway spraying. Both of my cats have been spayed and I don't think its them. Also can anybody tell me if the peroxide solution takes the colour out of carpets? Thanks.
By Claire
April 27, 2013
0

found this helpful
We have a real problem with a tom cat. Its owners have moved and its not neutered. We have 3 cats, 2 quite elderly. Always been loving, loyal pets. Since the tom cat came on the scene we have paid hundreds in vets bills where it has been fighting with our cats. The youngest is licking her fur off and is bald in patches from stress! We've had a cat flap fitted yet it still sneaks in through an open window and sprays.
My trained cats have also began spraying too. I have been out in the garden this afternoon weeding and it just stinks of cat wee. We are at our wits end. Is there anything that works to stop it coming anywhere near us? Even if we could catch him, the local rescue centre have said they are full. They can help with getting it neutered but I would have to collect it!
April 28, 2013
0

found this helpful
I wish that I could come up with an easy fix for you but unfortunately I've found this kind of situation doesn't have any quick fix. The best advise I could give you is the advise I followed. Instead of wasting tons of money on clean up just to have them repeat it over and over I think you should invest in a live trap. You can pick them up under $30.00 and they can come in handy over and over. After selecting the right trap you should contact the local animal control and request assistance with the costs of spaying ferals. You might even be able to borrow or rent a trap from them but I suggest that instead of waiting on them to just spend the $30.00 so you'll always have 1 on hand since ferals and strays show up all the time. After finding a group that'll help cover the costs of spaying then just bring your cats in for the night and set the trap with some tuna or cat food. I'd also suggest that you figure out where you are going to store your catch in between the trapping and spaying since you'll need to store the cats safely after they've been trapped. Before trapping you might want to check out sites online that'll help you through the trappings and everything that you'll need to know about safely trapping, spaying and releasing. As soon as they are trapped you'll want to get them to the vets and have them spayed as soon as possible. Depending on how many ferals and strays you have this might have to be a project that takes a few weeks but it'll be worth it once they've all been spayed. After trapping them and having them spayed they will usually calm down with the spraying, fighting and breeding and that's when you'll actually have a fighting chance with clean up since cleaning up while you have ferals just waiting in the shadows to remark their territory will just cost lots of time and money with little results. There are also a lot of ideas that you can find on line to help keep them away but I think that the best results will always be from trapping, neuturing and releasing since the Tomcats will always find away through any defenses you put up because they only care about finding the ladies and spraying is how they do that.
January 18, 2016
1

found this helpful
I tried several products but the best was AIP industrial which is a live bacteria/enzyme solutions. I also put my cat in a thunder shirt for his anxiety.. Don't laugh...it really works! Hasn't peed since!
July 6, 2016
0

found this helpful
Allies cat a feral organization with help with the trap, vet spay and neuter, I have done it , low cost , and the cats are gone.
Read More Answers
There are cats spraying on my outside porch. Cats are coming around the house all the time. (I do not own any cats). What can I do?
By Icu3 from Columbus
January 27, 2011
0

found this helpful
Do not use cayenne pepper around animals. The get in on their paws and then into their eyes. Cats have been blinded trying to end the pain.
May 9, 2011
1

found this helpful
I'm having this exact issue. I have 4 male tomcats vying for my 1 year old cats affection. My problem is a bit different beings that I have a cat and she is about to get spayed in a few days so that's why I have the males in my back yard, fighting, and spraying like crazy. Needless to say my house downright stinks. After lots of research I have found some pretty good ways to clean up the stench and to prevent it.
White Vinegar is that one solid ingredient that most grandmothers use and it does the trick. Take 1 part Vinegar and 2 parts WARM water in a spray bottle and go around spraying the infected areas while scrubbing away the sprayed areas.
Another spray you can make is 15 ounces Hydrogen Peroxide, 2 Tbl Spoons of Baking Soda, 2 squirts of dish soap. Very important to use a disposable plastic container and spoon to mix solution. Scrub and rinse with WARM water.
Bio-Zet is a laundry detergent that is used in Australia apparently. I've never heard of it till now, but have heard great reviews about it's ability to remove cat urine or spray from fabrics, clothing, and upholstery. I will be buying this and using it for the rugs outside my house.
Do not use products containing ammonium, this will entice the cats to spray even more! As if we want that, right?
Prevention for inside the house: This also applies to people who have indoor cats in their home
First of all: Cleanliness, cleanliness, and more cleanliness. Cats are very clean animals and need their litter boxes, etc. to be nice and clean.
Having several litter boxes throughout the house in the affected areas may help with spraying. Putting lemon, orange peel, lavender, and I believe it is Eucalyptus scents where the cats have been spraying will help to detour the little tigers. Also putting food, sand paper, or plastic bags in affected areas may help too. If you have cats outside your house trying to get at your cat inside the house such as is my situation, block the view of the outside world. So your cat doesn't feel threatened and feels the need to spray as well adding to the disgusting smell.
Prevention for outside:
Lemon, lavender, orange peel, and eucalyptus scents once again. The cayenne pepper and water as someone stated earlier will definitely do the trick, but use caution as someone stated can cause blindness in cats.. I would say the cayenne pepper and water would be good just to spray on the walls of the house and not the ground (could help to avoid the kitties stepping in the stuff too and causing blindness).. Since when a cat sprays they spray vertical up onto walls, furniture, etc. I would avoid using the powder version of the cayenne pepper to help avoid kitty blindness.
The biggest prevention of all is get your females and males spayed and neutered. This helps eliminate spraying, the excess population of stray kitties, and health problems associated with the reproductive organs. Do not use the excuse that you do not have the funds to spay or neuter your pet. There are plenty of programs where there is zero to little cost to have this surgery done and if you can't afford the proper health care of your pet.. You should maybe altogether rethink the decision about getting a pet.
If none of the tactics work above, take your pet to their local vet. There may be an underlining issue that is causing the your cat to spray.
Best of luck from one cat spray sufferer to another!
February 16, 2016
0

found this helpful
Odoban! You can buy it at Walmart and other similar stores. It works wonders & is also a disinfectant and can be used ANYWHERE and for many purposes also. Ive had cats all my life, 4 right now and its the only thing that kills that smell. Its eucalyptus scented also which is recommended for deterring further scent marking.
April 3, 2017
0

found this helpful
CATS STILL SPRAY AFTER FIXED...MY ISSUE IS WITH NEIGHBOR WHO TOOK IN FERAL AND FIXED AND HE SPRAYS MY HOUSE. CANT SIT OUTSIDE COS OF THE SMELL...HELP, WHAT CAN I DO
Read More Answers
May 15, 2009
0

found this helpful
Is there anything out there for getting rid of cat urine smell? We have a neighbor cat that is spraying the outside of the house. In the late evening, the smell is coming inside the house.

Thanks,
Safka from NW
Answers:
Cats Spraying Outside My Door
There are about four cats (not sure if they are stray or not) that are always going in my yard. The problem is that they have been spraying all around my house, my kids' bikes smell like it, and now that it is getting warmer you can really smell it when you even walk outside. Is there anything I can plant or put down so the cats stop spraying? And is there anything I can do to get rid of the odor that is already there?
Sarah
Cats Spraying In My Yard
Fox urine! You can buy it in liquid form and get small containers that you hang around your house and yard in strategic places, or get it in powder form which you sprinkle around your home and yard. The draw back of the powder form is that you have to reapply it every time it rains. It is quite expensive, but it works like a charm!
Another remedy is to plant garlic all around the perimeter of your house, or sprinkle hot pepper powder. You have to have sizable quantities of that to make it work, but animals hate the smell of garlic and the hot pepper. The fox urine is completely nontoxic and won't harm the cats. It's success undoubtedly lies in its ability to scare the living daylights out of the cats! I would go with the fox urine!
You can also use a Have a Heart trap, and the animal warden will pick up the cats, provided you use their traps! The fox urine can probably be found at larger garden supply sources. You might try doing an Internet search. My mother uses it all the time and buys it from a garden center called "The Chalet," but I am not sure whether it is a local thing (Chicago suburbs,) or a national chain!

By skbeal
Cats Spraying In My Yard
They are probably spraying more because it is mating season.
If the cats were spayed or neutered, they would not likely be spraying. If they belong to your neighbors, I would talk with them about it and do #3. If they are strays, take them to a spay/neuter clinic and they are likely to stop spraying. You may also have some new, more pleasant little friends.
Coffee grounds can be poisonous for dogs and cats and probably other animals and moth balls are not good for children.
Motion-activated sprinkler systems can work to keep cats away and don't hurt them.
To get rid of the odor, hose down anything they have "sprayed" outside and possibly use something like Nature's Miracle on the bikes to rid them of the odor. Moving the items to another location out of reach of the cats might help, as they will smell the odor on the items and keep coming back to the same place.
By guest
Cats Spraying In My Yard
Simple Solution from Petsmart or other pet store works wonders on cat urine odors. I think there is one specifically for cat urine.

By Christy
Cats Spraying In My Yard
Not Mothballs! They change from solid to gas. The gas (therefore the smell) is toxic. In humans it can cause headaches and ruin your desire to eat. They are intended to be used in closed containers to prevent the smell from escaping and to kill moths within the container.
If your problem is with a neighborhood cat invite your neighbors over for a sniff on a hot sunny day and while you are there suggest they consider building an outdoor cat run. It is great for outdoor cats and can be made to cover as much area in their backyard as they feel they would like to donate to their cat. It can be made with something as simple as chicken wire and wood stakes and works at keeping cats in as long as it has a top.

By guest
Cats Spraying In My Yard
One of the tricks I learned while working in vets' offices to get those cats to stop marking in your yard, is to buy strong smelling soaps (Zest, Coast, Irish Spring) and chunk it up around where the cats are spraying. The smell will deter them from the area and it is safe for children.

By Michelle
Cats Spraying Outside My Door
Do not use pepper, it can be fatal to cats.

By<ahref="http://www.thriftyfun.com/profile.Idml?profile=thr165686"> Maryeileen
(08/14/2005)
Cats Spraying Outside Our House
Wanna hear a cool way the Japanese deal with this? They fill up Clear rectangular drink bottles with water and line them up where the cats pee. They said that the lights refracting from these bottles made the cats not want to go there. I saw tons of these water filled bottles in Kyoto so they must work!
The bottles should have as many angles as possible so the "ribbed" bottles work best. In Japan, I think water comes in this size and shape, but there must be some drink like this in your neck of the woods. (03/23/2006)

By Eugene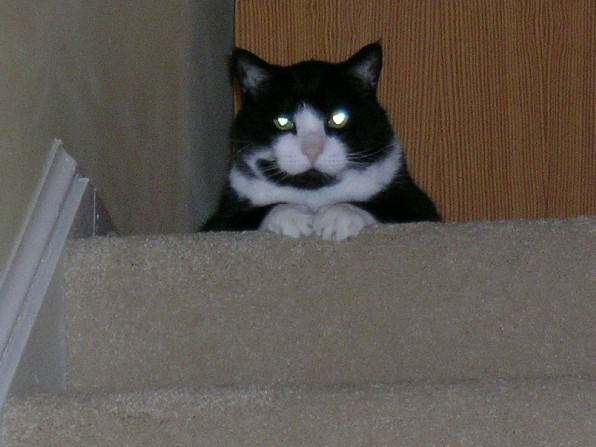 Cats Spraying Outside Our House
Spray hydrogen peroxide on the sprayed area and tell the owners to get responsible and get the cats "fixed" or you will call animal control. (04/21/2006)

By Katmommy
Cats Spraying Outside Our House
I tried the coffee grounds last night and it worked. The neighborhood skunk checked it out (but didn't stink up our home), and no cats came around! (08/17/2006)

By suburban woman
Cats Spraying Outside Our House
Use lemon essential oil mixed with water. (01/31/2008)

By Mel
Cats Spraying Outside Our House
(Submitted via email)
If you purchase Rug Doctor odor control, it is an enzyme that eats the cat odor, I have used it myself and it is the only thing that worked to get rid of the odor. Pour the contents into a water bottle and spray the affected area.
Also, to prevent the cats from spraying try throwing moth balls around the area and fill another water bottle with half vinegar and half apple cider vinegar and spray. The cats supposedly don't like the smell and it should deter them from coming around.
I don't know if it works as I myself am about to go to the store to purchase the above items and try it out as I now have 2 stray male cats spraying all around my backdoor. But I do know the Rug Doctor will get rid of the odor. Barbs5boys (03/18/2009)

By Sally_Admin