Pets and The New Baby
A new baby is an adjustment for everyone, parents, siblings, and pets! Here are some tips to help make the transition easier for everyone:
Before the Baby Arrives:
Bring your pet to the veterinarian before the baby is born for a check-up and routine vaccinations.
If you have never been through obedience classes, you may want to take a course before the baby is born!
Teach your pet not to nibble on people, redirect his attention to appropriate toys and treats.
Teach your pet to sit/stay until invited to join you on a couch or chair.
Talk to your veterinarian and/or your pediatrician if you have any major concerns about your pet and your baby interacting.
Invite friends with infants to visit, supervise your pets carefully around the babies!
Get your pets used to typical baby noises, the creak of the rocking chair, the mechanical swing, you can even play recorded baby cries!
Use baby powder or baby oil on your skin so your pets can get used to the new smells.
Talk to your pets about the baby -- use the baby's name if you have picked it out in advance.
After the Baby Arrives:
If the baby's room will be off-limits to the pets, install a gate or a screen door, your pet will be out of the room but still able to see and hear what is going on. He will feel less isolated this way.
Bring something that smells like the baby home to your pet before the baby comes home from the hospital. Your pet can become familiar with the baby's smell.
When you first arrive home, let someone else take the baby into another room while you greet your pet. Remember, he's missed you terribly while you've been at the hospital! Use your pet's training to keep him calm.
When you are ready to introduce the pet and the baby. Make sure your pet is calm at this point, reward your pet with treats for calm, appropriate behavior. You want your pet to know that being good to the baby is a positive experience!
Don't force your pet to come near the baby if he doesn't want to.
Try to maintain regular routines, if you started each day with a walk before the baby came along, try to stick with it. Keep mealtimes at the same times so your pet's routine isn't too disrupted.
Make sure to spend some quality time alone with your pet every day so he doesn't feel left out.
Some dogs have a natural instinct for mothering; a friend of mine has a German Shepherd who just adores the baby and is always at his side. Please don't immediately dump your dog or cat out of the family if they don't adjust to the new family member right away. Give it time, give everyone attention and affection, and everyone will learn to get along.
By Catherine Forman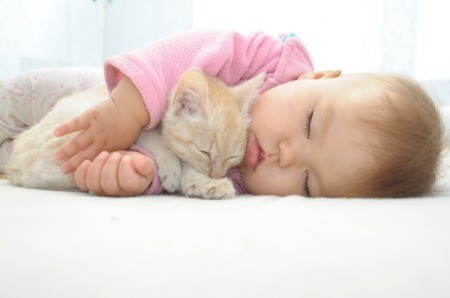 Add your voice! Click below to comment. ThriftyFun is powered by your wisdom!
Related Content
In This Guide
Categories
Guides
More
Categories