Accidents happen; painting a room can sometimes result in spatters and drips on unprotected furniture. This is a guide about removing dried paint from a leather sofa.
I was given a leather set a while back, a loveseat, couch, and giant coffee table, by a woman whose daughters were going to throw them away. After all, mom bought them each a house and car, why would they worry about a used leather couch?
They used all of the pieces for storage of freshly painted pieces or as sawhorses. The paint has been on there for at least a year, possibly longer. I have been reading the posts on here about olive oil and acetone and various other remedies so that I might have some idea of what to do before I got started. I tried the Vaseline first and that didn't do it so I took it upon myself, because the paint was caked on pretty thick on the first piece I started with, to try something else.
I have done painting of all types for many years and usually, for a latex paint, warm soapy water will clean things up pretty well. It didn't work very well this time so I broke out a favorite of mine for cleaning pots and pans that get too dirty or have baked on or cooked on buildup, Scotchbrite pads. Between the warm, soapy water and some vigorous scrubbing with the Scotchbrite, I was able to get about 90% of the paint off. I tried smearing some Vaseline on the leather and leaving it sit for a while to soften it, but the effect was minimal. Next, I got out my lacquer thinner and soaked a piece of an old pair of sweatpants and went to wiping the leather. Presto! The remaining paint came up, with just a little bit of convincing.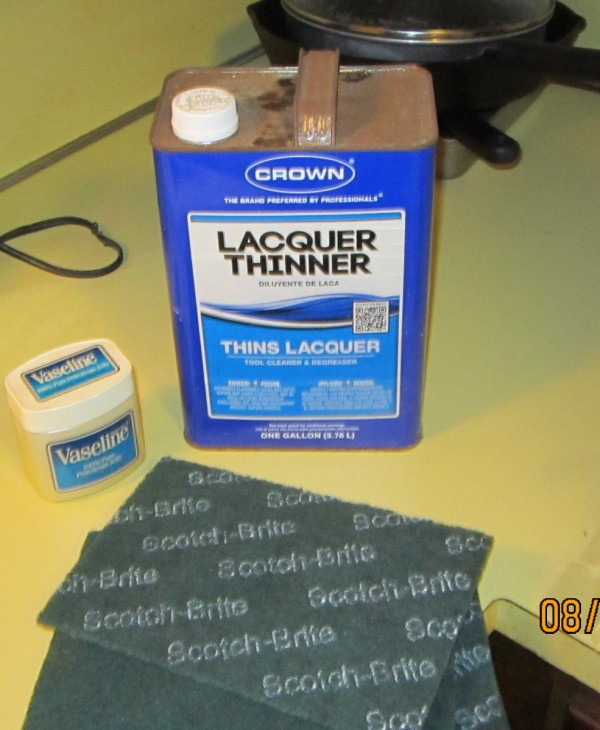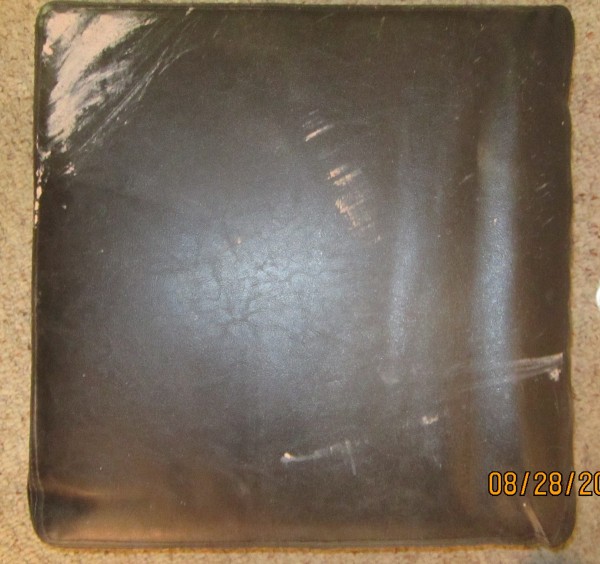 I have attached pics of a couple of the pieces, I think, of the coffee table, to show the before and after. Unfortunately, the one that was the worse of the two was almost done before I decided to take pics. Anyway, this will give you some idea of the before and after. Btw, the Vaseline, when rubbed in, will restore moisture and suppleness to the leather and restore the shine very well and I think it is cheaper to use or certainly more versatile than paste shoe polish. The Scotchbrite pads did not scar or scratch the leather like I feared it would.
Somewhere down the line, when I get the whole set cleaned and shiny again, I will put up pics. One more thing. I have posted some pics of the materials I used so you can know what to buy. The Scotchbrite pads, like the ones in the pic, can be bought at Home Depot in those 6x9 sheets and then cut up into thirds, or smaller if you want. Thirds is approximately the size you can find at Walmart or the grocery store, but if you buy them like I did, in the bigger sheets, in the paint department at Home Depot, there is a considerable savings over the Walmart or grocery store price. Enjoy and let me know how your project turns out.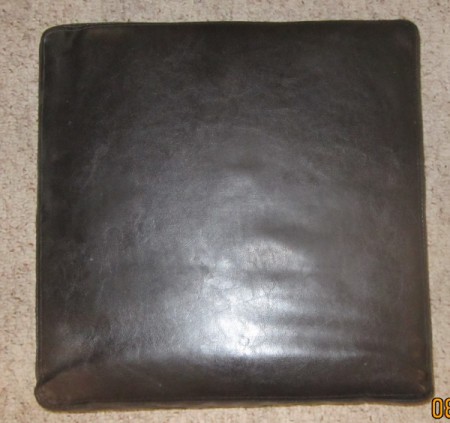 How do I remove paint over spray off a brown leather couch?
By Brenda from Phoenix, AZ
Answer
Was this helpful?
Helpful?
Yes
March 18, 2014
1

found this helpful
I had this happen with some antique leather inlay end tables with 24k gold leaf. I acted fast and used a very mild warm water and tiny bit of Dawn dish soap (very lightly damp rag). (After taking pictures for insurance). And the tiny spray speckles, only one day old popped off or melted away into the rag.
It's important to say here that this would have been impossible if the 100+ year old leather inlay and the wood had not been regularly cared for! Leather requires a gentle massage of a high quality leather conditioner every six months. I recommend Dr. Jackson's Hide Rejuvenator, as a leather professional.
Further I recommend every five years. Atom Wax leather finish (which can go right onto the leather that has been conditioned and left to absorb then polished for residue. This protects your sewn seams and your gold leaf or other decoration for many many years of normal use. Your wood should be maintained with a regular semi annual hard bees wax French Polish over your lacquer finish. My 760 year old desk still looks like 'new' with a few hours elbow grease twice per year.
Reply
Was this helpful?
Helpful?
Yes
Read More Answers...
I accidentally got a small amount of paint on my gray leather couch. It is a very fine spray and the paint was acrylic latex.

George from Toronto, Canada
Answers:
Removing Paint on Leather Sofa
This may be a long shot but worth a try. Get a blow dryer (not a heat gun) and put it on its highest setting. Heat up the paint over a long period of time by trying to get it to become elastic, as it is acrylic and is a type of plastic paint. See if you can very slowly and carefully peel it from your leather sofa without anything but trying to lift it up with your fingernails.

If that doesn't work, possibly a gentle organic chemical type paint remover dabbed on very carefully and sparingly by working it in to the paint and gingerly try to dab up with a soft absorbent paper towel. You could ask an upholstery cleaner for their professional opinion, they might have just the right procedure. Hope this helped. :) (01/25/2009)

By anatole
Removing Paint on Leather Sofa
I also got a small amount of white paint on the leather seats of my car. I took a q-tip and dipped it in nail polish remover and tapped the excess off. Then very lightly go over the paint on the leather. It comes off almost immediately and then make sure you wipe it off with a wet sponge. It worked really well. It did not discolor the leather at all. (01/27/2009)

By florida gal
Comment
Was this helpful?
Helpful?
Yes
How to remove dried paint from a leather sofa?
Bernie
Answers:
Removing Dried Paint from Leather Sofa?
I have a Horse Buggy that I bought this weekend and someone had painted the whole thing light blue including the leather. I tried acetone, but it only worked on a very small part of it. What else can I use? I also tried the olive oil, didn't work. Thanks. I need help.
Debbie (07/24/2007)

By Debbie
Removing Dried Paint from Leather Sofa?
My mum bought herself a leather chair complete with paint spatters. We used distilled vinegar, paint removal wipes, and oil. None would shift the paint, the only thing that worked was nail polish remover scrubbing with toothbrushes. It didn't damage the leather at all. I was impressed. (08/06/2007)

By Jes
Removing Dried Paint from Leather Sofa?
I got latex paint on my father's favorite, expensive leather chair. Luckily he was away on a work trip, so I had some time to clean it off. I tried scraping it off with my finger nail. That was not a good idea. I went online to try to find anything that would maybe take it off. I tried some water and dish soap like somebody suggested and I did not scrub with the scratchy side of sponge. In minutes all of the paint was off. It was so cool. The olive oil thing works, too. (08/29/2007)

By Griffin
Removing Dried Paint from Leather Sofa?
Tried the Olive oil with no luck. Soap and water did not work either. The nail polish remover removed the color. I was better off with the tiny bit of paint. Be careful with these home remedies. (09/21/2007)

By Lilly
Removing Dried Paint from Leather Sofa?
If it's acceptable to get the leather wet, hot, hot water will soften up the paint to where it can easily be rubbed off. Acetone might work, but it will also strip all the natural oils out of the leather. Make sure you replace with a leather conditioner afterward. (12/30/2007)

By Mike
Removing Dried Paint from Leather Sofa?
My painter husband sat in our pale green leather lounge chair, not realizing that he had paint under his arms. It has been on there for a while as leather cleaning gear did not get it off and I didn't want to damage the colour. I tried nail polish remover, it worked a treat, but did dry the leather in that area. I used bees wax to bring back the shine. (12/31/2007)

By Colleen R.
Removing Dried Paint from Leather Sofa?
Goof Off works great, also. (02/17/2008)

By Brian
Removing Dried Paint from Leather Sofa?
The Olive oil worked for most of my sofa, but the stuff in the dimples of the leather wouldn't rub out. I used Amway Liquid Organic Cleaner and a toothbrush and it came out easily. Thanks for the oil tip. (10/02/2008)

By Bill
Removing Dried Paint from Leather Sofa?
If you haven't got oil try butter or margarine. It's a lot easier to apply and conditions the leather whilst removing paint. You may need to use a slightly abrasive dish cloth or such. (11/14/2008)

By Sam
Removing Dried Paint from Leather Sofa?
OK, I swear I'm not trying to sell Amway (in fact, I've had my own issues with them), but I tried Olive oil and it seemed to remove a bit of the paint, but not all of it and it left a smudge-like hue of paint behind. I went back and used a small amount of straight 'Tough and Tender" on a damp, soft cotton towel and it came off with a small amount of light scrubbing. I then rinsed with warm, clear water.
The pre-base of the Olive oil seemed to act as a "reconditioner"; leaving the leather with the natural glow that it had initially. The couch I had was custom made and cost about $5K, so I was extremely happy to have removed the paint (don't even ask why a grown man would paint a room without covering the furniture. Ugh). (01/25/2009)

By SueBaby
Removing Dried Paint from Leather Sofa?
Just bought a car with black interior, however a good 10% of it was covered in paint from 2 years before hand, managed to apply olive oil with green gauze and removed all remnants of it within 25 minutes. Make sure you don't press too hard if using oil with green gauze, as it can remove some of the actual leather dye. More than happy with results though, interior looks mint in comparison to it yesterday. (02/24/2009)

By Andrew
Comment
Was this helpful?
Helpful?
Yes