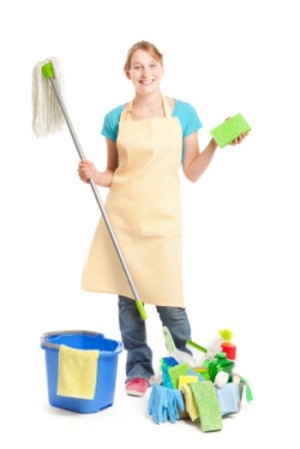 One of the first things many small business owners must decide upon is a name. This is a guide about name ideas for a cleaning business.
Ad
---
Questions
Here are questions related to Name Ideas for a Cleaning Business.
I am starting my own house cleaning/child care business. For now my goal is to alleviate stress in the home. I would like to be able to branch out and clean offices at a later date. Every name I have come up with is in use. There are a few young single moms in need. I need something clean and crisp similar to all the short ones I wanted are taken, such as: Serenity Services, Tranquil Services, Twinkle Services, Bliss Cleaning, and Serene Cleaning. There's one I have found that I could use, but it has no reference to stress relief (The Clean Team).
By Roz
Ad
---
---
Best Answer

By Manuela03/02/2014
With business names, you want to keep two things in mind: 1. Have a name that starts with a letter early in the alphabet for a prime position in business directories (Yellow Pages and such). 2. Especially with an innovative service / product, you want it to be clear what it is that you do. If it is too generic or poetic, people will just scratch their heads and move on to a different company. My idea for your company name is "A Mother's Helper" - it starts with an "A" and clearly signals who your target audience is, that you are willing to help moms with their chores, and those usually include cleaning and childcare. The subtitle on business cards and such can then be more specific ("Childcare and housecleaning services"). Good luck with your business!
My sister and I are starting a residential and commercial cleaning service. We both have sassy personalities and a big sense of humor. So we came up with the name "Two Chicks and a Broomstick". I'm asking for honest feedback, let me know what you think of the name. Also, if you have any suggestions feel free to share.
By Kathye from Atlanta, GA
Ad
---
---
Most Recent Answer

By Melody Cone [4]05/05/2010
I wouldn't. People pay serious money to have their homes and offices cleaned, and something a little more businesslike might sound better. A cleaning service in my local area is called "Ragtime." Something like that is cute, short, fits on a business card or invoice, and still sounds reasonably professional. They are not in your state, so you might be able to try that name.
I am a local house cleaner and am looking to start a small home cleaning business with my husband. Any suggestions for a name? Our names our Mary and John if that helps? We will be working in the Cheshire/Wirral area of England. Many thanks x
By marymoo from Wirral, England
---
Most Recent Answer

By kellyjo02/27/2014
I like Royal Maids!
Greetings from Kentucky.
I am really interested in starting a home cleaning business. I am 23 years old, a mom of 1 (4yrs) and not in a situation to work a typical 9-5 Monday-Friday job. Long story short, I am a stay at home mom. My fiance and my son's Dad is currently a full-time college student, majoring in pre-med biology, and has his hands full to say the least, with classes all throughout the day, studying, homework, etc. The norm. With him being so busy I'm the parent, that is staying home with our son.
The benefits of owning/running my own home cleaning business are definitely appealing and are the main reason why I am so set on having success with this. It will allow me to have the option to have a more flexible work schedule so that I will be able to be a stay at home mom while my fiance is working on his degree. I am not sure at this point if I will keep this new home cleaning business for years upon years, for a lack of better words. But I do fully expect to keep the business going full speed until my fiance graduates and obtains his medical degree, which will be somewhere around 4 years.
This venture will be the first of its kind for myself. =) I definitely am in need and would greatly appreciate any tips, ideas on what to name this new business, words of wisdom, anything helpful! :) Thanks so much.
By Kayla B. from Stanford, KY
---
Most Recent Answer

By Joan [19]03/17/2013
Hi Kayla:
I'm afraid I can't give you any advice about starting a cleaning business, but just want to wish you good luck in your new endeavor. You sound like an ambitious young lady and I am sure you will be successful. Best wishes to you and your family.
I am starting a small domestic cleaning business and I need a catchy name. My name is Melanie and was thinking of calling it Smellie Mellies. What do you think?
By Mel.E
---
Most Recent Answer

By anne [10]02/10/2012
I think it stinks! (sorry I couldn't resist!)
I am starting a little business of my own here in my neighborhood. It would also be used by some people I know around town. I am looking for a name that is eye catching and simple to remember. My job is going to be: cleaning of houses, mowing yards, and tidying up, also running errands for people, and doing house sitting.
By Gary L.
---
Most Recent Answer

By Mary Lou [14]05/26/2011
Personal Service by Gary
I am a 21 year old who loves to clean! I have been cleaning for 5 years now and I feel comfortable and confident enough to start my own business. I specialize in spring cleaning residential homes. The only problem I have had is finding a business name! I am open to anything! Thanks so much.
By Whitney
---
Most Recent Answer

By Lelia Jo Cordell [49]05/10/2011
I love Ann's idea! Here's mine: Whitney's Sparkling Spring Cleaning. Best of luck in your new endeavor!
Is this a good logo for my cleaning business? Xtreme Kleening
By Linda
---
Most Recent Answer

By thintieguy [7]04/22/2012
I would make double sure that there is no one out there already using that spelling. You wouldn't want to find yourself in legal hot water over something like that!
I am starting a cleaning service (home and office) with my daughter and we are trying to come up with a catchy business name. My last name is "Bright" and both of our first names start with "J".
Thanks so much!
By J. B.
---
Most Recent Answer

By Jennie1304/23/2013
Yes & I'm aware its been almost a year since your post but who knows maybe It can still be a little help or are still in need of help on that :-)
I am an army veteran and the wife of a soldier. I am thinking about opening up a cleaning service, but I can't seem to come up with a name.
My name is Katie, and I have 2 kids and 2 dogs. I am from Georgia and wouldn't mind incorporating that in the name. I am a bit OCD and did think of using that as the initials and finding words to fit. But mostly, I would like to incorporate something military in the name.
Any help is greatly appreciated!
By Katie from Fort Dix, NJ
---
Most Recent Answer

By Chris10/01/2010
"Polishing The Brass"

I need a new name for my cleaning business. My old name was Tina Cleaning Chick. I have to change my name because my ex-husband owns the website.
By Tina Avis
---
Most Recent Answer

By Rich from Sacramento07/22/2014
Cleaning Chic Tina
I am looking for a good name for a cleaning service. Our names are Lisa and Chastity. We live in the country. We where interested in starting our own business.
By Chastity
---
Most Recent Answer

By badwater02/20/2013
'Our Elbow Grease' or 'Duty Calls'.
I an starting a cleaning service that is located on the beach. The name Beachy Clean is already taken. I am looking for some names that are related to the beach, sand, waves, etc. Please help.
By Karen H.
---
Most Recent Answer

By Noella [9]03/02/2012
Are you on the ocean?

I like Ocean Breeze Cleaning.
I need a name for a cleaning business. I would like to have the word "white" in it.
By Kim
---
Most Recent Answer
By Monique [100]06/05/2013<