No-Wilt Wildflowers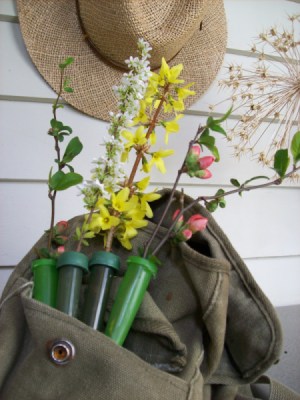 I always save the water spikes left over from florist arrangements. Whenever I go on a nature hike, I take a bunch along in my pack. I can get my wildflowers and other finds home without worrying about them wilting.
By Gloria from upstate NY
Feedback
Read feedback for this post below. Click here to post feedback.

By
03/28/2012
And now I'm sorry for the double post. I kept getting error messages asking me to try again. So I did. And now we have two, though they're not quite the same. Oh well. At least I got to explain myself. Twice. :)

By
03/28/2012
Dear Jen and Readingiggits,

Sorry you've been upset by my tip. I understand your concerns. I do know the laws, respect them and obey them. I would NEVER pick flowers on public land.

I hike my own property--I have arthritis and can't walk very far. I should have made that clear, but it just didn't occur to me that someone would think I'd pick flowers that didn't belong to me or that I hadn't grown myself. Thank you for pointing this out to me. Though your anger was a little surprising.

If I could remove this tip and rewrite it, I would. Consider me duly scolded for poor choice of words in my tip.

By
03/28/2012
Jen and Readingiggits,
Thank you for your comments. I appreciate and share your concerns. A little surprised at the amount of anger though.

I know the laws, I respect and keep them. I guess I should have pointed out that I hike my own property, I have arthritis and can not walk very far. I would NEVER pick wildflowers on public land. Never.

I only pick what I have either grown myself for that purpose, or is growing wild in abundance (on MY property), never the only one of some kind. The only hikers following me are ones who have been invited.

Sorry if I have upset anyone--certainly was not my intention. I suppose I should have begun my tip with a disclaimer, but what seemed common sense to me, obviously needed to be spelled out. Thanks for pointing that out. If I could change the wording of this tip, I would.

Consider me duly scolded for poor choice of words. :)
Post Feedback
Add your voice to the conversation.
Related Guides
Related Posts