Tips and ideas for using old boots, other than wearing on your feet. Post your ideas.
Ad
---
Feedback Forum
Feedback about this article is posted here. Want to contribute? Click above to post feedback.

By doug (Guest Post)11/29/2008
A friend suggested this to me, and it's a winner. Chet, one of the last original cowboys, said you can cut the foot part off, sew, glue, or tack the bottom part together, and you will have an excellent tool holder. Hang it, or them, in your car, or garage. Thanks, Chet!

By Vi Johnson [237]02/07/2005
I have several shoes/ boots planted. Here is one.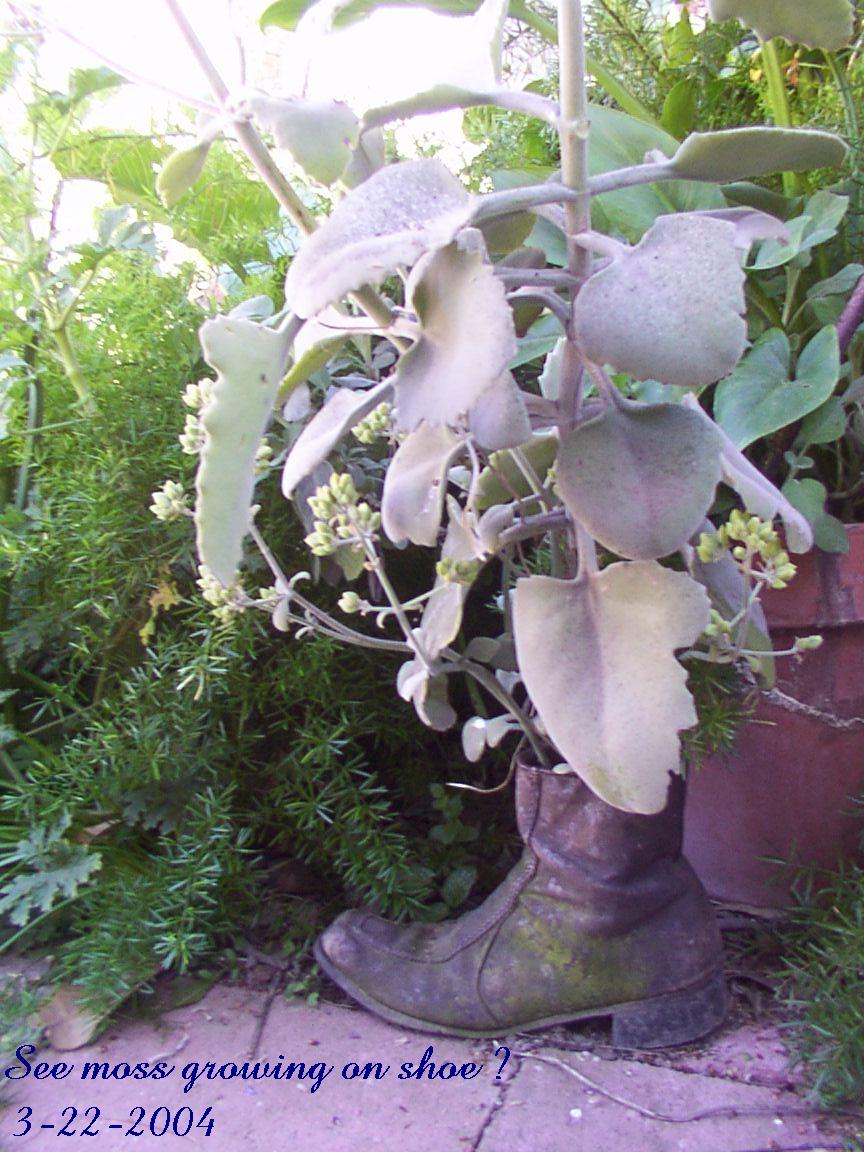 By mariew (Guest Post)01/07/2005
(b) use them as planters, put hen and chicks in for a decorative touch

By Becki in Indiana (Guest Post)01/07/2005
If you are a single woman living alone, it's always a good idea to make it look like there is a man in the house. Leave an old pair of workboots (the bigger the better!) outside your door, as if the big, burly guy who wears them has taken them off before going inside to be with his loving lady (that would be you). Would-be bad guys might think twice!!!

By Skipper (Guest Post)01/06/2005
Makes a great planter when nailed on top of post. Drill or cut couple drain holes. Inch or two of gravel in bottom helps drain.

Skip

By Babs (Guest Post)01/06/2005
My sister in law had an old pair of cowboy boots on her deck railing which she filled with dirt and some cactus - cute!

By Susan Sanders-Kinzel [9]01/06/2005
Umbrella stand - Weight the bottom of an attractive old leather boot (a riding boot perhaps) or a tall rubber boot with pebbles or marbles and place near your home's front or back door.

By Susan Sanders-Kinzel [9]01/06/2005
Birdhouse - Take an old boot outdoors and hang it upside down. It probably won't be long before wrens, swallows, or chickadees build a nest in the toe area.

By Susan Sanders-Kinzel [9]01/06/2005
Doorstop - Fill a boot with golf balls or pebbles.

By Susan Sanders-Kinzel [9]01/06/2005
Fish bucket - Keep your just-caught fish fresh; bring them home from the river in a water-filled boot.
Post Feedback
Add your voice to the conversation. Click here to share feedback.