These pens are sure to spook your friends. Great to send with kids to school, use at a party for writing games or as the pen for your guest book.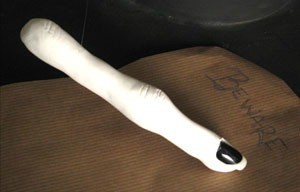 Supplies:
1 package of white Crayola Magic Molding Clay (one package should make at least 5 pens, if not more)
1 toothpick
ball point pen(s) (a straight Bic type pen works the best)
fake fingernails (I was able to get some in the Halloween costume section)
hot glue or other strong glue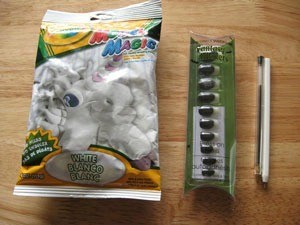 Instructions:
Take a bit of the magic molding material and flatten it out.
Roll the pen up in the clay, encasing the pen entirely except for the tip of the pen.
Make bulges where the knuckles will be.
Once you have shaped it as you like, use the toothpick to draw lines where the knuckles are.
Glue the fingernail in place pressing it in a little to make it look realistic leaving enough room at the tip so the pen can still write.
Then let it dry.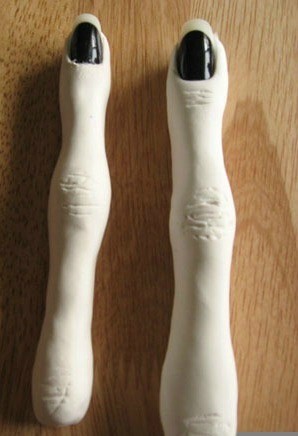 By StellaBell
Ad
---
By Paula 14 328 10/30/2006 Flag
What a cute idea! This would be a great craft project for the kids!
By (Guest Post) 10/30/2006 Flag
THIS IS TOTALLY AWESOME.GOING TO MAKE ME UP A FEW
THANKS FOR SHARING
By patty. (Guest Post) 10/30/2006 Flag
Wow that picture is worth a thousand words
Great job
By Annie Rios Hill 14 1,777 10/31/2006 Flag
GREAT idea, very crafty. That you included photo
and step by step directions is great. It looks so
real and creepy....how fun.
Hope you win the contest!!!
By Susi (Guest Post) 10/31/2006 Flag
GREAT idea! It is too late for this year, but I will use it next. Your instructions were so clear, too-I love them.
too late this year but next year it'a a great idea thank you
By Andjerm (Guest Post) 11/01/2006 Flag
What a great idea for next year!! Thanks for sharing. :)
By pamela (Guest Post) 11/13/2006 Flag
we always have craft shows before halloween and the christmas season...this will be a great seller! thanks!
By sandi (Guest Post) 12/11/2006 Flag
Absolutely LOOOOOVE it! How original and realistic. AWESOME!! I teach English, but I think my students will take a little time out for this craft project. Thanks a bunch!

Sandi, Montreal
By sandi (Guest Post) 12/11/2006 Flag
Grrrreat idea. My students will looove this project. It seems really easy, lots o' fun and has that great big "WOW" factor! Thanks a bunch 4 the awesome idea!!!
By Stacey Silva 54 466 10/20/2007 Flag
Holy cow, that is spooky cool!! I love it! I'm gonna HAVE to make some of those!!