Use Boards to Slide Boxes Down Stairs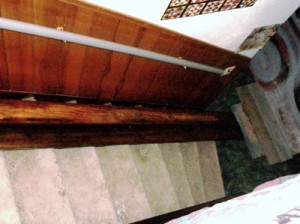 Well, I am off again to help my sister-in-law through Cancer and Chemo - the two "C" words I have grown to hate. Another thing I am not fond of is Cold in Chicago, but if I can survive 5 years in AK, I will be fine.
I had a wonderful idea that might help you all when you have to move from down a flight of stairs. I made a ramp out of two 2X6's and slid the boxes down the steps!
What would no doubt have taken me hours of aching knees, was done in just under 2 hours. I was amazed at how easy it was to put together and to use, I wish I had thought about it years ago! I hope this helps anyone who is stuck upstairs and needs help.
By Your Friend, Sandi/Poor But Proud from Sweet Home, OR
Feedback
Read feedback for this post below. Click here to post feedback.

By
12/31/2010
This brought back memories for me! When I was a child, my father had a vending machine business, which he ran from our home. Deliveries of cartons of candies and other items came to our house, and were stored in our cellar. My father built storage shelving out of long pieces of pine lumber. When a delivery came, he would prop two left-over boards, about 10 feet long and 10 inches wide, on the cellar stairs, and we would slide the cartons down to him. It was quick and efficient! This is a wonderful idea for moving items both down and up staircases. We occasionally pulled bulky items up the stairs with ropes or straps, over the boards. I hadn't thought about this in years!
Post Feedback
Add your voice to the conversation.
Related Guides
Related Posts