By guest (Guest Post) Flag
February 9, 2007
I saw this done on the show Knitty Gritty. They have the pattern on their web site: www.knittygritty.com. The episode # DKNG-105.
By guest (Guest Post) Flag
February 9, 2007
I haven't seen many patterns for knitting with plastic bags but I have knitted some things anyway just making it up as I go along. I made a bag to store my lab coat in by casting on about 30 - 40 stitches on large needles (actually I think they were chopsticks!) then knitting with garter stitch until it reached about one metre. I then decreased 2stitches per row until only one stitch remained and finished. Making it up involved folding the rectangular section in half and stitching in place. The triangular section from decreasing acted as a flap that was held down by a button. You could add a handle by braiding bags and stitching in place. Not sure if that helps at all. Most patterns seem to work on the same rectangular principle and so garter stitch should be all that you need :0)
By Nancy Dias 1 11 Flag
March 23, 2007
Hi Carol,
There is a pattern for a Recycled Plastic Bag Carryall or Tote Bag at http://www.diynetwork.com, I am also uploading a photo for you. When you get online to the DIY Network use the information below, it will give you the instructions for this pattern. Hope this helps you.
Recycled-Plastic Carryall
From "Knitty Gritty"
episode DKNG-105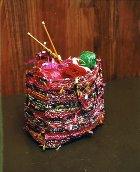 By Bobbie Hudson-Penick 48 Flag
March 15, 2009
If you Google "knit grocery bag using plastic bags instructions" you will get a number of styles and instructions to choose from!
I really liked some of the styles and the people that give the patterns all have different ways of cutting & joining the strips from the recycled bags.
Hope this helps you.