Baby (Tuxedo Cat)
Baby is a 5 year old Tuxedo Cat. I got her at the Humane Society; Christmas 2000 (I'll never forget that night - my first pet!)
She likes to sleep (of course!), race the wind up toy I have for her, create mischief wherever she goes (i.e. playing with a pen and lodging it under the sofa!)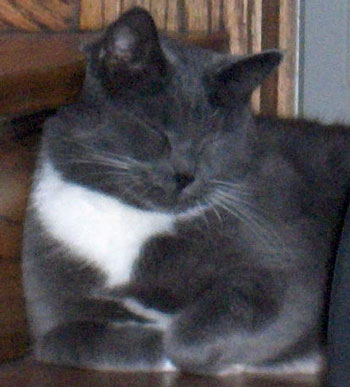 By Eric from Minneapolis, MN
Feedback
Read feedback for this post below. Click here to post feedback.

By
02/08/2006
What a beautiful kitty! Cheers to you for going to the Humane Society. I have a Joe from the Humane Society and a Hairy that found us in our back yard. They are the best!

By
02/08/2006
She is absolutely beautiful!! I love it when they're sleeping like that - my cat does that and it's just sooo cute, you can't help but smile. What a cutie you have there!

By
02/08/2006
Eric, she is adorable, and looks like she just finished a round of chasing the wind up toy!

Rescue pets are wonderful. You will have many years of happiness with her.

Jennifer
Northern Virginia

By
02/08/2006
What a handsome kitty! So glad you found her at the Humane Society. She looks SO contented.
Post Feedback
Add your voice to the conversation.
Related Guides
Related Posts