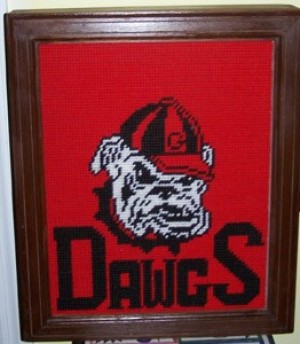 I purchased a spice rack with a pineapple motif done in needlepoint on the front. I didn't particularly like the pineapple motif so I removed the plastic canvas piece. I was looking all over for something to put in its place. Then I thought, duh, rip out the old design and needlepoint another!
So, I sat down and ripped out the old design while I was watching TV at night. It took me quite a while, but I got it done. I then found a pattern for my UGA head. For those of you who are not from Georgia, UGA is the mascot for the University of Georgia Bulldogs and the most recognized mascot of all college teams (per Sports Illustrated).
Then I went about re-needle pointing the head and freehanded the design for the DAWGS below the head on my salvaged plastic canvas. Then I popped the new design back into the cabinet front. As you can see, I refurbished my spice rack and made it my own!
This is going into my University of Georgia themed room in my home. It is a guest/craft/sewing room. It will be holding spools of thread rather than spices. I hope that this recycling of the plastic canvas piece inspires others to do the same and reuse what you have or find before tossing them into a landfill.
The only thing left to say is "Go Dawgs!"
Source: Me: Being the thrifty/frugal/cheap person I am. I always try to think of a way to use something before it goes into the recycling.
By Southeastgeorgiapeach from Jesup, GA
Ad
---
Feedback Forum
Feedback about this article is posted here. Want to contribute? Click above to post feedback.

By shpuffin [1]04/21/2013
Love it and been looking for plastic canvas pattern of Georgia Bulldog and saw you have it and would want a copy of pattern as it looks good.

By STEPHANIE SHRAWDER 12/12/2009
I love this picture. It's looks really great. I was wondering if you can get a pattern of this.

By Jennifer12/04/2009
I loved this recycled plastic canvs craft. I do plastic canvas and I would really like to have the pattern to this, if you don't mind. I from Sumner, GA and my brother is a huge bulldogs fan and I would like to make this for him. My email is jdees74m AT bellsouth.net Thanks, Jennifer

By Sue Hinely [20]05/02/2009
Fantastic job Georgia Peach! Go Dawgs

By Cricket [205]04/27/2009
For 25¢ a sheet I'd have just bought a new sheet of plastic canvas. But your new design on it is fantastic! So life-like! You really did a great job!

By lisa [3]04/24/2009
Good thinking! Nice job!

By vickie guy [42]04/24/2009
Great Job!

By Lee [38]04/24/2009
Here is the photo of the finished cabinet.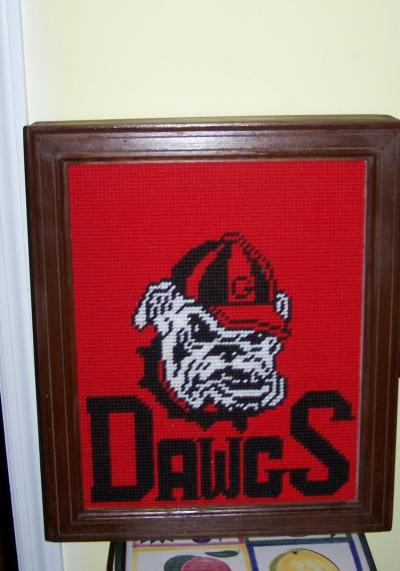 Post Feedback
Add your voice to the conversation. Click here to share feedback.