I wanted a new nightgown, and figured there must be something in my wardrobe that I could fashion into one rather than buying one. A touristy tee shirt that someone had given me was just the thing. Nice and soft, but too short. I like long nightgowns for the cold temps here in NY.
And the cheesy, glittery seashell motif had to go. I found some soft fabric in my stash to add the length I wanted. And another matching piece to cover up the seashells--had to line this bit with a piece of muslin to keep the pesky seashells from showing through.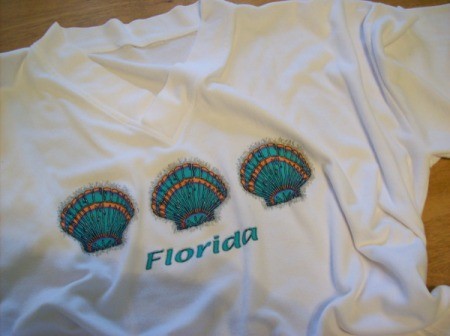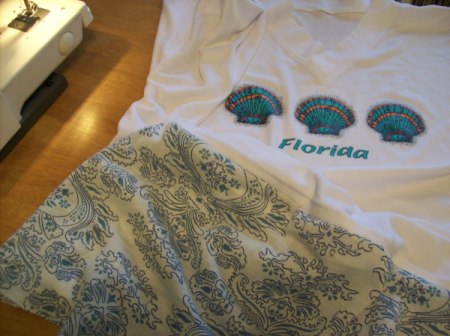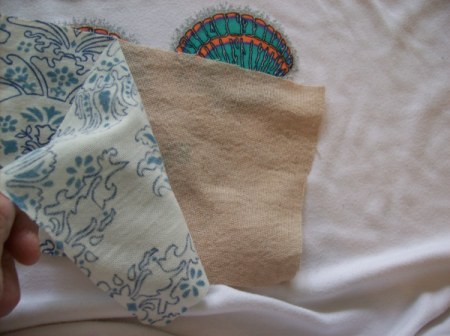 I'm happy with how my new nightie turned out and saved some money too. I had to scrunch the fabric up in the photos in order to get it all in the pictures.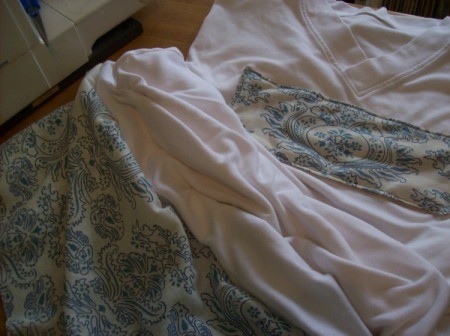 By Gloria from Western NY
Ad
---
By linn 56 50 03/15/20120 people found this helpful
Nice idea, but I actually liked the seashells...umm.
By ~gloria 94 150 03/21/20120 people found this helpful
@linn.2009 Ha! I knew someone was going to say that. You can't see it in the photo, but the seashells are also glittery. I'm not a glittery kind of girl. I had to admit I would never have worn it as it was. But couldn't bear to toss it. I suppose someone else could have used it and liked the glitter. But I really did need a nightgown.

Thanks for commenting on my idea, I really appreciate it.
By susan 8 1,368 03/31/20120 people found this helpful
Oh my gosh - I sleep in these too. I started making them about 5 years ago. My neighbor, who is larger than me, gave me some t-shirts that no longer fit her. They had so much fabric that I decided to re-purpose them. Then I got some of my husband's t-shirts that he no longer wears along with some I had that were too short, and I had a field day.

I just started pinning and cutting and sewing. Some turned out pretty amazing; they were all so comfortable. I made some for summer and some for colder weather. I liked the fact that I reused things, and I figured that I saved about $15.00 per nightgown. They're wearing out now, but I have a new stash of t-shirts that I've been saving to make more. There are some great sites for re-purposing clothing.
By ~gloria 94 150 04/08/20120 people found this helpful
Susan, thanks for your comment. Made me smile.