Craft Ideas for Nursing Home Patients
Finding crafts that nursing home patients will enjoy making can be a daunting task. This is a guide about craft ideas for nursing home patients.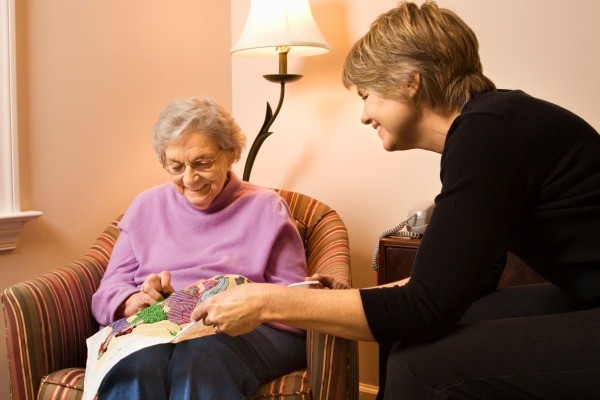 Filter

: All Articles
Sort

: Relevance
I work at a nursing home as an activities director. I need ideas for new and exciting things I can do with them. Please keep in mind, that not many of them can do anything. Many only have the use of one hand.

I would also like to beg you to get involved in your local home. Many of them don't get visitors and could use friends. If you call ahead, most places will have someone able and ready to go for an ice cream or even church on Sundays. You can help simply by grabbing your pet and/or a book (I like the Chicken Soup books) and just go read to them, or hold a hand, you won't be sorry.

April from Buffalo, NY
July 25, 2009
0

found this helpful
Best Answer
I volunteer at a local nursing home and do crafts several times a month.
Ideas that have worked well:
Rubber stamping -- I ink the stamps and place them on the paper where the resident wants it. The resident pushes down on the stamp to make the imprint. Most residents have the strength to push down on the stamp. We have made pictures and greeting cards from the stamps.
Stickers -- we have made pictures and cards using stickers. The helper removes the sticker from the sticker sheet and the resident places it where she wants.
Last week we made foam door hangers for the residents' rooms. The kits had self-adhesive letters and stamps. I brought my digital camera and printer to the nursing home and took pictures of the residents which they added to the foam hanger. I bought the kits from the Oriental Trading Company craft catalogue -- about $5 for a set of 12.
January 27, 2010
0

found this helpful
Best Answer
Read simple poetry to them leaving off the last word, only works if it rhymes. They can usually figure it out. Go on line and find a site aout Wise Old Sayings, like easy come easy ... go) they finish the saying. Go to thrift store and buy inexpensive games like Blurt, Password and donate them to the activity staff. Look up trivia on the internet for the residents, but make it fairly easy.
June 23, 2016
2

found this helpful
I live in an apartment building for disabled and elderly only. Management has a craft budget of 25¢ a person each month! My professional career was in the medical field but I always kept a part time job in the creative arts for stress relief and a little extra money. My reputation is using simple items or recycling things and giving them new life. Because of my experience I am able to do complex projects, but my neighbors needed crafts along the level of very small children. I have found many awesome crafts that have almost no cost but yet don't insult the intelligence of my neighbors by making a list of things most of us throw out, like toilet paper rolls, old denim clothing, empty vegetable cans, even plastic cans concentrate juice comes in! Once I have enough donations of an item I use my favorite search engine"Bing" and ask it simply: 'quick and simple crafts using ____________.' then I switch from a web search to images where I can quickly scan projects that are completed and instantly know which ones I can easily supply and teach. It's been a Godsend! I've even found ideas using materials I hadn't ever considered.
There are so many small craft projects, with assistance that the elderly, handicapped and disabled can do! My most important suggestion is not to involve them in a lengthy project, but one they can accomplish in a short time frame.
Here are a few ideas, but use your imagination as there are a lot of brilliant members on Thrifty Fun!
Take a photo of this person, assist them to draw around their face on the photo by using a cup centered and an ink pen. Assist or cut out with scissors or pinking sheers. Use a hole punch to make 2 holes an inch apart. using Tacky glue, add a trim piece of lace around the edge of the photo, make a small bow and glue that on the top or bottom but, not to overpower or interfere with their photo. Use a large safety pin between the two holes, allow to dry. Voila! They can wear a pin with their own photo that they helped to create!
Another easy project is to allow them to look at pictures in magazines to see what draws their interest. Ask them to point, smile, or discuss if they see something they like or has a fond memory for them. Mark these items and also things that you feel the person would like. Cut these out, glue all of these items onto a poster board as a collage! Use a Glitter Pen to put their name at the top! This is a sure hit! Allow them to assist as much as they can! A lace trim glued to the outer edge makes it a tad more fancy!
Refrigerator magnets are also a hit made from photos, left over craft items, etc. They stick to metal wheel chairs and walkers, you know! Most of all, use your imagination for them for projects!
I have not come across one person who would not like to help make a homemade card! Left over craft items, paper stock, colored markers and glue! It can be for any occasion of just because!
Cookie decorating is fun for all!
I guarantee these projects will be a hit and very rewarding, both ways! Their motor skills and abilities may be impaired but, with your help, the possibilities are limitless! Please add your own creative ideas to this! Thank you!
By Missy MM from OH
Make hoops of color hung on fish line in groups by the craft room, in the windows like stained glass windows, or in the hallway to the day room.
Approximate Time: two sessions about 30 minutes each or as long as it takes.
Supplies:
large hoops (round)
synthetic or silk (I like acrylic diluted thin white synthetic)
paint
pieces of sponge
water bowl for sponge
newsprint for table
paper towels
fish line for hanging
thumb tack for hanging
Instructions:
Show a finished hoop to your group or the individual. Hang one in the window of the day room or art room before you start.
Stretch synthetic or silk in the hoop. Let the resident(s) help you. Trim edges to one inch and again later when done.
Give your group sponges and water bowls. Let them handle the sponges.
Talk about what colors they like and suggest a theme (sky, rivers, forest, mountains, etc.)
Use little cups of diluted colors for project, but use only one at a time near the artist.
Guide success. In my picture, a river ran across the hoop. We used several blues. We had juice while the river dried and then we decided what to add. We added sky and clouds (more blue and some white on top). (new sponge) We added trees along the river.
The next day we talked about the painting and everyone wanted fish and birds. I had brought in pictures of ponds from a computer and cards (copied) for another project. We got them and the group of ladies now involved in this (8) decided what to add and where to put them.
I left the hoop at the nursing home when it was to be sold and my job eliminated. Best job I ever had. This is just a suggestion. I never thought to make photos of our projects because I loved my job and had no idea the job would end.
By Barbara from Ewing, NJ
This is a guide about crafts for visually impaired nursing home patients. Visual impairment can affect the type of crafts a person can do enjoyably and successfully.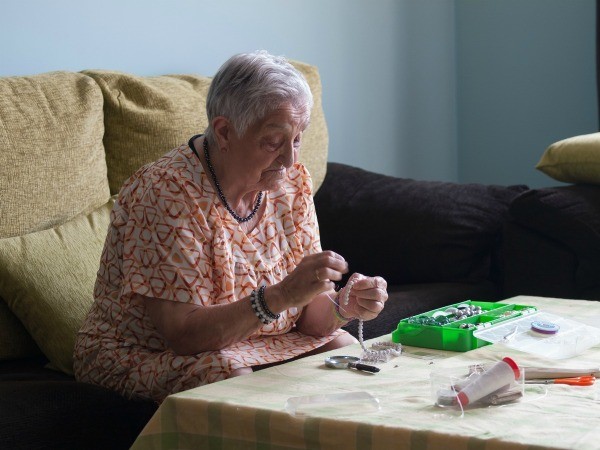 Read More...
I am looking for an Easter craft for girl scouts to do for nursing home residents. Any help would be appreciated.
-Penny
May 1, 2012
0

found this helpful
Best Answer
Wish I had seen this sooner. I am an Activities Director and for Easter I made all of them these darling bunny cups from styrofoam cups. They were easy to make and were just so cute. I will leave a pic so maybe next yr you'll have a good gift for them. I also made home made eggs to go in them and wrapped them so they'd stay fresh.
Be sure not to put in plastic grass. Mine was paper. They tend to eat everything.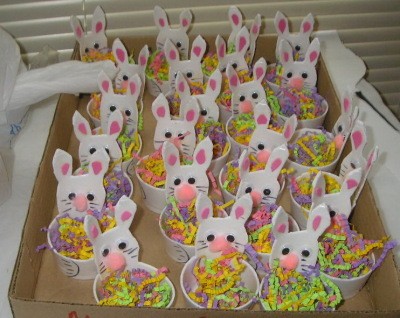 By guest (Guest Post)
Flag
March 12, 2008
0

found this helpful
I am the activities director at a memorial home and last year a group of cub scouts made our residents sun catcher crosses. Just use clear contact paper and colorful tissue. Cut the crosses out of white paper and stick to the contact paper and then fill in the space with the tissue paper. Our residents loved them.
March 21, 2015
0

found this helpful
As mentioned in the best answer, some people will eat the grass, plastic or paper. I had used large flaked coconut. Food coloring may be used to tint it green.
I am looking for some easy and cheap crafty ideas for Father's day for disabled, elderly residents at an independent living facility.
By katskits from Bowling Green, KY
May 14, 2009
0

found this helpful
Best Answer
Make a checker board and checkers. Instead of using a pizza box for the checker board as per the instructions, you could have them use whatever you can think of like cardboard or foam core.
http://home.howstuffworks.com/educational-games12.htm
Another suggestion is those little 6-packs of plants, some potting soil, spoons to dip the soil, some cheap little plastic pots. Have them transplant a plant into a pot. Tell them to water as soon as they get them home. They can keep their plants in a window. If this isn't 'crafty' enough, they could paint designs on the rim of the pot, but not the pot itself so they will be able to carry it home without having to touch the paint.
May 25, 2009
0

found this helpful
Best Answer
Is this for the seniors to make? Or as gifts to give them? If it is for gifts for them, I would suggest getting some fabric and making small "pouches" for eyeglasses, remotes, etc. I made one for my grandfather from some denim. 3 feet long by 1 foot wide. Put right sides together. Fold over about 1/3, so you have a pouch with one longer side. Sew up the two sides of the pouch. Flip right side out. Tuck the long end under the sofa cushion? Under the mattress? Under their bottom on their wheel chair? Wherever, holds those things that are always getting put down and misplaced. He kept his glasses, remotes, and cordless phone in his...you can make hems, decorate, etc..or leave them really simple. If not hemming, use pinking shears to cut the edges and use non-raveling material.
I am starting my summer clinicals shortly with elders from a local retirement home. I will have a mix of men and women with varying degrees of ability. Anyone have any ideas for "therapy inspired" craft projects? I need something different. The elderly at the retirement home get to see groups like us every semester. I want to really engage them cognitively, socially, and physically (fine motor mostly). But here is the kicker - it MUST be fun! I don't want to bore them with "oh, this again".
By KisanOTA from Appleton, WI
June 4, 2012
0

found this helpful
Best Answer
You could have them make "fascinators". They are the pretty little "hats" that are so popular now. Check them out on line...a lot of the British royal family started wearing them and now a lot of people make them and wear them. They are just a piece of netting with hand made flowers or bows (or use your imagination) glued or sewn on to them.
For the ladies: glue or sew a small hair clip to the back, so they can wear it in their hair. For the men, glue or sew a safety pin on the back, so they can wear it as a "boutinere". (Sorry about the spelling!!) Then they can make fancy finger sandwiches and dainties and cold lemonade and have a garden party (which can be indoors or out). Have them make simple decorations: table centerpieces, paper flowers, etc. and play some soft background music.
This could be a "progressive craft" that would take a few sessions to put everything together, with the garden party as a fun goal to look forward to.
May 23, 2016
0

found this helpful
My aunt told me of a craft they made and use it for their physical motor skills. A small open box abt 6x6 or so. Put some clip clothes pins inside and they can clip them around the box edge for their hand exercise.
CJ at Luverne,MN
I need a January craft to make decorations for the inside doors at a nursing home.
Read More...
Related
© 1997-2016 by Cumuli, Inc. All Rights Reserved. Published by
ThriftyFun
.
Page
generated on September 22, 2016 at 10:06:59 AM on 10.0.0.181 in 3 seconds. Use of this web site constitutes acceptance of ThriftyFun's
Disclaimer
and
Privacy Policy
. If you have any problems or suggestions feel free to
Contact Us
.