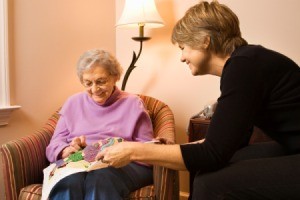 Finding crafts that nursing home patients will enjoy making can be a daunting task. This is a guide about craft ideas for nursing home patients.
Ad
---
Solutions: Craft Ideas for Nursing Home Patients
Read and rate the best solutions below by giving them a "thumbs up".
Looking for craft ideas to engage retirement home residents. Here are a few suggestions to engage them in conversation whilst doing crafts.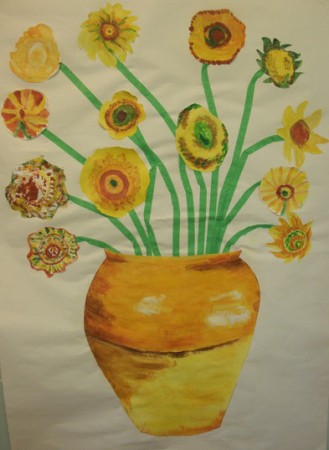 Van Gogh Sunflowers
Sketch out 12 sunflowers and a vase. Give each person a flower or two to paint in. Discuss the life of Van Gogh and show residents how to paint flowers in Van Gogh style using small brush strokes and dots.
Love Locks
This is a good Valentine's activity. Draw a few locks on cardboard and discuss the Love Locks bridge in Paris with residents. They then paint or colour in the locks and write the names of people or things they love on each lock. Then glue them to the bridge.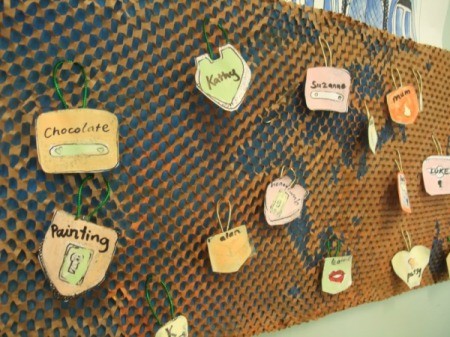 Give a "thumbs up" to the solution that worked the best! Do you have a better solution? Click here to share it!
Questions
Here are questions related to Craft Ideas for Nursing Home Patients.
I am looking for an Easter craft for girl scouts to do for nursing home residents. Any help would be appreciated.
-Penny
AnswerWas this interesting? Yes No
Ad
---
---
Best Answer
By gem [154] 05/01/20120 people found this helpful
Wish I had seen this sooner. I am an Activities Director and for Easter I made all of them these darling bunny cups from styrofoam cups. They were easy to make and were just so cute. I will leave a pic so maybe next yr you'll have a good gift for them. I also made home made eggs to go in them and wrapped them so they'd stay fresh.

Be sure not to put in plastic grass. Mine was paper. They tend to eat everything.
---
I work at a nursing home as an activities director. I need ideas for new and exciting things I can do with them. Please keep in mind, that not many of them can do anything. Many only have the use of one hand.

I would also like to beg you to get involved in your local home. Many of them don't get visitors and could use friends. If you call ahead, most places will have someone able and ready to go for an ice cream or even church on Sundays. You can help simply by grabbing your pet and/or a book (I like the Chicken Soup books) and just go read to them, or hold a hand, you won't be sorry.

April from Buffalo, NY
AnswerWas this interesting? Yes No
Ad
---
---
Most Recent Answer
By sandi [2] 01/27/20100 people found this helpful
Read simple poetry to them leaving off the last word, only works if it rhymes. They can usually figure it out. Go on line and find a site aout Wise Old Sayings, like easy come easy ... go) they finish the saying. Go to thrift store and buy inexpensive games like Blurt, Password and donate them to the activity staff. Look up trivia on the internet for the residents, but make it fairly easy.
---
Can anyone help me with clay pot crafts or any other easy craft ideas for a nursing home residents' craft day.
By MargieT from Australia
AnswerWas this interesting? Yes No
---
Most Recent Answer
---
I work as an activities assistant in a nursing home. Some of my patients have Alzheimer's/dementia. I have trouble finding craft/activities for them. Coloring gets very boring and I know they want to do more. I am also on a tight budget. With the warm weather coming I would like to start a garden club, but they are in wheelchairs. I am at a lost for ideas.
By Joyce from Pittsburgh, PA
AnswerWas this interesting? Yes No
---
Most Recent Answer
By jessie53806 01/09/20140 people found this helpful
I work at an AL facility but we also have quite a few in wheel chairs but you might be able to find some one like we did that will donate time and the materials to make crates. They will lift the pots off the ground, so the can get to them more easily it would lift the plants up enough that they would be able to reach without bending over in the chair.
---
I am looking for some easy and cheap crafty ideas for Father's day for disabled, elderly residents at an independent living facility.
By katskits from Bowling Green, KY
AnswerWas this interesting? Yes No
---
Most Recent Answer
By Dena Roberts [35] 05/25/20090 people found this helpful
Is this for the seniors to make? Or as gifts to give them? If it is for gifts for them, I would suggest getting some fabric and making small "pouches" for eyeglasses, remotes, etc. I made one for my grandfather from some denim. 3 feet long by 1 foot wide. Put right sides together. Fold over about 1/3, so you have a pouch with one longer side. Sew up the two sides of the pouch. Flip right side out. Tuck the long end under the sofa cushion? Under the mattress? Under their bottom on their wheel chair? Wherever, holds those things that are always getting put down and misplaced. He kept his glasses, remotes, and cordless phone in his...you can make hems, decorate, etc..or leave them really simple. If not hemming, use pinking shears to cut the edges and use non-raveling material.
---
I am starting my summer clinicals shortly with elders from a local retirement home. I will have a mix of men and women with varying degrees of ability. Anyone have any ideas for "therapy inspired" craft projects? I need something different. The elderly at the retirement home get to see groups like us every semester. I want to really engage them cognitively, socially, and physically (fine motor mostly). But here is the kicker - it MUST be fun! I don't want to bore them with "oh, this again".
By KisanOTA from Appleton, WI
AnswerWas this interesting? Yes No
---
Most Recent Answer
By Dena Roberts [35] 06/04/20120 people found this helpful
You could have them make "fascinators". They are the pretty little "hats" that are so popular now. Check them out on line...a lot of the British royal family started wearing them and now a lot of people make them and wear them. They are just a piece of netting with hand made flowers or bows (or use your imagination) glued or sewn on to them.

For the ladies: glue or sew a small hair clip to the back, so they can wear it in their hair. For the men, glue or sew a safety pin on the back, so they can wear it as a "boutinere". (Sorry about the spelling!!) Then they can make fancy finger sandwiches and dainties and cold lemonade and have a garden party (which can be indoors or out). Have them make simple decorations: table centerpieces, paper flowers, etc. and play some soft background music.

This could be a "progressive craft" that would take a few sessions to put everything together, with the garden party as a fun goal to look forward to.
---
I am looking for crafts for nursing home patients who are nearly blind. They will appreciate being able to still do crafts. Thank you for your suggestions!
By JudyEss
AnswerWas this interesting? Yes No
---
Most Recent Answer
By Denise C. [2] 04/20/20120 people found this helpful
They have knitting looms where you just have to weave the yarn in and out of large spools. They could feel the spools instead of seeing them.
---
I would like ideas (and pictures) of easy crafts using recycled items that nursing home residents would enjoy making.
By Sandi from Brookville, IN
AnswerWas this interesting? Yes No
---
Most Recent Answer
---
I need a January craft to make decorations for the inside doors at a nursing home.
By Kim
AnswerWas this interesting? Yes No
---
Most Recent Answer
By gem [154] 01/01/20150 people found this helpful
Since we get most of our snow in January I do a snowman theme. This year I did a board saying Let it snow with tiny punched snowflakes from glittery looking bags I got at the dollar tree and snowman figures. The background is red and it makes the snowflakes stand out. I think it looks great. My craft projects will be snowmen. Hope this helps some.
---
Archives
Thrifty Fun has been around so long that many of our pages have been reset several times. Archives are older versions of the page and the feedback that was provided then.
There is a elderly lady we know who just moved from her cozy house here on the lake, to a nursing home. I love to do crafts and she loves getting gifts from me. Her place is small and she really misses her old house because she has lived there for over 30 years. Can anyone give me some ideas on what to make her?

Thanks,

Kristi
---
RE: Craft Ideas For Someone That Lives In A Nursing Home
Just a few ideas I have done in the past for folks:
Quilted lap robes, quilt for their bed, velcroed fabric carriers that hang on their walkers or wheelchairs to put stuff in. A fabric deal that is weighted and goes over the arm of the chair to hold TV remote. Quilted picture frames. A dog bone shaped neck pillow
Actually, I have taken my projects to show them what I have been working on and just visited them. If you have a pet or child take them along. Company is what they want the most to break up the day. If they are able have them do something to help you in your projects.
I make bags for missions at church and I have them insert the drawstrings. Also, make baby blankets for missions and they love to tie them. I hope these suggestions are helpful to you. God bless. (12/27/2004)
By Aline
RE: Craft Ideas For Someone That Lives In A Nursing Home
Would it be possible to make a terrarium look alike of the lake. Maybe using real and artificial plants. Maybe even use ground and small stones from her home. How about having her make a scrapbook? Or maybe makeup her own recipe cookbook to give out to her friends. (12/30/2004)
By Mr. Thrifty
RE: Craft Ideas For Someone That Lives In A Nursing Home
Take a selection of cloth for her to choose from, making sure it's ok, then make her (or help her make for herself) switch plate covers - to give her room a more homey feeling than the institutionalized plain plasic ones. Such small things could be made personable to make a HUGE difference to what someone feels of where they have to be. Thats one of the first things I always did when I moved into a new place was switch plate covers. That's strange I guess, but it was a small and very affordable change I could make quickly. (12/30/2004)
RE: Craft Ideas For Someone That Lives In A Nursing Home
This isn't necessarily a craft idea but a worker at a nursing home suggested that the thing nursing home patients need most is socks, sweatsuits(you might decorate one) tissues (make a tissue holder) and handkerchiefs. (04/06/2005)
By MamawKC
RE: Craft Ideas For Someone That Lives In A Nursing Home
I have found working in the activity's dept. in a nursing home that a variety of things are enjoyable, however the one craft they ask for regularly is book making. we take 3 sheets of construction paper, cut them down the middle with holes along one side to "bind"the book with yarn, and just cut their fav. pics. from a magizine. (12/30/2005)
By
RE: Craft Ideas For Someone That Lives In A Nursing Home
How about taking some pictures of the lake area where she lived and putting them into a scrap book for her? Or creating a folder for her to put her cards, photos, other mail into? I am an Activities Director in a nursing home, and my residents love things that are personal, decorative, yet have a real purpose. (05/13/2007)
By m.r.c.
RE: Craft Ideas For Someone That Lives In A Nursing Home
I know it's been a long time since you posted, but I just found this site. How about taking pictures of her former home, and then printing them out on computer fabric. You could make a lap quilt using the fabric picture squares and additional fabrics, then maybe line it with a fleece type fabric for the coziness factor. Also, you could make a plain lapquilt and embroider a cross or scripture on it. (11/27/2007)
By Marlene
RE: Craft Ideas For Someone That Lives In A Nursing Home
Crepe paper flowers are a great activity for nursing homes. Patterns range from the simple to the complex. Materials are inexpensive and not hard to find. The flowers are pretty when finished. And they bring back great memories. (05/13/2008)
By Nicki
I have a mother-in-law that is in a nursing home and they need some physical craft ideas for the elderly to do. They don't want to leave the building, as they feel its safe inside. So, please if I could get some ideas to give to the young director who doesn't know what to do it would be great. She didn't ask for my help, but I want it for my Mother. Thank you

Marilyn from Belen, NM
---
RE: Craft Ideas for Someone That Lives in a Nursing Home
Card fronts from used cards (Christmas, birthday, anniversary, etc.) can be cut off and remade into new cards using craft paper, construction paper, card stock, etc. (06/16/2008)
By Maryeileen
RE: Craft Ideas for Someone That Lives in a Nursing Home
Here are a few ideas for nursing home activities:
Fleece lap blankets. Cut edged of two fleece pieces about 4" deep and 1! wide around edges. Tie together with overhand knot.
Popsicle sticks from craft store: make square box with lid (bead for handle) or hexagonal baskets.
Body scrubs: nylon net strips cut about 3" wide. Sew down center in a basting stitch with heavy duty thread and pull to form ball.
Sing songs that require physical actions such as hokey pokey or did you ever see a lassie. The older people enjoy singing old songs. Can be done without music or use tape or CD if no pianist is available.
Large beads make into a bracelet or necklace.
Tossing beanbags or small soft balls into a basket and keeping track of points.
Catch with a soft ball
Kicking a large soft ball from one to another sitting in circle.
Hope this helps. Harriet (06/18/2008)
By Har'iet
RE: Craft Ideas for Someone That Lives in a Nursing Home
I go to the nursing home my mother manages quite frequently. We have a craft room where we have coffee and crafts. One craft they do is paint old light bulbs and seashells white. On the bulbs you can make a snowman face and hat and scarf. On the seashells you can paint a Santa Claus face on the middle to have a beard surrounding it.
You could also sew patches of material to make pillows. We have one lady who isn't interested in crafts but likes to join in. We have a big ball of multi-colored yarn and un-roll it and let her roll it back together. It is easy to do and like therapy. (06/18/2008)
By Lydia
RE: Craft Ideas for Someone That Lives in a Nursing Home
Here is one idea: Using a clean soup can, make sure there is no sharp edge on inside, coat the outside with Elmer's glue or whatever work best for you. Take yarn, start at either end and wrap around can till covered. Can be used for pencil, pen holder. Different size cans can be used for assorted things, use your imagination. (06/18/2008)
By Linda
I work in the activities department of a busy nursing home. It is a challenge finding craft ideas that are enjoyable to MEN.