Finding crafts that nursing home patients will enjoy making can be a daunting task. This is a guide about craft ideas for nursing home patients.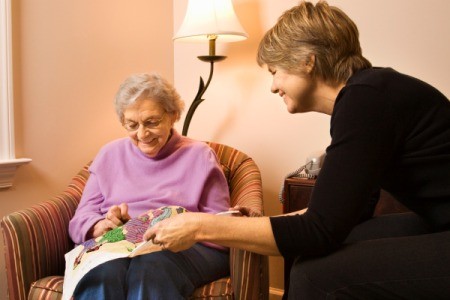 I work at a nursing home as an activities director. I need ideas for new and exciting things I can do with them. Please keep in mind, that not many of them can do anything. Many only have the use of one hand.

I would also like to beg you to get involved in your local home. Many of them don't get visitors and could use friends. If you call ahead, most places will have someone able and ready to go for an ice cream or even church on Sundays. You can help simply by grabbing your pet and/or a book (I like the Chicken Soup books) and just go read to them, or hold a hand, you won't be sorry.

April from Buffalo, NY
---
Most Recent Answer
January 27, 2010
Read simple poetry to them leaving off the last word, only works if it rhymes. They can usually figure it out. Go on line and find a site aout Wise Old Sayings, like easy come easy ... go) they finish the saying. Go to thrift store and buy inexpensive games like Blurt, Password and donate them to the activity staff. Look up trivia on the internet for the residents, but make it fairly easy.
---
I work as an activities assistant in a nursing home. Some of my patients have Alzheimer's/dementia. I have trouble finding craft/activities for them. Coloring gets very boring and I know they want to do more. I am also on a tight budget. With the warm weather coming I would like to start a garden club, but they are in wheelchairs. I am at a lost for ideas.
By Joyce from Pittsburgh, PA
---
Most Recent Answer
By jessie53806 1 Flag
January 9, 2014
I work at an AL facility but we also have quite a few in wheel chairs but you might be able to find some one like we did that will donate time and the materials to make crates. They will lift the pots off the ground, so the can get to them more easily it would lift the plants up enough that they would be able to reach without bending over in the chair.
---
I am looking for an Easter craft for girl scouts to do for nursing home residents. Any help would be appreciated.
-Penny
---
Best Answer
May 1, 2012
Wish I had seen this sooner. I am an Activities Director and for Easter I made all of them these darling bunny cups from styrofoam cups. They were easy to make and were just so cute. I will leave a pic so maybe next yr you'll have a good gift for them. I also made home made eggs to go in them and wrapped them so they'd stay fresh.
Be sure not to put in plastic grass. Mine was paper. They tend to eat everything.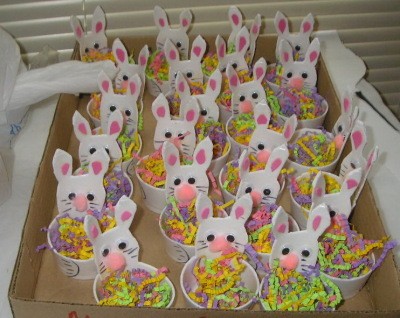 ---
By margieT 2
Can anyone help me with clay pot crafts or any other easy craft ideas for a nursing home residents' craft day.
By MargieT from Australia
---
Most Recent Answer
November 21, 2012 Flag
Hi Margie. I also work at a nursing home running crafts activities. I've started to blog about it to share ideas. Last month we made a Halloween haunted house with cardboard, cellophane and water paints.
http://speckledsydney.wordpress.com/2012/10/31/halloween-haunted-house/
This month we're making Fascinators - fancy head bands for the Melbourne cup. Bought a pack of headbands from the reject shop for $3 and the rest were things I had at home.
http://speckledsydney.wordpress.com/2012/11/21/horsing-around/
Next month (Dec) were painting cardboard cut out christmas trees and decorating with stickers.
Hope this helps!
---
I work volunteer hours working an assisted living home trying to earn my silver award for Girl Scouts. We do crafts every other week or so and we do a craft usually for each holiday. We have done a Halloween craft but now I need ideas for a Thanksgiving craft that the residents could hang on their door. These crafts need to be not very complicated and not use expensive supplies. These people's hands are shaky and have trouble with gluing many parts together. They love to paint (they use the foam brushes for sponge painting) so painting is okay.

Kim from CA
---
Most Recent Answer
By guest (Guest Post) Flag
January 19, 2009
I'm looking for creative ideas for my activity calendar for next month. I have bingo, wine & fruit, birthday party, movie & popcorn. I have some crafts, I need more ideas for the males at my facility. Please help
---
I would like ideas (and pictures) of easy crafts using recycled items that nursing home residents would enjoy making.
By Sandi from Brookville, IN
---
Most Recent Answer
April 26, 2013
Hi There,
I run craft classes at my local nursing home. Last week we did a class on Van Gogh, talked about his life and his 12 sunflowers painting. I painted a yellow vase on butchers paper then with green sticky tape made the stems and they glued their painted sunflowers onto them.
Recently we did a Mary Poppins activity with coloured pencils and talked about the book.
http://speckledsydney.wordpress.com ... 3/04/22/mary-poppins-craft-activity/
In the past we've made bubble wrap bunting with cardboard, paint and bubble wrap.
http://speckledsydney.wordpress.com ... 3/20/bubble-wrap-easter-egg-bunting/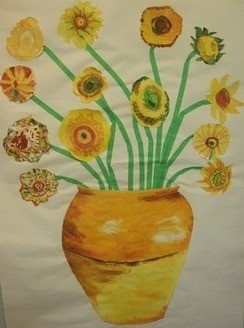 ---
By KATHY BELK 1 1
I am looking for some easy and cheap crafty ideas for Father's day for disabled, elderly residents at an independent living facility.
By katskits from Bowling Green, KY
---
Most Recent Answer
May 25, 2009
Is this for the seniors to make? Or as gifts to give them? If it is for gifts for them, I would suggest getting some fabric and making small "pouches" for eyeglasses, remotes, etc. I made one for my grandfather from some denim. 3 feet long by 1 foot wide. Put right sides together. Fold over about 1/3, so you have a pouch with one longer side. Sew up the two sides of the pouch. Flip right side out. Tuck the long end under the sofa cushion? Under the mattress? Under their bottom on their wheel chair? Wherever, holds those things that are always getting put down and misplaced. He kept his glasses, remotes, and cordless phone in his...you can make hems, decorate, etc..or leave them really simple. If not hemming, use pinking shears to cut the edges and use non-raveling material.
---
By KisanOTA 1
I am starting my summer clinicals shortly with elders from a local retirement home. I will have a mix of men and women with varying degrees of ability. Anyone have any ideas for "therapy inspired" craft projects? I need something different. The elderly at the retirement home get to see groups like us every semester. I want to really engage them cognitively, socially, and physically (fine motor mostly). But here is the kicker - it MUST be fun! I don't want to bore them with "oh, this again".
By KisanOTA from Appleton, WI
---
Most Recent Answer
June 4, 2012
You could have them make "fascinators". They are the pretty little "hats" that are so popular now. Check them out on line...a lot of the British royal family started wearing them and now a lot of people make them and wear them. They are just a piece of netting with hand made flowers or bows (or use your imagination) glued or sewn on to them.
For the ladies: glue or sew a small hair clip to the back, so they can wear it in their hair. For the men, glue or sew a safety pin on the back, so they can wear it as a "boutinere". (Sorry about the spelling!!) Then they can make fancy finger sandwiches and dainties and cold lemonade and have a garden party (which can be indoors or out). Have them make simple decorations: table centerpieces, paper flowers, etc. and play some soft background music.
This could be a "progressive craft" that would take a few sessions to put everything together, with the garden party as a fun goal to look forward to.
I am looking for crafts for nursing home patients who are nearly blind. They will appreciate being able to still do crafts. Thank you for your suggestions!
By JudyEss
---
Most Recent Answer
By Denise C. 2 7 Flag
April 20, 2012
They have knitting looms where you just have to weave the yarn in and out of large spools. They could feel the spools instead of seeing them.
Make hoops of color hung on fish line in groups by the craft room, in the windows like stained glass windows, or in the hallway to the day room.
I need a January craft to make decorations for the inside doors at a nursing home.
By Kim
---
Most Recent Answer
January 1, 2015
Since we get most of our snow in January I do a snowman theme. This year I did a board saying Let it snow with tiny punched snowflakes from glittery looking bags I got at the dollar tree and snowman figures. The background is red and it makes the snowflakes stand out. I think it looks great. My craft projects will be snowmen. Hope this helps some.
Looking for craft ideas to engage retirement home residents. Here are a few suggestions to engage them in conversation whilst doing crafts.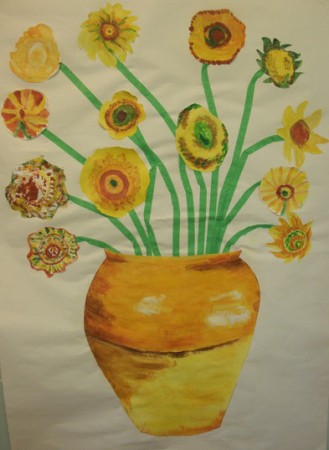 Van Gogh Sunflowers
Sketch out 12 sunflowers and a vase. Give each person a flower or two to paint in. Discuss the life of Van Gogh and show residents how to paint flowers in Van Gogh style using small brush strokes and dots.
Love Locks
This is a good Valentine's activity. Draw a few locks on cardboard and discuss the Love Locks bridge in Paris with residents. They then paint or colour in the locks and write the names of people or things they love on each lock. Then glue them to the bridge.