Videos
Watch and rate the videos below.
Shoe Box Locker Organizer (Video)
My daughter found this video on youtube. It is about how to turn a shoebox lid into a locker organizer with duct tape, a glue gun, and some small wine cork. Later in the video, she utilizes a small water bottle with the top cut off and decorated with duct tape to hold pencils and pens with. She also uses a decorated soap box to hold a hair brush.
I really was interested in the corks, a lot of them, glued close together that made a bulletin board. Also, she put stick on magnets on the back, the kind that are sold to put on the back of business cards, she covered the back entirely with those, and also she showed how to cut a wire hanger and duct tape the top part of it on the back of the box. She then turned the hook of the hanger around where it would fit in her locker if she wanted to hang it up.
I thought it was a great idea in repurposing a shoebox lid, and it fits in the lockers of the children at school. It could be used at home though, for organizing many different things. I am already thinking about a sewing kit.
Solutions: Uses for Shoe Boxes
Read and rate the best solutions below by giving them a "thumbs up".
Share Your Feedback:
Once you try any of the above solutions, be sure to come back and give a "thumbs up" to the solution that worked the best for you. Do you have a better solution? Click "Share a Solution" above!
Questions
Here are questions related to
Uses for Shoe Boxes
.
Uses For Shoe Boxes
I have about 10 empty shoe boxes. I know that organizations use them to send to our war fighters. Please help me find a good use for my boxes.
By Patricia from Sarasota, FL
---
Most Recent Answer

By maphisx7
02/16/2011
I am just in love with decoupage. I think you should decoupage them and use them around the house. If you don't know what decoupage is just Google it and you'll get a bunch of hits.
Gem
Photos
Here are photos related to this page. Rate the photos that you like the best.
Click here
share a photo.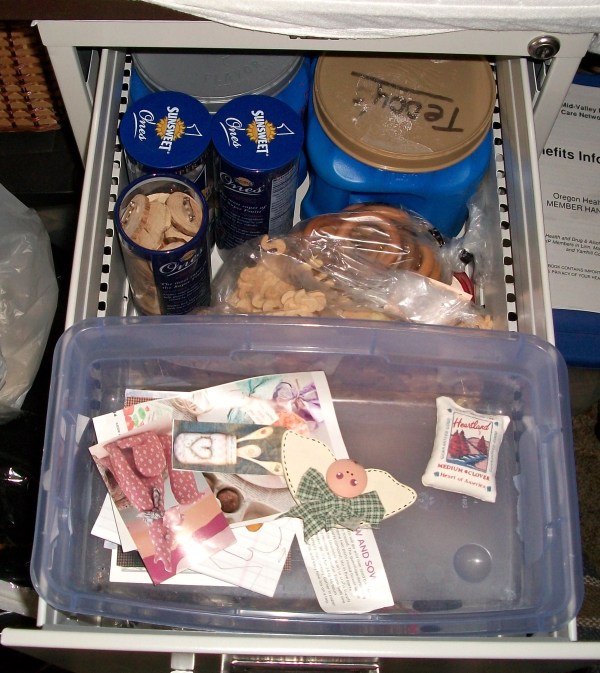 I was setting this shoe box on my open craft file cabinet drawer, and I accidentally put something heavy inside the box, and it fit right in! Imagine my surprise when it not only fit but closed!
READ MORE
Archives
Here are archived discussions related to this page.
Uses For Shoe Boxes
Ideas for reusing shoes boxes. Post your ideas.
---
Reusing Shoe Boxes
I collect shoe boxes to store different craft items. But to give these boxes a neater look I wrap them up with light colored wall paper samples. This gives the boxes an expensive look and at the same time makes my craft shelves look neater.
By SK (01/15/2005)
By ThriftyFun
RE: Uses For Shoe Boxes
I decoupage mine and use for storage! I also save them to wrap Christmas pressies in! (01/15/2005)
RE: Uses For Shoe Boxes
When I was a child many many years ago I kept my baseball cards in shoe boxes, one for each year. Today I use shoe boxes to pack away and store last year's flower seeds. I have also been known to use a shoe box to file away my winter gloves. (01/15/2005)
By Mr. Thrifty
RE: Uses For Shoe Boxes
I organize my over the counter medications in shoe boxes. I work at a pharmacy and people think of my home as their "local hometown" pharmacy so it is important to know what I have in stock. (01/16/2005)
By GrannyRx
Shoe Boxes as Organizers
I slide empty shoe boxes into drawers to organize undies, socks, etc. By Sue (05/20/2005)
By ThriftyFun
RE: Uses For Shoe Boxes
I am a painter and made my paintings on shoeboxes. (09/17/2007)
By box1