Saving Money on Irrigation
I am looking for ideas. We just got our water bill and although we have had more rain than normal our 1/2 year water bill was a whopping $600. I believe it is our irrigation "system".
We were thinking of setting up a system in the spring for catching rain water but don't know where to start or how to store it so next year we won't have this insane bill. We have huge gardens of flowers and we have been using drip line hoses and although we used less water than last year with these methods the rates went up and we have a huge bill anyway.
Suggestions?
Maria from Berlin, CT
We are giving away $200 in Amazon gift cards for people who answer questions on ThriftyFun this month! Click here to find out more...
Add your voice! Click below to answer. ThriftyFun is powered by your wisdom!
By guest (Guest Post)
October 7, 2008
0

found this helpful
Hi, I work for Toro and there are very simple ways to save on your water bills. Our local representative can help if you provide me with your email address or phone number. Thanks! Jeff
October 9, 2008
0

found this helpful
I don't know much about how things work over there but you could probably investigate the use of a grey water diverter if it permissable in your district. Also rainwater tanks to catch a lot water and save
October 10, 2008
0

found this helpful
We had that problem the first year of our sprinklers. We realized we could get away with watering less and our plants and lawn would still be fine. We watered each section - setting the timer for 2 minutes each area and we watered late in the day - 7pm I think. Our water bill went down considerably! Plus you don't need to water every single day. We only set off a daily watering for some of our more delicate flowers - two minutes in the evening - just that section. The lawn and other plantings did fine with less.
October 10, 2008
0

found this helpful
I found a 375 gallon, square plastic container online. It held soap. I rinsed it out and catch water from one of the downspouts on my house. There is not a lot of water pressure but will do the job for soaking. I didn't pay a whole lot for it and it has paid for itself this summer. I've still had to use my house water through the dry periods when my container was empty. Some people may think its and eyesore you could dress it up with lattice. I just leave mine like it is. I'm happy with it.
By guest (Guest Post)
October 11, 2008
0

found this helpful
I am sorry to be so confusing. We were using soaker hoses. I ran them off of the faucet with a timer. I ran them for 2 hrs each; probably too much but they were for deep watering arborvitae that had been planted the fall before and some forsythia that was planted in the spring on a hill.
We also have a garden that goes around a large maple tree and no matter how much it rains the dirt below the tree is always bone dry. We have a vegetable garden and a large garden near the back of the yard that has various plants in it. I also spent some time watering the hostas that I split and transplanted but that compared to the soaker hose stuff was not that much.
July 9, 2009
0

found this helpful
One of the ways I catch rain water is with a 55 gal water trough I bought at a garage sale. I put in a pump and turned it into a "water feature as well we live on a busy street and because it is moving water it keeps skeeters down. Placed under the down spout and it fills up nicely with the rains. It does 3 things for me: catches water, hides noise and helps me relax.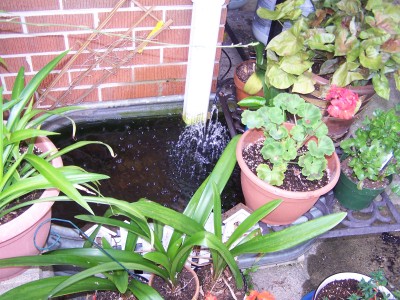 Add your voice! Click below to answer. ThriftyFun is powered by your wisdom!
Related Content