May 21, 2008
0

found this helpful
Sometimes, when I need the space for just a day, I'll put all my jars and bottles.....you know catsup, pickles, relish, mustard, dressings etc., in a camping "cooler" and dump ice in the cooler. Then I can use my shelf space for my big dessert or casserole that needs to stay cold and those other items will still be fine for later use.
By guest (Guest Post)
May 22, 2008
0

found this helpful
I use those racks that are made for cooling cookies, etc. when they first come out of the oven. Or you can use a cookie sheet.
Place one on top of a large flat casserole dish and put other things on top of it - even another casserole dish.
If it's a round dish, just put a plate on top and stack things on that. If the bottom dish has a lid that sticks up, remove it and cover the dish with foil or plastic wrap.
Almost anything flat will work.
By guest (Guest Post)
May 23, 2008
0

found this helpful
When I get over stocked in the frig I usually sort all the small portions out. By putting them into ziplock bags. this way i can place all the small stuff in a container together or freeze them for other uses. They stack well by themselves too and won't leak onto other foods. It is easy too handle if they become out dated or go bad. No clean up just chuck out. I use the baggies when I go camping to save room in cooler or frige. Serve right out of the bag and save clean up on dishes.
May 24, 2008
0

found this helpful
I have the set of Rock and Serve from Tupperware they come in all sizes and they are square and stack beautifully.
I have had this set for many years and I use them daily from left overs to freezing to microwave to fridge.
They are dishwasher safe.
They are well worth the money. I could never live without them.
I can store lots of food in my fridge with these handy containers.
The rock and serve are on the 2nd and 3rd shelf.
I also find the bottles take up a lot of room in my fridge so I also have bought square Tupperware plastic containers for stuff like mayo,cheese whiz,relish,jams etc these are on the first shelf.
I have posted a picture to show you here.I took picture at night so it maybe is hard to see the 3rd shelf.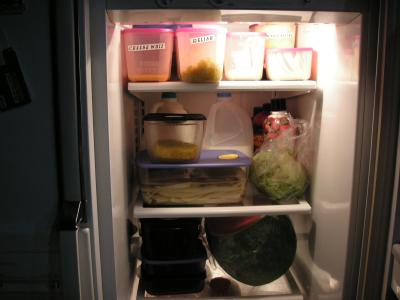 May 24, 2008
0

found this helpful
Here is a day time picture to show you better of the stacking Tupperware in my fridge.
I have one milk taken out now.
I always keep 2 milk jugs on the side of my door and now have been buying 3 so one goes on the shelf.
With these containers I have room.
If you should find these containers expensive then you could sell it to your self and get what you need at a cheaper price.
I know a lot of people who has done this.
I also find my sour cream etc lasts longer in the Tupperware container then a store container.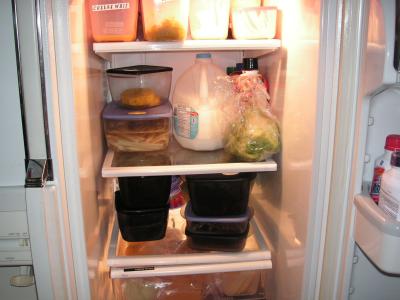 January 28, 2011
0

found this helpful
I wash and reuse the deep large plastic lids which come with ready made cakes, to store like items together. When they are all in one place they fit in concisely and free up space. Another thing is that I keep the middle part of the shelves to keep leftovers, which need to be used up immediately so I can see them as soon as I open the door. I don't push them to the back. Also I try not to block the light bulb so that I can see every nook and cranny in the fridge, helps for cleanups too.