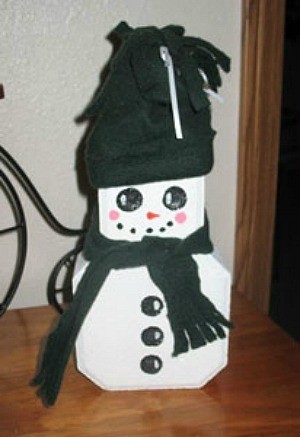 Materials
1 inch keyhole-shaped paver
Wood buttons (painted orange)
Black outdoor paint
Strips of plaid material for scarf
White outdoor paint
Old flannel (old pajamas, sweat shirts, or work shirts)
One pom pom
Assorted decorations
glue
Directions
Paint paver with two coats of white paint. Sprinkle with glitter and allow paint to dry. Attach button nose with glue. Paint on faces, buttons, etc. Allow to dry. Make caps by cutting an 8 to 10 inch circle of red flannel and gather along the circumference with a running stitch. Fit onto the "head" and glue securely. Glue a white pom pom on top of the cap. Tie on the "scarf" and add other ornaments, if desired. I paint my eyes on, you can tweak yours anyway you want to. Have fun, they make great gifts!
By Tracy from MI
By tracy
Ad
---
By Michele (Guest Post) 11/30/2007 Flag
Yours is very cute. I made these for a craft show a couple years ago and NOT ONE SOLD. I came home with several, santas, snowmen, turkeys, ornaments, gingerbread ect. My sister in law works for the government agency and took some with her and I sold $300.00 worth! Keep at it they were good sellers for me!
By Erin (Guest Post) 11/24/2008 Flag
I LOVE this and have been trying for days to find pavers like this and I am having a terrible time. Any help?
By Valarie (Guest Post) 11/28/2008 Flag
Where do you find the keyhole shaped stone? Can't find it at Lowe's or Home Depot. Any suggestions?
By Jenyce (Guest Post) 12/04/2008 Flag
Cant find these pavers anywhere. Are they called somthing specific
By Laurie 44 150 12/11/2008 Flag
Looks like you can make this using styrofoam...
Buy one big block and use an electric carving knife to cut out the shape of the snowman ~~OR~~
I would print out the picture and take it to my local nursery or rock yard. They may have something similar. You might have to use 2 different pavers and 'Glue' them together.