I have a very old antique hutch like piece if furniture that used to be my mom and dad's when I was a child. It was given to me by my aunt many years ago. My problem is this, when we got it, it was all stained but a nice honey color. We thought that we would redo it ourselves and all we had was a dark stain to put on it.
Needless to say we didn't get all the old finish off it before we stained it and it looks terrible. It has been this dark color for at least 30 years. I am wanting to redo it and put it back to the original color, the honey color, but don't know how to go about removing the stain color on it and redoing it again. I don't know the first thing about stripping it or how to go about doing it. Is there someone out there who has any experience in this field that could give me some input on where to start to remove the stain color and refinish it to original color?
Thank you for your time and kindness. Take care. God bless you and your loved ones.
By ckjb
Recent Answers

By gbk06/08/2011
Buy yourself some varnish remover and just take off the old varnish. The blotchy effect was because you used a stain over a sealer (varnish) the wood under the varnish is still original but the rest is permanently stained dark. You really can't do much about it at it penetrates the wood grain. The varnish remover will remove the old varnish but won't lighten the wood where the stain is.

You can go Antique Road Show and ask question, they are experts only, on all antique furniture. Understand that everything you do will change the value of the piece.

I took an antique oak (golden oak) like your cabinet and did the same thing to it and I fixed the places missed but can never get the golden oak color back because of the pigment in the stain is done after it dries. If there is any other way I don't know it. I wish you lots of Luck and elbow grease. Try this first before sending your piece to anyone. Go on line to the Handyman Club of America and ask your question there.

You will notice the golden color kinda shines through but the dark stain is dominant and I caught my mistake within 30 minutes is the reason I made it this light. Hope this helps.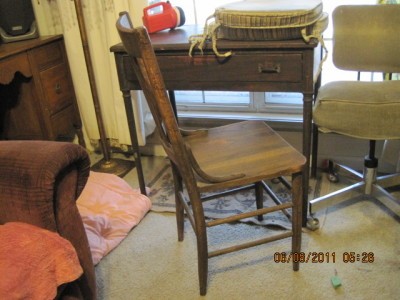 By Lilac06/08/2011
You can always have it done professionally and it will look beautiful, but if that is out of the question, get some stripper and take the finish off. Do this outside becuase this stuff can be toxic. After you have removed all the old finish, sand the dark spots until they match the rest of the wood. Then put on a light stain if you wish and varnish.

By pam munro06/07/2011
My friend used a Formsby formulation to re-finish our oak kitchen cabinets - it sort of moves the finish around. Nowadays you can also take your piece of furniture to someone who dips it in refinishing liquid for you! Find in the Yellow Pages? Or you can apply yourself & scrape the old finish off & then sand it down before applying a new finish a dirty job, though.

By Patricia Eldridge06/07/2011
Here's a link to a video on how to refinish furniture:
http://www.5min.com/Video/How-to-Refinish-Furniture-142812180

By Marjorie C. Woodworth06/07/2011
Why not save yourself a lot of work and frustration. Call Home Depot, Lowes or Valu Home Center and ask them if they sell a product known as Minwax. Take the measurements of the antique hutch along with you so you will know how much to buy. Minwax is a brush on wood stain + a type of polyurethane sealer.

By Joan B.06/07/2011
There are all kinds of products to strip paint/stain/varnish off items. Some of them take more work than others. Go to your home improvement store and ask for advice.
Answer This Question
Add your voice to the conversation. Click here to answer this question.