Twig Art Chair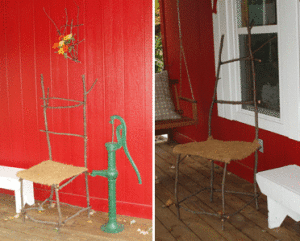 Using very dry branches, wire, glue and coco fiber mat, I made these two chairs for decorative effect. On the wall behind the one chair with orange flowers on it is a twig trellis on the wall. Twig art is fun as long as you remember to have dry wood to work with.
By Carol from Aurora. IL
Feedback
Read feedback for this post below. Click here to post feedback.

By
02/19/2008
Forget the "decorative" chairs, you've got talent. Get a book on twig furniture and make some real stuff. I bet you could sell it and make a fortune--I know that I'd buy some! Someone around here did it on the side and couldn't keep up with his orders. He made them until he got too old to do them anymore. These are getting to be a lost art. Andbesides chairs, you can make love seats, plant stands, side tables, rockers, benches, stools, ottomans...

By
02/18/2008
Ok, Carol! Such a great project! Could you repost the pictures without the funky enhancements? Also...your directions for making the chairs. Share! We love them!

By Anna (Guest Post)
02/18/2008
I have seen an arm-chair made of twigs in a yard nearby. They also made a twig fence. I like your chairs. The one I have seen had a round back and arms, that is why I thought it should be made of green wood, but it could be sprayed to protect it after it had dried.

By
02/18/2008
I spray the finished design with verathane or varnish to seal the wood. If you spray wet wood it will not last very long. Use branches just as they come off the tree. I only clip the length that I need for that project. These chairs were out in the rain and sun for the entire summer. I put them on the porch for the winter months.

By Anna from Maine (Guest Post)
02/18/2008
Why dry wood, Dry wood splits when trying to bend it. It doesn't take very long to dry after it is put together.
Post Feedback
Add your voice to the conversation.
Related Guides
Related Posts