Indestructible Dog Toy Ideas
Solutions
Share a solution for this guide today!
Questions
Here are questions related to
Indestructible Dog Toy Ideas
.
Indestructible Dog Toy Ideas
Is there such a thing as an "indestructible" dog toy? My dog trashes every toy I give her within 5 minutes. She can have the plastic eyeballs, and squeaker out of a toy in 3.24 minutes (yup, I timed it). Any suggestions? (other than a KONG) She won't touch it.
Thanks.
By Marie from Ontario, Canada
---
Most Recent Answer

By Robyn Fed
04/19/2012
Do they tear apart plastic milk bottles or coke bottles? I would always watch them when they play to see how they act and which toys they tend to tear up. Have you tried giving them an empty peanut butter jar that has not been cleaned, it makes them work. But watch to see they don't swallow it or tear it up too bad.

Most of the time the leader of the pack provides toys and takes them up.
The toys are yours and not theirs...just a reminder.

Also: Well, here is some info I found on one of my favorite resource sites:
http://www.greatdanelady.com/articles/puppy_guidelines.htm
I never knew this and I wanted to share it with you.

Toys
No pig ears, cow hooves, raw hide of any kind, string toys, booda bones or cooked bones or Greenies -and absolutely no tennis balls. These are all things that can kill you dog.

Why No Rawhide?
First, the majority are processed with lye, something your dog does not need in his/her stomach. Also, they are not digestible and can lay in the stomach or intestines and not pass through, causing an obstruction or causing pathogenic bacteria to grow which equals bloat. We do not need to encourage bad bacteria in animals that are prone to bloat and gastric torsion. They are also a very serious choking hazard. So to be on the safe side, for nutritional and safety reasons, I will suggest something other than rawhide chewies.

Why no pig ears/snouts/cow snouts and cow hooves?
There are two reasons for not using these, Salmonella (bad bacteria) and the fact that the ears/snouts will splinter and can puncture an intestine and the same is for the cow hooves. Frequently, vets are removing them because they cause an obstruction.

NO - and I mean no Greenies! These things have killed dogs due to choking and they are full of gluten which causes dogs to have major skin problems and allergies.

I found this info alarming as I had never read it before...share if you will and I am starting to give my dogs treats that are human grade. I am tired of all the garbage from china making our dogs sick!

Blessings, Robyn
Indestructible Toy for a Great Dane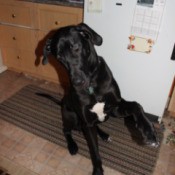 We have a 10 month old Great Dane. At times I swear he's a goat! He chews everything. He's gone through toys like crazy, Kongs, beef bones, etc. I got a deer antler and it's managed to last a week so far. Anyone have any ideas where I might find toys for a large breed dog?

By Donna from Foymount, Ontario
---
Most Recent Answer

By veronicahb
01/08/2012
We have a Great Dane mix. She too managed to destroy any toy we found for her in record time until we bought X-Large Kong toys for her. She has both the goodie bone and Kong Extreme toy for large dogs. She has had these 2 toys for over a year. It took our dog 2 years to mature beyond the puppy stage but after we bought these toys, her inappropriate chewing drastically reduced and finally ceased. Try freezing the Kong after you fill them with treats.This increases the effort the puppy must exert to receive the treat.
Related Guides
Related Posts