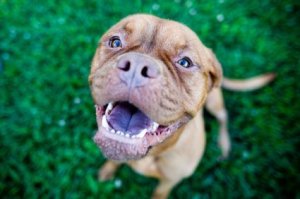 Some dogs seem to destroy their new toys before you even get the packaging thrown away. This is a guide about indestructible dog toy ideas.
Solutions
Share a solution for this guide today!
Questions
Here are questions related to Indestructible Dog Toy Ideas.
Is there such a thing as an "indestructible" dog toy? My dog trashes every toy I give her within 5 minutes. She can have the plastic eyeballs, and squeaker out of a toy in 3.24 minutes (yup, I timed it). Any suggestions? (other than a KONG) She won't touch it.
Thanks.
By Marie from Ontario, Canada
---
Best Answers

By Lee Taylor01/08/2012
I swear by the hard Nylabones!
---
Best Answers

By thintieguy01/19/2010
To throw another thought into the ring, my dog has destroyed many a dog toy until he got hold of the Tanzanian Mountain Ball. Wow! This thing is great. Not too expensive (around 6 bucks or less). Give this one a shot.
---
Best Answers

By susan12/15/2009
Do a search for a "Jolly Ball." It is essentially a round rubber ball with a handle on it. They come in different sizes from 4.5" to 10": we bought one for our german shepherd that is larger (made for a horse). They aren't supposed to deflate or get punctured, and are made really tough. I've found smaller ones at pet stores, like petsmart, and at farm supply stores. Our dog has 3 in various sizes and really loves them. You can order them online if you cannot find them in your area. They last forever--our dog used to chew up soccer balls within a day or two. He has had his Jolly Balls for years.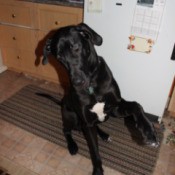 We have a 10 month old Great Dane. At times I swear he's a goat! He chews everything. He's gone through toys like crazy, Kongs, beef bones, etc. I got a deer antler and it's managed to last a week so far. Anyone have any ideas where I might find toys for a large breed dog?

By Donna from Foymount, Ontario
---
Most Recent Answer

By VeronicaHB01/08/2012
We have a Great Dane mix. She too managed to destroy any toy we found for her in record time until we bought X-Large Kong toys for her. She has both the goodie bone and Kong Extreme toy for large dogs. She has had these 2 toys for over a year. It took our dog 2 years to mature beyond the puppy stage but after we bought these toys, her inappropriate chewing drastically reduced and finally ceased. Try freezing the Kong after you fill them with treats.This increases the effort the puppy must exert to receive the treat.